Many of the top paint companies have put forward their 2022 Colors of the Year and you can see gentle greens and blues dominate the field.
We never know what's coming around the corner in these challenging times. So, more than ever, our home needs to be a relaxing refuge. Whichever colors you choose, Barron Designs has beautiful panels, columns, and beams to complement your design and turn your home into a sanctuary.
Aleutian by HGTV Home by Sherwin-Williams
This dusky blue could be the color of the sea or a lake on a cloudy day. Equally at home in a boy's or girl's bedroom, as it would be in the living room, Aleutian is part of HGTV's Softened Refuge Color Collection.
This wholesome palette features colors with nature in their names including slate, wheat, and fox. Bring the outdoors inside with gender-neutral colors that will "nurture your spirit and promote wellbeing," like Barron Design's Carolina Chisled Stone Panel in Frosted Grey.
Art and Craft by Dunn-Edwards
Leaning into earthy shades, Dunn-Edwards selected a warm brown called Art and Craft as 2022 Color of the Year. Art and Craft will match or complement any wood features in your home, while also being an ideal backdrop for playful flashes of color and different textures.
Dunn-Edwards suggests Art and Craft will "evoke feelings of stability and calm," especially used in conjunction with other natural colors, like their Cotton Club and Gypsum Rose. Here we see Art and Craft paired with Barron Designs Chevron Panels in Biscotti Java and Light Oak Hand Hewn Faux Wood Beams.
Breathe by Graham & Brown
Tranquility is the goal of Graham & Brown's Color of the Year – a medium blue called Breathe. Like Aleutian, this shade of blue is not too dark and not too light. It's just right for layering up with other hues and creating "calm and peaceful spaces."
Graham & Brown suggests a combination of whites and grays and other blues for maximum effect.
Breezeway by Behr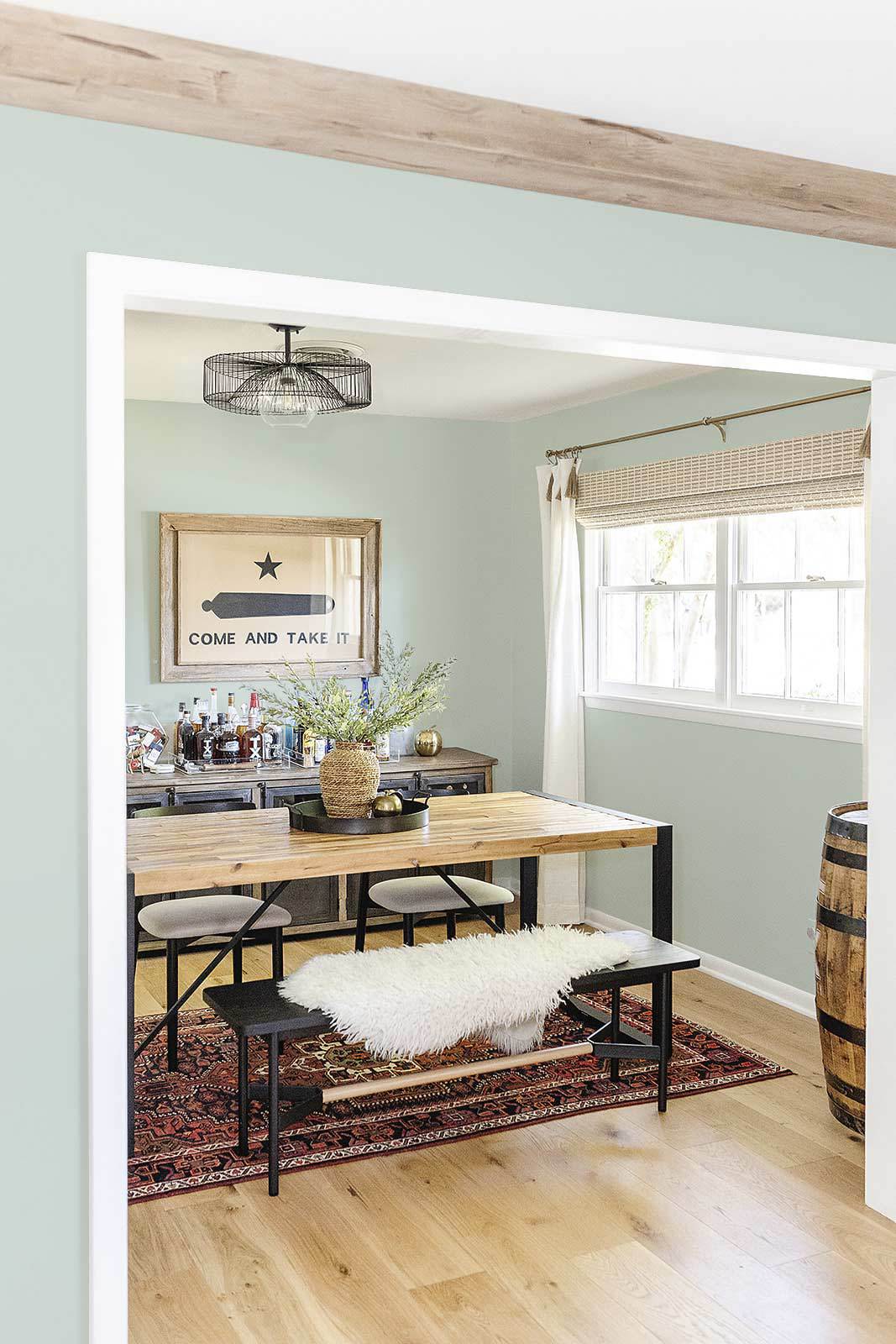 Behr aimed to create a sense of movement with a soft turquoise color called Breezeway. The movement could be interpreted in several ways: as a movement out of the difficult past few years into a brighter future, but also out of home isolation and into "spiritual reemergence."
Breezeway pairs beautifully with natural wood, like Light Oak hand hewn Faux Wood Beams from Barron Designs. These natural finishes work seamlessly with Breezeway, whether that's in your choice of furniture, paneling, or wainscotting.
Evergreen Fog by Sherwin-Williams
Fresh is the keyword for Sherwin-Williams Color of the Year, Evergreen Fog. An organic green with hints of gray and blue, this "versatile and calming hue" changes its tone in different lights with different furnishings.
See it pictured here with Barron Design's hand hewn beam in light oak. Picture this in your own home as a "simple but sophisticated" retreat.
Bright Skies by Dulux
Leaving the earth behind, Dulux seeks to inspire with Bright Skies, a gentle blue the color of a spring sky. This pure shade might "breatheife" into your home and transform your life at the same time.
Bright Skies forms part of four complementary color palettes to help keep your home in harmony: Greenhouse, Studio, Salon, and Workshop.
Guacamole by Glidden
A true green called Guacamole is Glidden's Color of the Year. Like the other shades of greens, blues, and browns in this list, Guacamole is the perfect foil for natural materials like wood, rattan, and canvas.
Glidden describes Guacamole as "spirited yet soothing" and ideal if you're looking to create a feeling of zen in your home.
Gilden Linen by Valspar
The color experts at Valspar curated not one but 12 Colors of the Year. Ranging from pink, yellow, and orange to this year's popular shades of blues, greens, and brown, Valspar says its 2022 colors of the year can each bring a "calm, comfortable presence into your home."
Especially of note is their Gilded Linen, a subtly soft and cozy white hue that pairs amazingly well with natural elements like Aged reclaimed barnwood panels from Barron Designs. Sue Kim, Color Marketing Manager for Valspar, describes this shade as a "minimalist white [that] gives you space to breathe and declutter your mind."
Laurel Leaf by Better Homes & Gardens
Better Homes and Gardens is the paint range created by the magazine of the same name. The brand's design team chose Laurel Leaf for Color of the Year because this warm shade of green can symbolize "resilience and regrowth in a post-pandemic world."
Suggested pairings include whites, beiges, and light wood – plus plenty of leafy house plants.
October Mist by Benjamin Moore
Creativity is the buzzword for Benjamin Moore's Color of the Year, a shade of sage green called October Mist. The color of flower stems, October Mist is "meditative yet eclectic" and may serve as a blank canvas for your home design ideas while stimulating your creativity in other outlets like these chevron panels from Barron Designs in white washed gray.
October Mist is part of Benjamin Moore's Color Trends 2022 Palette, which includes other invigorating shades such as Wild Flower, Hint of Violet, and Quiet Moments.
Olive Sprig by PPG
PPG Paints selected a sophisticated green called Olive Spring for Color of the Year. The goal of this adaptable color is to leave you feeling grounded and resilient. Olive Sprig "emulates the feeling of soothing aloe vera" and could be used just as effectively inside as outdoors.
PPG suggests using Olive Sprig in combination with brass accents and wood tones, including wooden kitchen cabinets or your island.
Satin Rolling Surf by Krylon
Specializing in aerosol paint, Krylon chose a teal blue called Satin Rolling Surf for Color of the Year. The brand's color marketing manager says the deep blue may tap into mental wellbeing and connect you with "optimism and hope."
Krylon suggests using Satin Rolling Surf to refresh your DIY projects by spray painting anything from a bench to a stool or partition screen.
Ready to Embellish Your Walls?
After you've soaked up some color inspiration and chosen a palette of paint, you might like to consider taking your walls to the next level with paneling or wainscoting. This traditional design feature has been dramatically updated for life in the twenty-first century.
Nowadays, you can choose from a wide variety of materials and, of course, colors. Both paneling and wainscoting may serve to protect your walls as well enhancing the appearance of your home. Click below to find out more!