Jolene and Scott Johnston from Fishers, IN recently sent us pictures of their newly completed project. In this 2-for-1 remodel, Jolene and Scott used the same style of panels to create accent walls around their living room fireplace and behind the sink in the small adjacent bathroom. 
\"Thank you for your wonderful products," Jole writes, in the email that accompanied the pictures. "We are so pleased with how FauxPanels have transformed our fireplace surround and nearby powder room."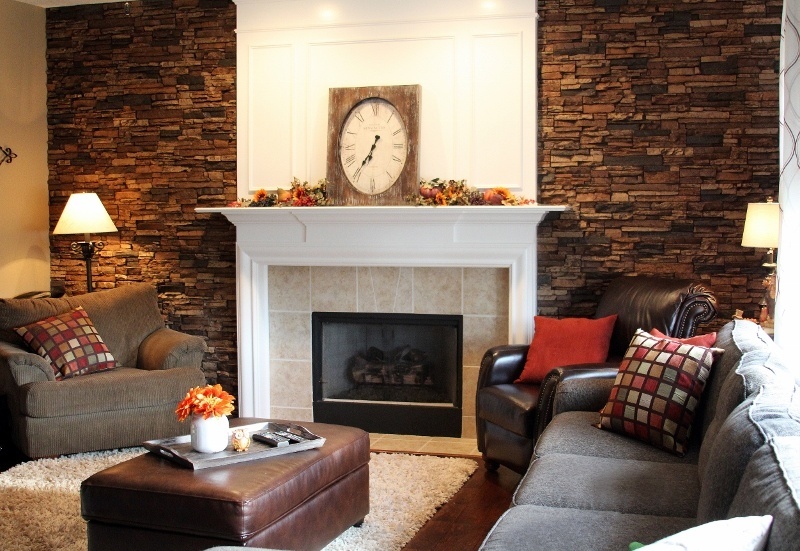 The new accent wall around the fireplace fits right in with the living room's decor. While the project is a fairly straightforward one, there are a couple of nuances we especially like. First off, the transformation in the living room is accomplished following the watch-word you'll find repeated many times in this blog - less is more. While an entire wall covered in our panels might not seem like 'less', it's actually very different to using them to cover 
every
wall. The fireplace and its surrounding wall now act as the focal point; which adds a lot of character to the room without overwhelming it.
BEFORE: The fireplace looked drab and boring. To create this effect, Scott and Jolene simply attached the panels directly to the existing drywall with construction adhesive and screws. The final panels in each row needed to be cut to size - which can be done with a regular wood saw - and they managed to prevent a duplication in the pattern by off-setting the upper rows of panels. In the powder room, the same concept of an accent wall was used, just smaller and doubling as a bathroomn sink backsplash. The second subtlety is the use of our outlet covers. We offer a line of outlet covers that match our faux stone products, and the Johnstons used them to seamlessly conceal their outlets.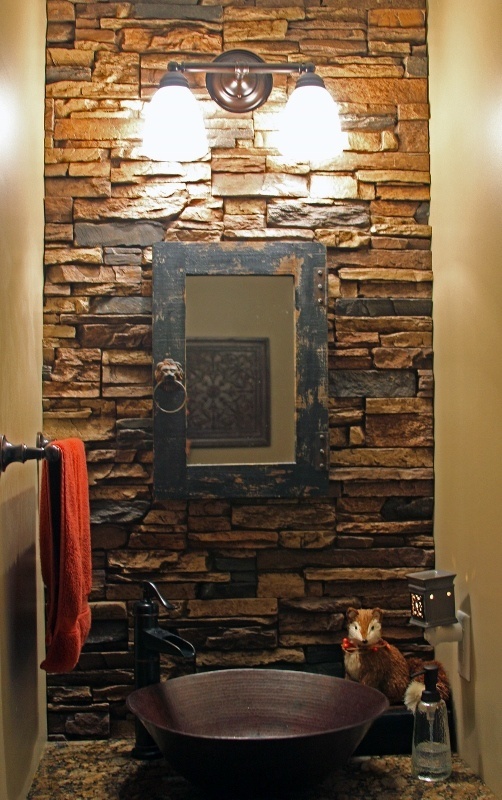 The powder room has a matching accent wall behind the sink. Holes had to be cut in the panels to allow for the outlets themselves - but that was easy enough using a regular wood saw. But after the panels had been installed, the outlet covers easily attached with screws and kept the power sockets accessible and functional, without breaking up the pattern of the stonework. Again, it's a subtle touch; but one that looks great. It means the finished accent wall truly looks like it's made from exposed stone; even though it took just hours to install and cost a fraction of what actual stone or brick wood. Scott and Jolene are delighted with the results: "Visitors always compliment us on how much our home now feels like an expensive lodge or spa," they write. "We love the lightweight material, and the touch-up paint kit is a must when cutting the panels to fit around woodwork or light fixtures. I would definitely recommend this product to others." Thanks for sending in the pictures, guys! We think your rooms look great.
---
PRODUCTS USED IN THIS PROJECT