Here's this custom trailer manufacturer that started out 32 years ago making horse and livestock trailers. And here's this tasty little winery that started 11 years ago in the same region of North Carolina, transforming grapes into Chardonnay and Cabernet Sauvignon. Team these two companies together and you get — um, what do you get?
A Winery On Wheels

Nothing less than a fabulous wine cellar on wheels. That's 18 wheels, including the tractor - custom manufactured by Golden Gait Trailers for Little River Vineyard and Winery. (Yes, that's "gait." Remember the horse trailers.)

But what does this have to do with artificial stone panels? The answer lies inside the glass doors that welcome you to the climate-controlled Little River mobile wine cellar.
Talk about a warm welcome. The Wellington Dry Stack artificial stone panels blend perfectly with the rich, natural wood and earth tones all around. "And the faux panels were much nicer than the website made them look," says Golden Gait project manager Ben Hawkins. "That's always a nice surprise!"
After an entrance like this, the wine racks themselves can't be far away. And indeed they aren't.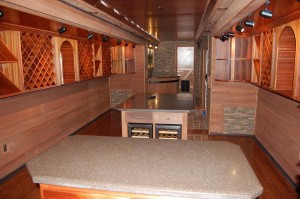 In the beginning, Little River was an out-of-the-way vineyard that sold most of its grapes to wineries in more populous areas. But eventually the folks at Little River asked themselves: "Hey, why should we sell our grapes to other people and let them win awards for their wine, when we could make the wine ourselves and do it just as well or better?" The problem would be getting the wine to the wine lovers.
The solution turned out to be a used trailer that Little River had bought -- not for the trailer itself but for the generator mounted inside. Someone came up with the idea: "People aren't going to go out of their way to come to us, so why don't we use the trailer to bring the wine to the people?"
Little River and Golden Gait threw themselves into the project, and they're justifiably proud of the result. They think of it as a time machine that transports customers back to one of the historic wine cellars of France or Italy.
And how can you have a historic wine cellar without stonework? The artificial stone paneling was the perfect way to add the right atmosphere in a place where real masonry was clearly out of the question. Real stone would be much too heavy. And it would be much too fragile, crumbling and cracking from the constant rumbling and stress on the trailer while traveling from place to place.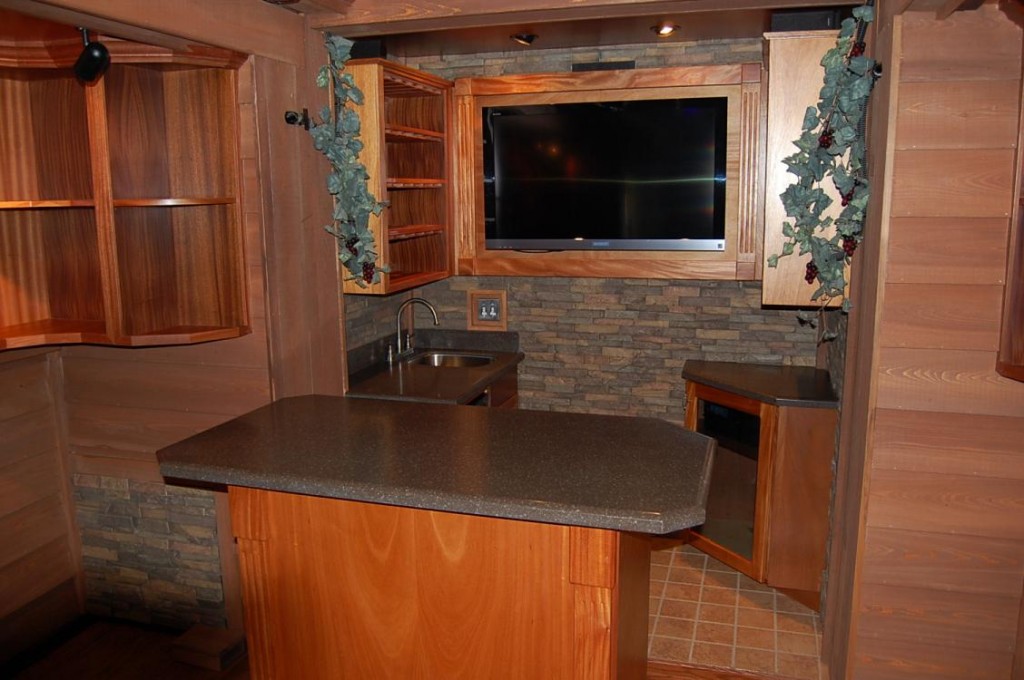 "We here at Golden Gait are professionals at turning dreams into realities, and this one is as real as it gets," says Ben. And then adds, "All but the 'rock,' that is."
To see more artificial stone panel projects, visit our Inspiration page!