\"This is my favorite project that you and I have ever done," boasts Jon Wittmaack, one of the two stars of DIY Network's Brothers On Call show. "Bar none." And FauxWoodBeams.com got to be a part of it!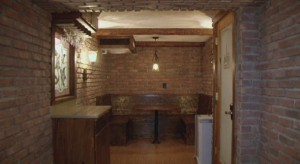 This incredible wine cellar project even included creating a tasting area - perfect for sampling some of the great vintages stored there. Brothers Jon and Terry Wittmaack are contracting legends - completing over 1,000 home redesigns each and every year, and starring in DIY Network's hit TV show
Brothers On Call
. With two generations of contracting experience to call from, these two brothers know quality - which is why it was FauxWoodBeams they turned to when they were hired to complete an exciting wine cellar design project. Their clients were in New Jersey - and were struggling to create a space that did justice to their impressive collection of vintage wines.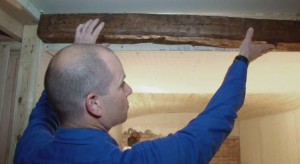 Terry installed our false beams using nothing more sophisticated than trim head screws. "It's stuffy, it's dated, it's falling apart," Jon said as soon as he saw their wine storage set-up in the basement. "It's certainly not a place you'd want to store expensive bottles of wine." So what was the alternative? The Wittmaack brothers built it from the ground up. Featuring floor-to-ceiling wine racks and an innovative curved roof, the new wine cellar the brothers dreamed up was brought to life using a variety of different materials - including a rack of our
Timber beams
.
Our false beams perfectly recreate the look, texture and vivid colors of old timber beams. "These things look like old timber, but they're actually made of foam," Terry explained. "This is going to look like an old post and beam construction, but in reality it's very easy to install." And that's an understatement. As you can see from the video, it took very little time for Terry to attach the beams; using nothing more than trim head screws to secure them. And the results speak for themselves. Alongside the other design elements the Brothers On Call introduced, our beams help create the look of a classic Tuscan wine cellar in a modern New Jersey home. We love the opportunity to feature in shows like this - as it highlights just what incredible things can be accomplished with our faux wood products. Watch the video right here: