Enterprising bar owners in downtown Manhattan have added a treehouse to the urban jungle.
The Greenwich Treehouse, on the corner of Greenwich Avenue and Charles St.
Unique Treehouse in Greenwich Village
New York City is home to plenty of offbeat and weird bars and pubs - but one of our favorites has to be the Greenwich Treehouse, down on Greenwich Avenue on the west side of lower Manhattan.
A friendly, low-key bar in the West Village, the Treehouse prides itself on being "the bar above it all" - even if it's rooted firmly on the city streets.
In order to give this popular haunt a treehouse feel, the owners invested in some of our Oxford paneling in the classic Treebark style - lining the entrance doorway and adding a sense of excitement when people march through to doorway.
It's a subtle touch - and uses just a few of our panels to achieve - but makes a big difference to the feel and character of the bar.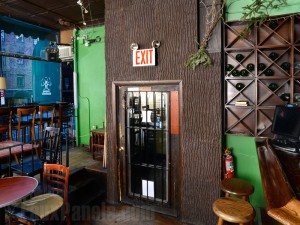 Welcome to the treehouse! The Greenwich Treehouse used Tree Bark panels in their entranceway.
There were a couple of details of the Greenwich Treehouse installation that really stood out for us.
Firstly, the great way the bar owners had installed the panels to perfectly hide the seams between them. This can be achieved with some colored caulk and a little care and attention while installing; easy enough for even the novice carpenter to master, but impressive to look at none the less.
The second detail was how the Greenwich Treehouse team had cut our panels to size in order to align them with the existing doorway, and the overhead EXIT sign.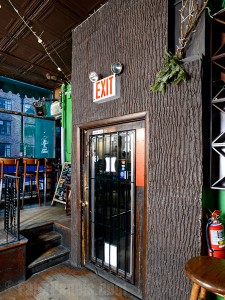 A close up shows the way the bar owners have perfectly hidden the panel seams, and cut them to fit the existing fittings.
They were able to do this so expertly because our panels are molded from tough and durable polyurethane - and can be cut to shape with a regular wood saw. Some careful measurements (we stick by the old maxim "measure twice, cut one") and a little prior planning made the whole process seamless.
For us, the appeal of this project is twofold.
Firstly, it illustrates just what a difference a few panels can make - and also demonstrates how useful and versatile our products are in commercial settings. Our tree bark panels, for example, offer a uniquely textured finish that really isn't available in any other material.
Secondly, even if the owners did have access to real tree bark, our panels are more affordable and easier to install than real wood would ever have been (and much more likely to meet building codes).
So what do you think? We think the "bar above it all" has set the bar pretty high with this design project - and the next time we're in the big city, we'll be sure to check it out first hand!