A school in California uses our faux brick panels to add some timeless class to their library renovation.
Modern Library Gets Traditional Style with Faux Panels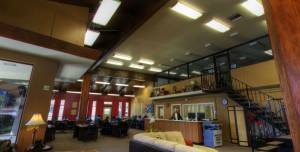 BEFORE: Although stylish, the library at Monte Vista lacked a timeless touch.
"Perhaps no place in any community is so totally democratic as the town library," wrote former first lady, Ladybird Johnson. "The only entrance requirement is interest."
And today - even in the age of the Internet - libraries remain one of the cornerstones of any community.
But today, you'll find much more at your local library than just books - including DVDs, computer stations and even free wireless Internet - making them a true clash between ancient and modern learning.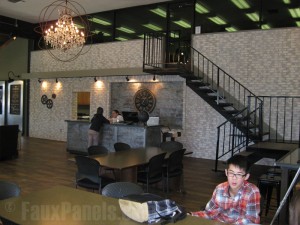 AFTER: Immediately, the library looks more dramatic, timeless and sophisticated.
It was that contrast which inspired Monte Vista Christian School, in Watsonville, California, to use our Regency Old Chicago Brick Panels in the renovation of their school library; giving their modern, open-plan layout the appearance of old brick foundations and a timeless, Victorian touch.
As you can tell from the "before" photograph - there was never any shortage of style and sophistication in the Monte Vista school library - combining warm, deep colors with dark wood and tiling to add a traditionally Californian appearance. Yet some of the darker, leather furniture looked out of place in a room clearly designed with a contemporary eye.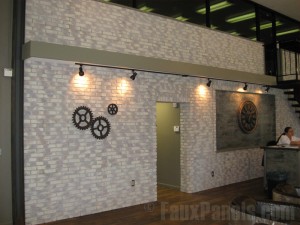 Industrial Victorian touches complete the library's transformation.
By adding our Regency Old Chicago Brick Panels to the central reception area, and adding a smaller and more severe looking reception desk, the appearance of the library was totally transformed.
Instantly, it went from generic California schtick to timeless chic; with a Victorian, industrial touch highlighted by the over-sized clock behind the reception desk, and some stylish cogs and gears serving as decorations on the wall.
But what was really clever about this renovation was that it was neither expensive or time-consuming; at least compared to what it would have taken to build a real brick facade in the center of the school library.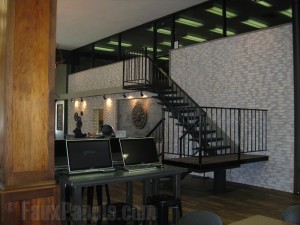 Another angle shows the dramatic transformation our Old Chicago Brick panels have helped with.
Our faux panels attached directly to the existing wall structure - the one you can see in the Before picture above - using regular construction adhesive and screws.
Some mitering and cutting the panels to size - simple carpentry techniques that can be completed with a regular wood saw and angle brace - allowed for a seamless veneer cover; and the result was simply spectacular.
In keeping with many of the projects we feature here, most people's reaction is the same - they simply can't tell by looking at the wall that it's not made from real brick; despite the fact that the entire project required no masonry or foundation renovation whatsoever.
What do you think? An effective use of our product?
We'd love to hear your comments - and if you've got a similar style or setup you've been working on using our faux brick or faux stone products - please share it with us here!