It's no secret that our wall coverings and siding look great – often better than the real thing. That's certainly what we hear from our customers, like Jared; who wrote "no one knows they're not the real thing!" Dean, another customer, boasted: "Most people don't realize that it is NOT real stone until they are either told or investigate with touch."
But what's the secret to our faux panels and siding? How do we get them looking so breathtakingly realistic?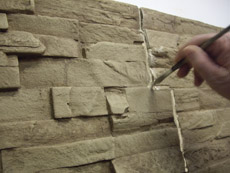 Oxford panels are molded directly from real brick, stone and wood
The Secret to Faux Wall Coverings
The first step is to find real brick, stone, wood and timber to copy from. We start with truly beautiful examples of the material we want to copy, and then use state-of-the-art techniques to capture every intricate detail and texture perfectly: persevering them forever in very durable, high-density polymer.
Our techniques allow for an unprecedented level of detailing; right down to pits and chinks in each individual brick and stone. Our customers aren't exaggerating when they say it's almost impossible to tell them apart from the 'real thing' by looks alone.
Following molding, we color them in a variety of natural-looking shades that are practically impervious to color degradation. This allows you to keep exactly the same color and texture no matter how many square feet you intend to cover – something that's not always possible or practical when using real stone or wood.
It's this painstaking production process that results in the incredible realism of our wall panels – practically indistinguishable from the 'real thing.' What does set them apart, however, is their practicality.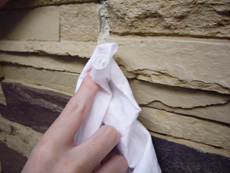 Norwich panels are carefully colored to resemble authentic stone or wood
Ease of our wall paneling installation and affordability mean you can bring the classic elegance of stone, brick or wood to parts of your home you could never do with 'real' wood or stone. In addition, our panels are completely impervious to the elements – something that real wood paneling, and even some brick or stone, isn't.
This gives you immense flexibility in where to install them – from the exterior of your home to a shower, bathroom or basement. To added piece of mind, our Oxford and Norwich lines can be purchased in Fire Rated (other lines can be Class A fire rated as well, depending on the volume you're purchasing.)
So it's worth remembering that our faux panels don't just look 'as good as the real thing.' In many ways, they're actually superior.