Our faux panels have a leading role in a hit TV show.
The Real Star in "Design Star"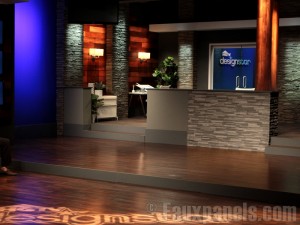 The set of Design Star is understated, sophisticated and classy.
We've posted several times about our involvement with some of the leading home design shows on TV - like DIY Network's Man Caves and HGTV's Curb Appeal.
But it's not just the homes they feature on TV that benefit from our faux panels - sometimes, even their sets do as well!
Earlier this year, Chris Potter of HGTV's reality competition Design Star sent us pictures of our Windsor Dry Stack Kentucky Gray Panels in their starring role on the sound stage.
"You helped us out a ton last winter with the stone for our set," he wrote. "I told you I would get you pictures, and now here they are!"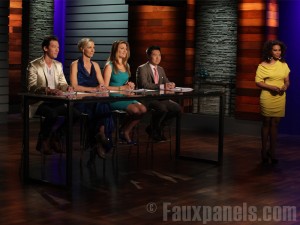 Our dry stack stone veneer panels served as a subtle backdrop to the tense action on set, as designers vied for the title of "Design Star."
As you can see from the photos, our dry stack faux panels add a great, contemporary element to the set of Design Star; almost like a sophisticated hotel or bar.
The vivid texture of the bricks - intricately molded from real dry stack walling, and capturing every detail - looks especially good under the studio lights as the shadows are bold and dramatic when lit from above.
What makes our faux stone products so tempting for set design are the same reasons they're such a great choice for homeowners and designers.
Lightweight and easy to install, they can be put up inside or out in a matter of hours, using nothing more than construction adhesive, screws and a regular wood saw to cut the panels to size.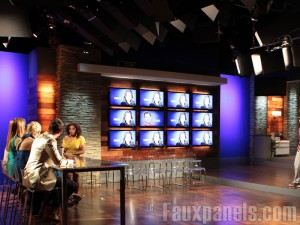 The lighting of the set design was particularly well-matched to the dramatic texture of the faux panels; which cast beautiful and vivid shadows.
Thanks to their innovative interlocking design, it's also straightforward to get the seamless appearance of a solid stretch of wall - with no seams or joints visible.
Add in two final elements - the fact that our panels are highly affordable and take just hours to install - and you can see why set designers are so keen to use them; especially when they're required to build sound stage sets in tight deadlines.
This is why Chris signed off his email with: "Thanks again! It's always a pleasure to work with you and your team. And your great products."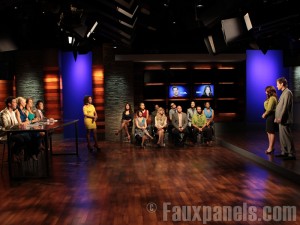 Overall, our panels blend with the set design perfectly.
For homeowners, the advantages the producers at HGTV identified carry over - allowing people to totally revamp their homes with an incredibly professional-looking stone or brick veneer over the course of a single weekend; and for a fraction of cost of using real stone.
If you've carried out a design project that rivals the set of Design Star, we'd love to see it! Email pictures to info@fauxpanels.com.
You can also check out all of our TV appearances on our As On TV video page.