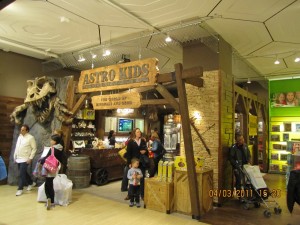 Faux wood beams and a beautiful sculptured t-rex welcome kids to Astro Kids
FAO Schwarz in NYC, perhaps the most famous toyshop in the world, got a startling new addition this December – a new store-within-a-store brought beautifully to life using our faux wood beams.
Astro Kids is the brainchild of gemstone and mineral experts Dennis and Marc Tanjeloff, and offers "anything related to minerals," according to Dennis. That includes replica dinosaur and shark teeth, fossils and geodes and a host of exciting scientific kits to introduce curious kids to the exciting science of geology. The Astro Kids store is just under 400 square foot, and features a gigantic skeletal dinosaur rearing out of a solid rock wall – designed by New York native Judy Richardson. The rest of the incredible décor was supplied by Barron Designs; using our vividly realistic
faux wood beams
, and a variety of our rock veneer panels.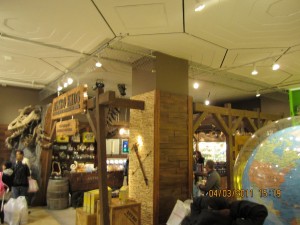 A store-within-a-store in New York's famous FAO Schwarz, faux wood beams and faux panels bring the displays to life Astro Kids is one of more high profile example of the ways in which stores have used our products to add life and energy to their shelf displays; and serves as a brilliant demonstration of the versatility of our faux wood and faux rock products. We're especially proud of the way in which our beams have been used to create a stunning
faux wood truss
above the store; indistinguishable from real wood; but easy to install and a fraction of the price. Literally millions of visitors from all over the world come to visit FAO Schwarz NYC every year; so we're incredibly excited to be part of one of the most exciting and innovative new additions to this venerable store. We've already had incredible compliments from people who've seen the store and recognize our products. Have you had a chance to check out Astro Kids yet? If you're visiting New York, we'd love to hear what you think. Email us at
info@fauxwoodbeams.com