Your kitchen does a lot more than simply provide a space for cooking food. It's a gathering place for your family, it's often the room where guests end up during a social gathering and, let's not forget, it's the place where you probably get your coffee in the morning. Because the kitchen is such a sacred space, you want to make sure that yours sets the tone for the rest of your home. And one way to set that tone is with a stone kitchen backsplash.
There are many types of backsplashes to choose from, so it's important to look for one that conveys the personality of the room. Regardless of whether you have a traditional color scheme or are going way outside of the box with your kitchen design, the backsplash should complement the rest of the room — and fit well with the rest of your decor.
Of course, backsplashes do more than add an attractive element to your kitchen. Their primary purpose is to protect the wall from oil splatters, water and other liquids that can leave stains or could even lead to mold on the wall between the kitchen counter and the cabinets above.
When done properly, a kitchen backsplash is both appealing and useful, but there are times when well-meaning home renovators might miss the mark. For example, they might try using a material that doesn't fare well in the moist kitchen environment, such as wood. Or they might use a pattern that doesn't work well with the rest of the room. Since the backsplash will become a focal point, make sure it checks all the boxes in both functionality and form when deciding which one is right for you.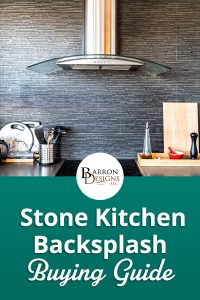 Choosing the Right Backsplash Material
There are many types of natural materials to choose from for your kitchen backsplash. They include metal, tin, tumbled marble, stained glass tile, ceramic, stainless steel, glass, slate and natural stone. However, a great alternative to these heavier, more expensive materials is faux stone panels, which come in a variety of colors and styles and can create the look you want at a fraction of the price of other backsplash options.
Because faux stone backsplashes are made from polyurethane foam, they're eco-friendly, durable and easier to work with than real stone or other natural materials. Because the molds are made from actual rock, the panels have the appearance of natural stone. In most cases, it's almost impossible to distinguish faux stone kitchen backsplashes from a real stone backsplash once they're installed. And, with so many different colors and finishes, you can find the one that works best in your space.
What to Consider When Choosing Your Stone Kitchen Backsplash
With so many choices in stone kitchen backsplashes, it's easy to get overwhelmed during the decision-making process. To help narrow down your selection, ask yourself these five questions before you buy.
What kind of countertops do I have?
The countertop has a major impact on what kind of material you choose for your backsplash. You want the materials to complement one another, not compete for attention. You might fall in love with a certain type of stone, but if it doesn't work well with the natural pattern of the countertop, it will ruin the look of both. Take into consideration all the other elements in your kitchen, too, such as the patterns and colors on the floor and the cabinets.
What colors am I using?
Your backsplash will influence — and be influenced by — the colors in your kitchen. Just as with the countertop, your backsplash should complement the colors and work together to create the tone you want. Do you want something that is light and bright? Do you prefer a neutral approach? If you want to make sure that the colors work together, put samples of the paint and backsplash on a wall and "live" with that combination in the space for a while.
It could help you make your final decision or might inspire you to keep looking. Remember, you can always look at online galleries and on sites like Pinterest for inspiration if you're feeling stuck.
How much space does it need to cover?
You may have just a small space to fill between your counter and wall cabinets, or you might have a larger canvas to work with. There's no hard and fast rule about how large your stone backsplash should be, but you do need to set some parameters so you'll know how much material you'll need.
You can extend the backsplash all the way to the ceiling, if you'd like, in a room where there aren't any cabinets. If you're going to fill a large space, the backsplash will become the focal point of the room, so make sure you absolutely love it before you commit to the change.
How much money do I want to spend?
Obviously, the bigger the project, the more it's going to cost, but there are ways to bring your expenses down. For example, using faux stone panels will allow you to cover a much bigger area for a fraction of the cost of real or natural materials, and you'll also save money on costs like shipping.
How hard is it to install?
If you want to do the kitchen backsplash project yourself, you'll want to make sure that you can manage the materials. Unless you're a skilled do-it-yourselfer, it's probably best to hire a professional to do a backsplash installation, particularly if you're working with real stone. Real stone is difficult to cut (and extremely expensive to make a mistake on), and you'll also need to make sure you're measuring the space correctly when cutting backsplash materials to fit.
Working with faux stone can simplify the process since the panels are lightweight and easier to handle and install. They're also much easier to cut and, if a mistake should happen, it won't be as costly to correct.
Change the look and feel of your kitchen with a faux stone backsplash that emphasizes your home's personality. You can enjoy the look of natural stone, river rock, slate and much more on a reasonable budget.