Spruced Up Patio Couch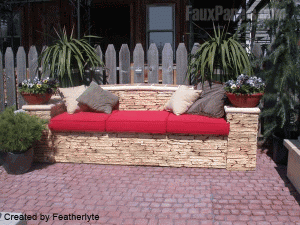 A little tradition is starting here at the Faux Panels blog. Most of the photos of finished projects that are sent by our customers are beautiful, but once in awhile I see one that particularly tickles me as an ingenious use of the paneling.
This week the "Fauxny Award" is given to this striking patio couch, trimmed with Oxford Stacked Stone panels in Light Tan. The outdoor sofa-style seat was created by the Featherlyte Outdoor Furniture Company of Knoxville, TN and is a beautiful addition to our Spring Spruce-Up series.
This isn't your boring old patio furniture. The paneling blends in nicely with the surrounding scenery and looks very cool and sophisticated. I can just see myself laying out on a fine spring day with a good book, the envy of my neighbors as they covet my patio seat. Well done!