Fauxwoodbeams.com customer Justyn sent in these pictures of his recent remodel, demonstrating that sometimes keeping things simple is a secret to success. See how he designed a beautifully rustic great room with the help of Beachwood beams.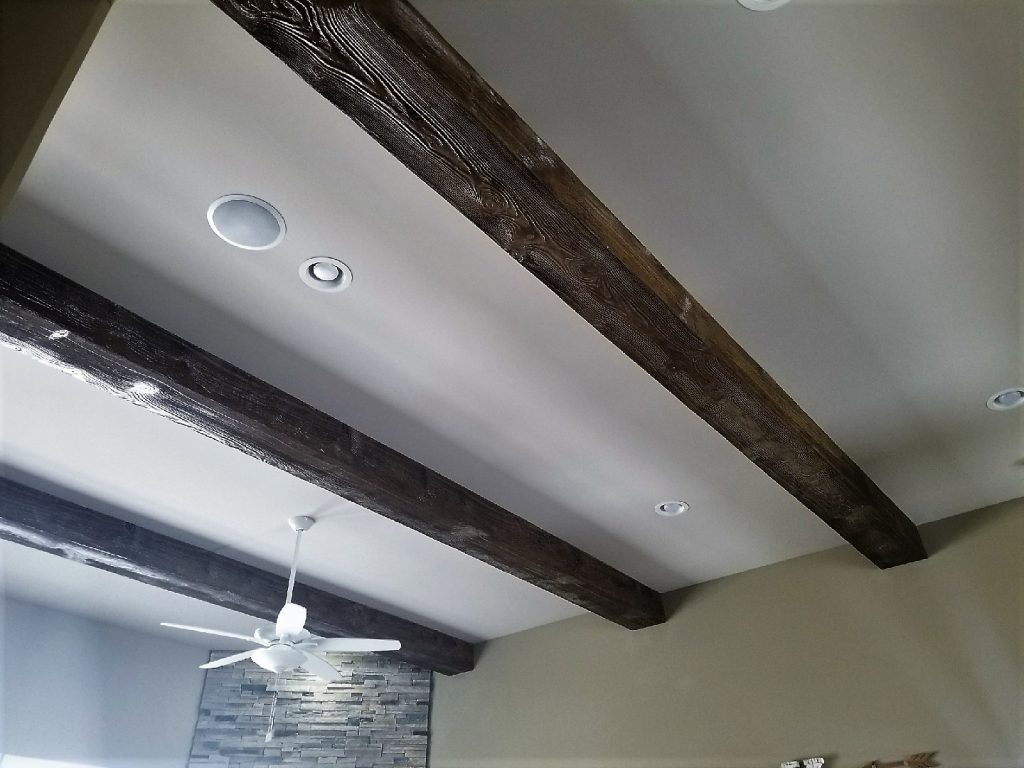 We've featured some truly spectacular creations on this blog - such as the 
Arched Trusses
created by customer Bob Weatherwax. However, one design inspiration that never loses favor is the rule of keeping things simple - as demonstrated by these photos of another customer project we received last week. Justyn Kearney, from Omaha, Nebraska, knows a thing or two about design - which is why he elected to go with the tried-and-tested simple approach when he decided to install beams on his great room ceiling. He wanted to break up the wide expanse of white with something striking, but also wanted it to blend seamlessly with the look and feel of his home. Creating the look of exposed timber beams seemed to achieve both those goals. After researching his options, Justyn was led to FauxWoodBeams.com -
where he chose Custom Beachwood Beams.
Beachwood Beams are designed to look like wood that's been exposed to the ocean elements - with vivid grains and edges that have been softened by rain and tide. It's a unique and appealing look and the sort of beam that would be very difficult to source in real life. The beams are molded from authentic ocean-aged timbers, and then recreated with an innovative injection molding process that captures every detail in vivid three dimensions. Manufactured from lightweight and durable polyurethane foam, the beams are then colored in a variety of realistic wood hues and offer a truly unique look at a fraction of the price of natural wood. "I added these custom faux beams to our great room ceiling," Justyn explained in his email, "and we have received many compliments on them since." Justyn ordered three beams, and installed them width ways across his ceiling.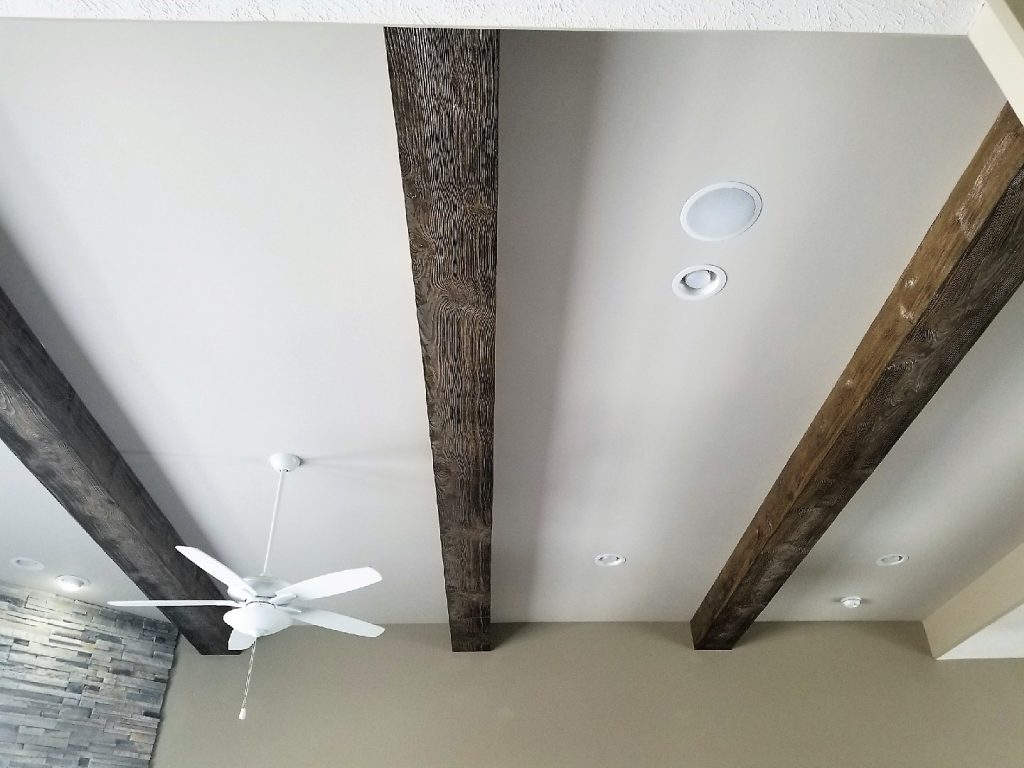 This angle demonstrates the beams' unique and appealing texture. The installation was simple. The first step was to carefully measure equidistant spots across the length of the ceiling, so each beam would be symmetrical. Then wooden mounting blocks were drilled into the ceiling studs. Following that, Justyn carefully measured the distance from one wall to the other at each of the mounting locations, and used a regular wood saw to cut the ends of each beam to fit. This is a straightforward process, but the key is to measure the length wall-to-wall across every intended mounting spot - as even straight-looking walls and edges can have a leeway of up to half an inch or more at any given point. Justyn and a partner then lifted each beam up and slotted the hollow, u-shaped interior over the wooden mounting blocks. Once secured with screws, the beams stretched flush with the ceiling, and met the edge of each wall perfectly. They look as if they extend from inside the wall, just like real supporting timbers would. "We love the way the beams enhanced the room," Justyn writes. "I am going to be ordering one of your mantels next for my basement!" Given the great job he did on this simple, but spectacular project, we can only hope he sends in pictures of the next installation too. Thanks for sharing, Justyn!