Seamless Deck Siding
Adding a deck to your home is a right of passage. It's a addition that can transform your home; and how you enjoy it during the summer. And with faux panels, you can add a lot of deck for a lot less money; by using them to create seamless deck siding.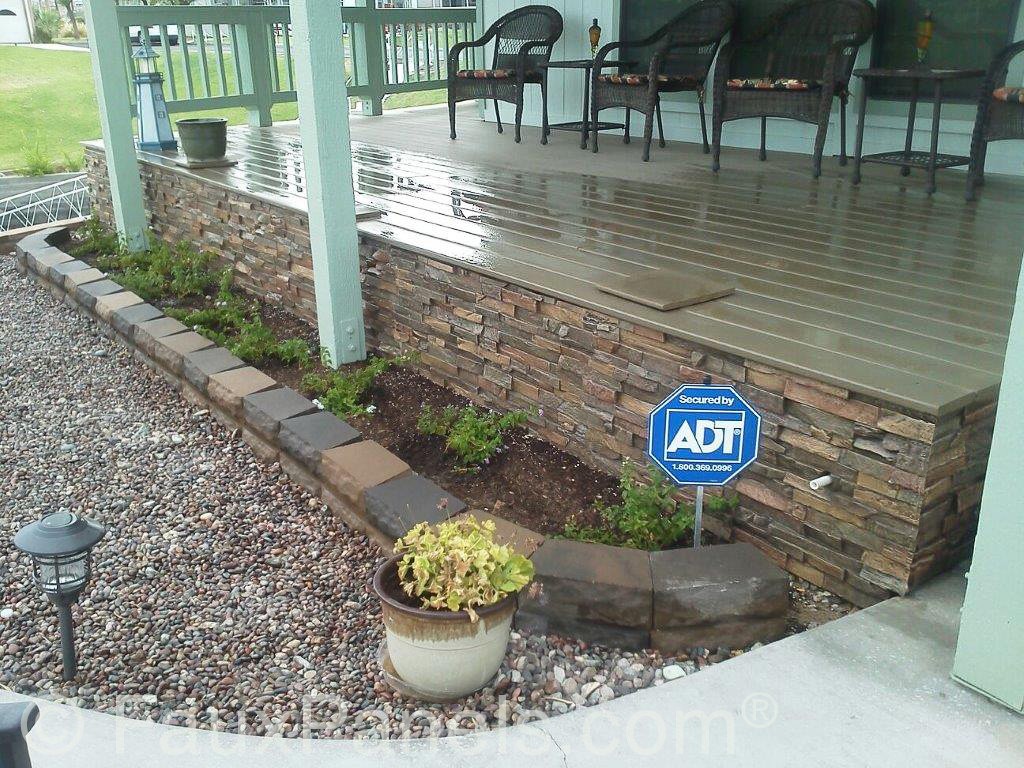 Faux stone deck siding gives decks a polished look, and adds a practical element by keeping wildlife and debris out from underneath.
'Deck gap' is a real issue. It's the problem people have with the bare space between where a deck begins, and the ground ends. It's difficult to maintain if you have grass, and it's a potential nightmare if animals or insects like wasps and bees get under it.
Which is why siding is a great option - but not a great looking option unless you're wise to the faux solution.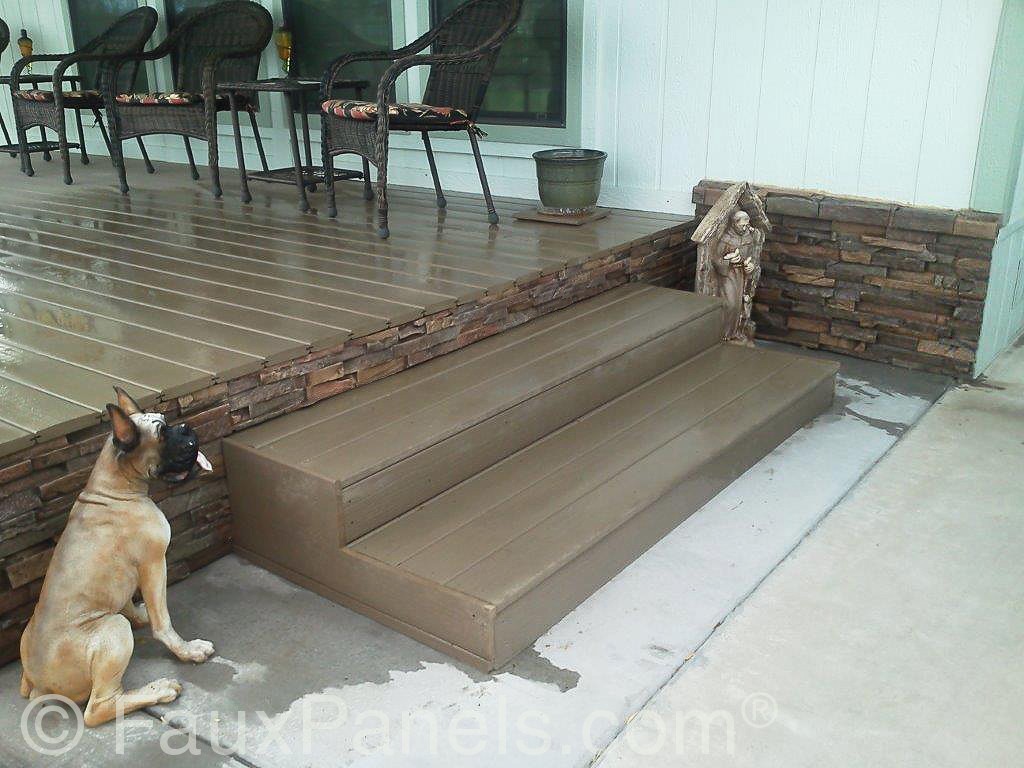 Faux stone panels can be cut to shape with a regular wood saw, for a totally seamless installation.
The panels are molded from real stone, brick or wood, and then recreated using high density polyurethene foam. This makes them incredibly light and affordable; and a great, versatile option for things like deck projects.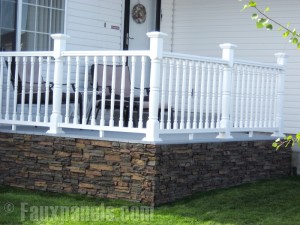 A wrap-around porch can also benefit from the faux panels treatment.
Adding a layer of MLP or chipboard to the edges of the decks creates a barrier to keep weeds, grass, animals and insects out from under your deck. Installing some of our wood-style panels on top of that transforms the ugly chipboard into what looks like professionally-laid stacked stone walling.
It's a surprisingly simple installation. The panels can be cut to size with a regular wood saw, and installed using wood screws and adhesive. But once in place, they look amazing. It's practically impossible to tell them from the real thing without reaching out and touching them.
And when used as deck siding, that instantly makes it appear like your deck was actually installed on a foundation of hand-laid stone; for a classic, sophisticated look.
That sort of design normally comes with a hefty price tag attached - real stone or brick is expensive, and installing it is a major project that can take days or weeks.
In contrast, installing faux panels can take just hours - and with it nearly impossible to tell the difference, it's a good bet where the smarter investment is.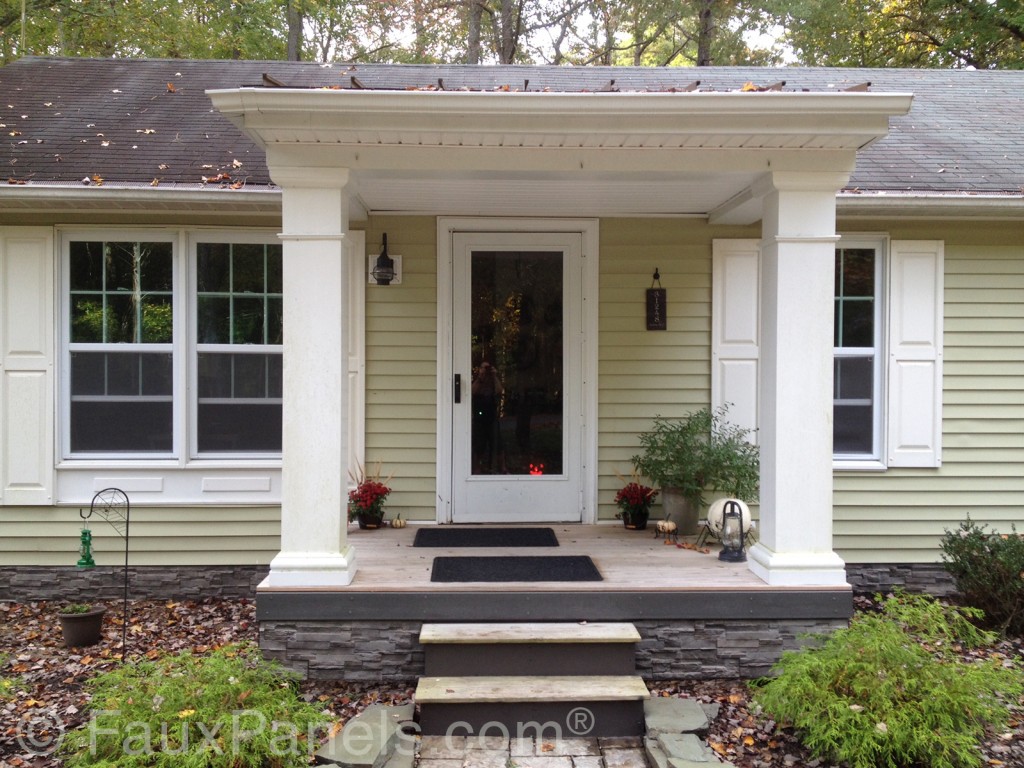 Faux panels add a subtle stone foundation to this all-wood porch addition.
The faux panels on this porch make the stone foundation look vividly realistic.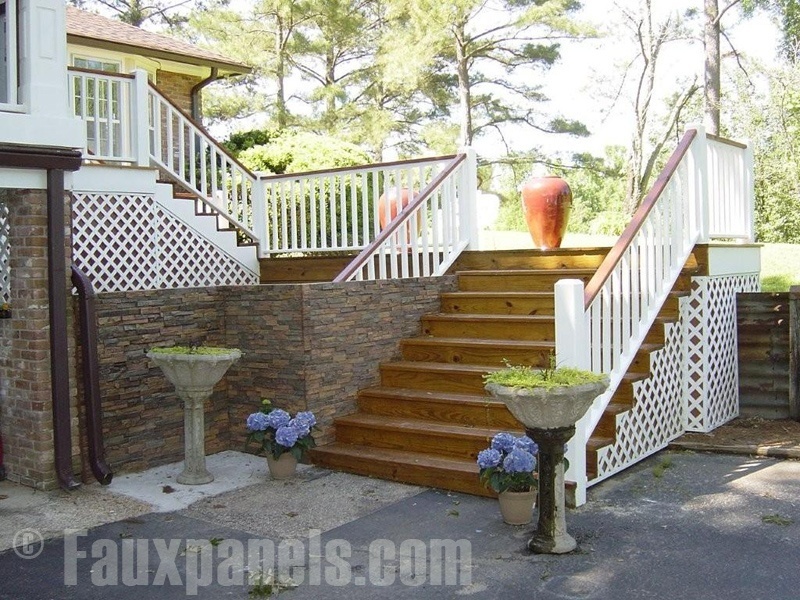 These elegant steps look great framed with faux stone siding.