Safe & Clean Pallet Headboards
A popular design inspiration at the moment is the 'pallet headboard' - a bed headboard made from reclaimed pallet wood. But does 'going faux' offer a better alternative?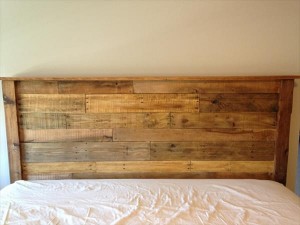 This picture from palletfurniturediy.com shows the sort of headboard Tim's wife was keen on.
"My wife had been bugging me about it ever since she saw it on Pinterest," explains Tim, a homeowner from Wisconsin. "We've been working on our house for a number of years, and wanted something that wasn't store bought - that was us."
And Tim's wife isn't alone. Shows like Flea Market Flip and others have made the idea of building or repurposing furniture incredibly popular. There's something very satisfying about having an item in your home that you built yourself; and didn't come from Ethan Allen (or, in my case, IKEA.)
"I like the look and thought it went well with our decor," Tim admits, "but I'm not going to lie. I was totally skeeved out at the thought of having reclaimed wood so close to where we sleep."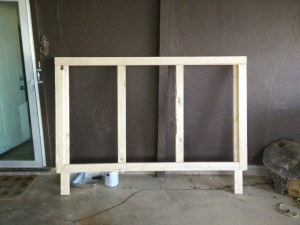 Reddit user 1WhiteGuy demonstrated how to frame a headboard correctly.
And Tim's not wrong. Pallet wood, especially, is an unknown element, sourced from old freight pallets used for hauling items around on a fork-lift truck.
From a design perspective, that's actually perfect. One of the challenges of using salvaged wood is having a consistently-sized and shaped source of timber. When you demolish a barn, or tear up floorboards, once that source has gone it can't be recreated.
Whereas with pallet boards, you have a nearly unlimited supply of wood that's a consistent size and shape; perfect for design projects.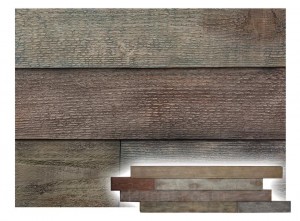 Can you believe this isn't REAL wood? It's safe, clean synthetic timber.
"What worried me, though," warns Tim, "is what was on the pallets."
And that's a very real concern. Pallets are used to carry and lift pretty much every type of freight in the world - from Cadbury's Cream Eggs to toxic waste.
Tim himself runs a pest control business, and knew that the pallets in his warehouse were often soaked with harmful chemicals used for killing cockroaches and ants.
"I didn't want that right by my head," Tim explains. "Now while my wife and I are sleeping. Who knows what they have had on them."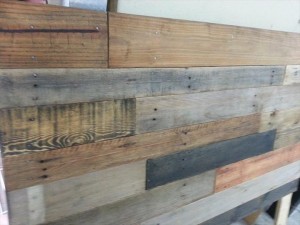 101palletideas.com posted this close-up of a real reclaimed wood boardboard.
And what's on them is only half of the issue. Forgetting the cargo they held, wooden pallets are prime candidates for termite infestation and mold. What's worse is that there are no building codes or standards for selling this type of wood - so there's a chance if infect or fungus life was embedded in it, it would remain so when it reached the hands of the consumer.
"Which is why I decided to go faux," Tim explains. "I dug the look and concept of the project; but wanted a safer source of wood..."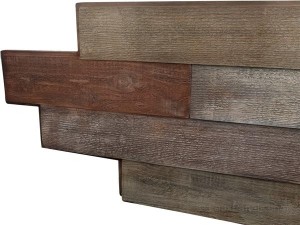 See how closely our synthetic wood panels mirror the color of real reclaimed barn boards.
Fortunately, Tim was in luck. At fauxpanels.com we produce a vividly realistic synthetic wood product that looks just like the real thing. Called Reclaimed Barn Board, it's made from high density polyurethane foam and molded from real repurposed barn wood. The molding process captures every grain, knot and imperfection, and we finish the product in a mismatched wooden hue to add to its authentic look.
"Your Reclaimed Barn Board was perfect for making our headboard," Tim explains. "I created a frame from regular 2" x 2" and then we could attach the panels inside. They were lightweight and effortless to attach, and I could cut them to size with a regular carpentry saw."
Even better than that - when the boards were in place, they looked exactly like a real pallet headboard.
"My wife was thrilled," Tim explains, "and I'm much happier knowing that the headboard inches from where I sleep isn't soaked in mystery substances or crawling with termites."
Have you used our products for a similar project? Let us know - and send pictures if you have them.