You don't have to cover a whole home to get sensational style with faux stone panels.
Regency Panels Create a Faux Stone Sensation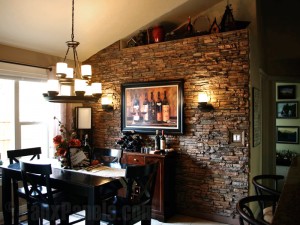 This Regency Stacked Stone accent wall is the perfect way to show case a fine wine collection.
You might not have believed the maxim "less is more" growing up (especially when it came to chocolate chip cookies) but most of us can see the wisdom in it now we're adults.
One area in particular in which a little goes a long way is home design - as demonstrated by these great interior home improvement projects completed using our Regency Stacked Stone Faux Panels.
These shots are taken from our online photo galleries, which feature many previous customer designs to give potential faux-panelers some awesome design inspiration.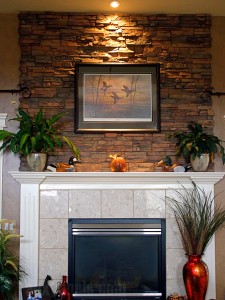 Stacked stone veneer is the perfect way to turn a functional fireplace into the centerpiece of a room.
You should check them out - the pictures from this post can be found in our Regency Panel Design Gallery, Accent Wall gallery and a galley dedicated to Fireplaces.
In all three, you'll often notice how often our panels are only used to cover one wall in a room, or even just a single wall surface.
This is because adding a faux panel accent can often be more effective than covering the entire wall in one of our vivid stone veneer designs.
Accent walls are designed to draw the eye to a particular part of a room; which can often change the perceived shape and size of a living space, or accentuate (hence the name) a particular feature.
In these examples, an accent wall was created to showcase a homeowner's wine collection; serving as a backdrop for a beautiful hand-rendered oil painting and a collection of vintage wines from around the world.
In our other example, an accent panel was created to showcase the fireplace of a redesigned home; which automatically makes a room feel warmer and more intimate.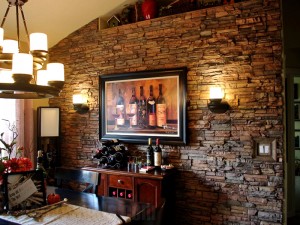 Furniture and lighting is also important to finish off a good accent wall. Fortunately our faux panels are perfectly suited for this, as they can be drilled to run wires or mount fittings directly to the wall behind them.
These are clever design tricks that have more benefits than just adding a touch of flair and style.
Compared to the cost of covering an entire wall, adding an accent piece is extremely affordable.
They also attached directly to an existing wall with regular construction adhesive and screws; meaning an exciting new wall finish doesn't involve any time-consuming or expensive renovation.
If you've used our faux panels to create an accent wall in your home, we'd love to see pictures.
Accent pieces are one of the most striking and innovative design ideas you can have - and we'd be excited to feature yours on our blog.
Email pictures to info@fauxpanels.com and if we want to share them, we'll message you back and ask to feature them here!