2018 was a great year for faux, full of fantastic interior design projects that we've shared on this blog. It was tough to narrow down over fifty posts to our top-twelve monthly favorites - but we tried! Here are some of the best show-stopping designs highlighted in 2018.
January - Building a Fireplace: Easier Than It Sounds
Customer Maryn decided that her living room needed some cozying up. What better way to add warmth than with a fireplace? Building it was more straightforward than one would think. Maryn built a wooden frame around an electric fireplace, covered it with stone-style paneling to create the "chimney" and topped it off with our Custom Timber mantel. As you can see in the After photo - the final result is stunning!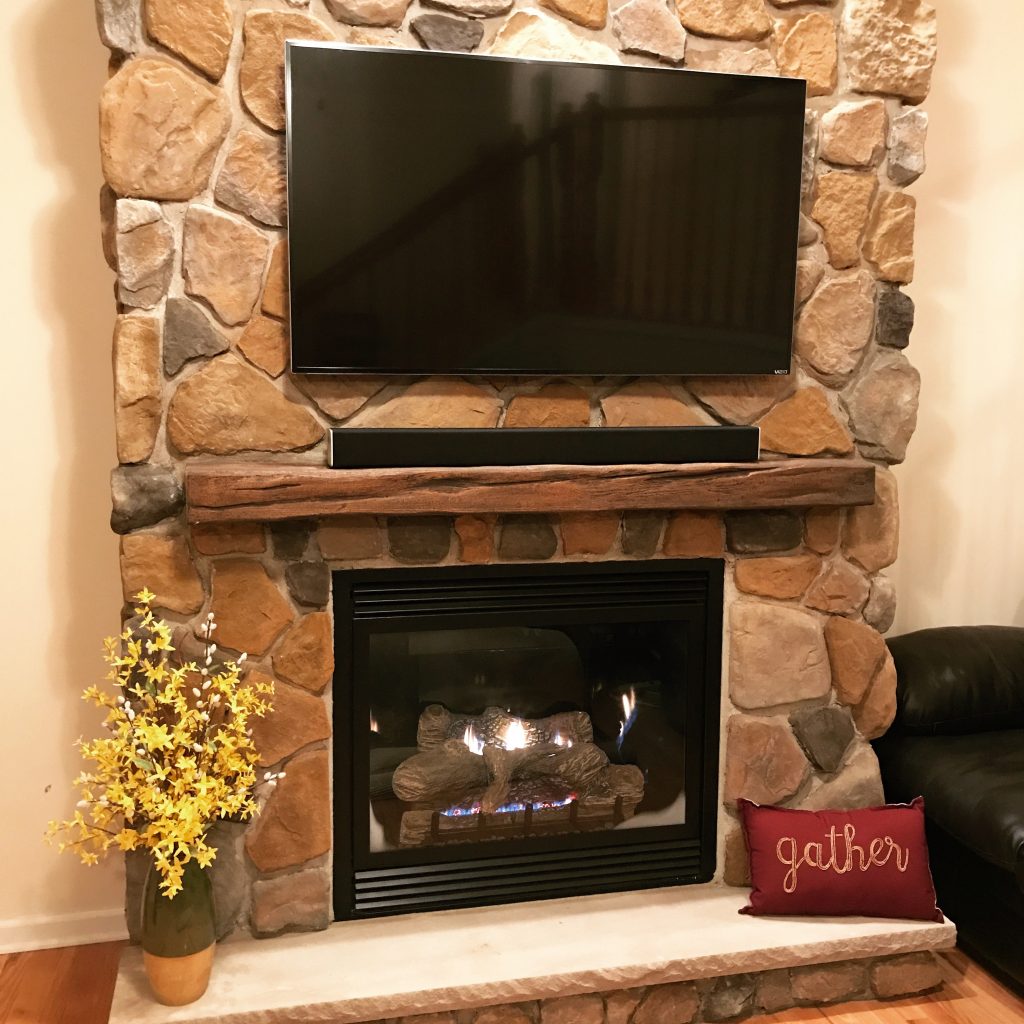 February - Simple Kitchen Design with a Ceiling Beam
We featured another innovative project in February - in which
customer Hussein used a single one of our Custom Timber beams to fill in the apex of his kitchen's sloping roof. Paired with our accessory beam straps, the result was subtle, stylish and incredibly elegant.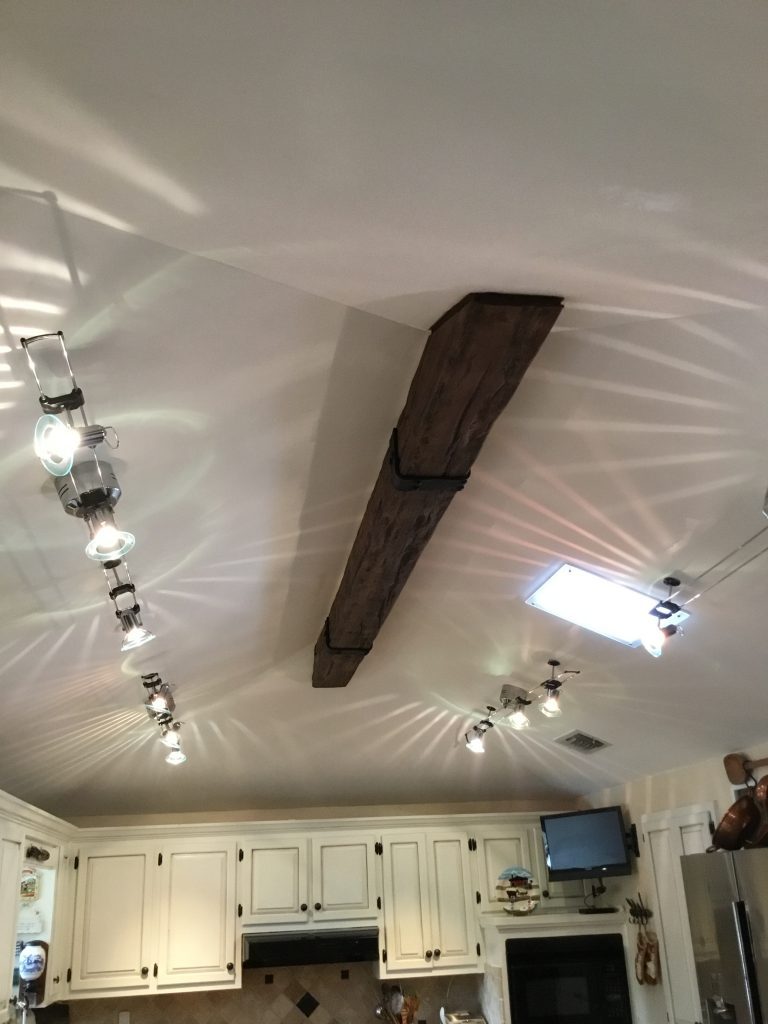 March - How to Brighten a Sun Room Design with Beams
Designer Diane Bianchini of Dream Windows & Interiors gave us a fantastic project to feature in March; in which she used to counter-intuitive addition of our dark-hued Quick Ship Timber Beams in Rich Walnut color to make a previously drab sun room brighter and lighter. It was a great example of interior design at its best, and we love how our beams contributed to the end result.
April - Low Ceiling Design Gets a Lift with Beams
Faux beams are not an obvious choice for homes with low ceilings, but in April we featured a great kitchen project sent into us by customer Jennifer; who used our Custom Timber Beams to add a low-profile wood look to her kitchen ceiling; without clonking anybody on the head! It's another example of how versatile and practical our products can be in virtually any application.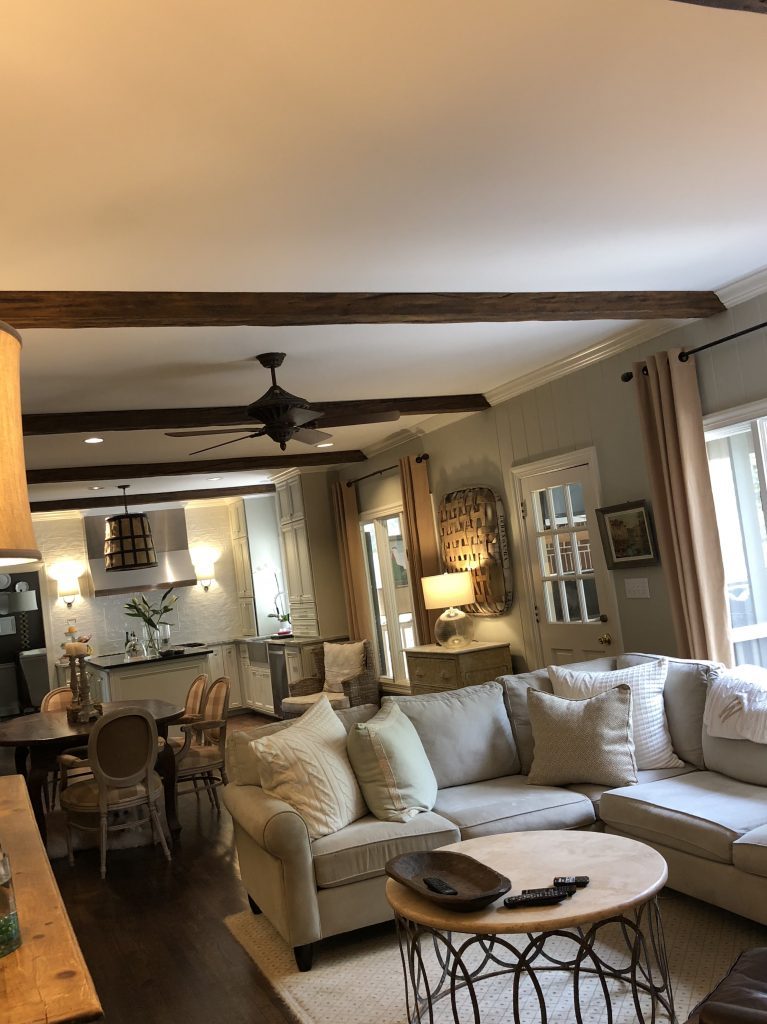 May - Dividing a Living Room with Suspended Beams
Customer Caryn sent in a really innovative design project in May of 2018; demonstrating how she'd used our Custom Timber Beams to give the illusion of dividing a large room into sections; without any of the obvious blocking or restriction real dividing pieces would have resulted in. It's a great example of innovative design and arguably the trend of 2018 we think is most notable.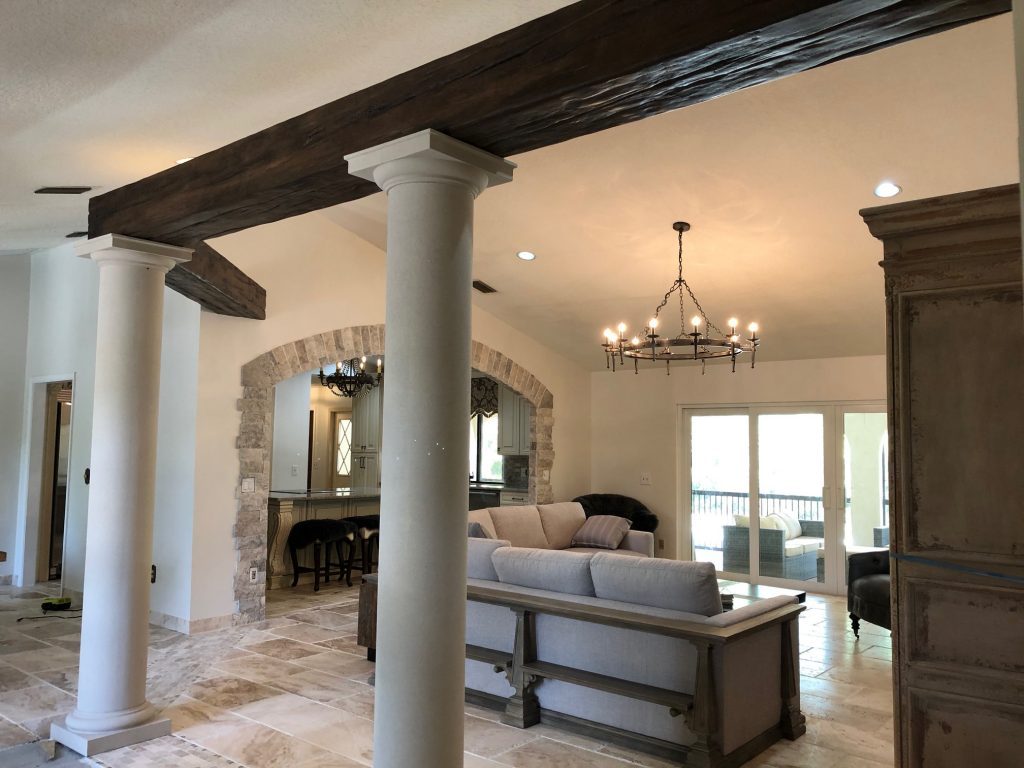 June - Decorative Gable Trusses Make a New Home Spectacular
Simplicity went out the door in June - and showmanship stepped in. We featured an incredible exterior design project from Ocala, Florida, which saw our Custom Hand Hewn Beams in Burnt Mocha used to incredible effect to mimic the look of curved roof trusses that would have been used in the historic homes that inspired this new build. It was bold, dramatic and arguably one of the faux beam projects of the year.
July - How to Add Medieval Style to a Modern Home with Beams
We continued the theme of modern medieval in July, when we featured the work of customer Ashok; who used our Custom Heritage Beams in Dark Walnut to add an incredible look to his towering vaulted ceiling. It really helped break up the wide expanse of ceiling and added a beautiful historic element to his modern and stylish home.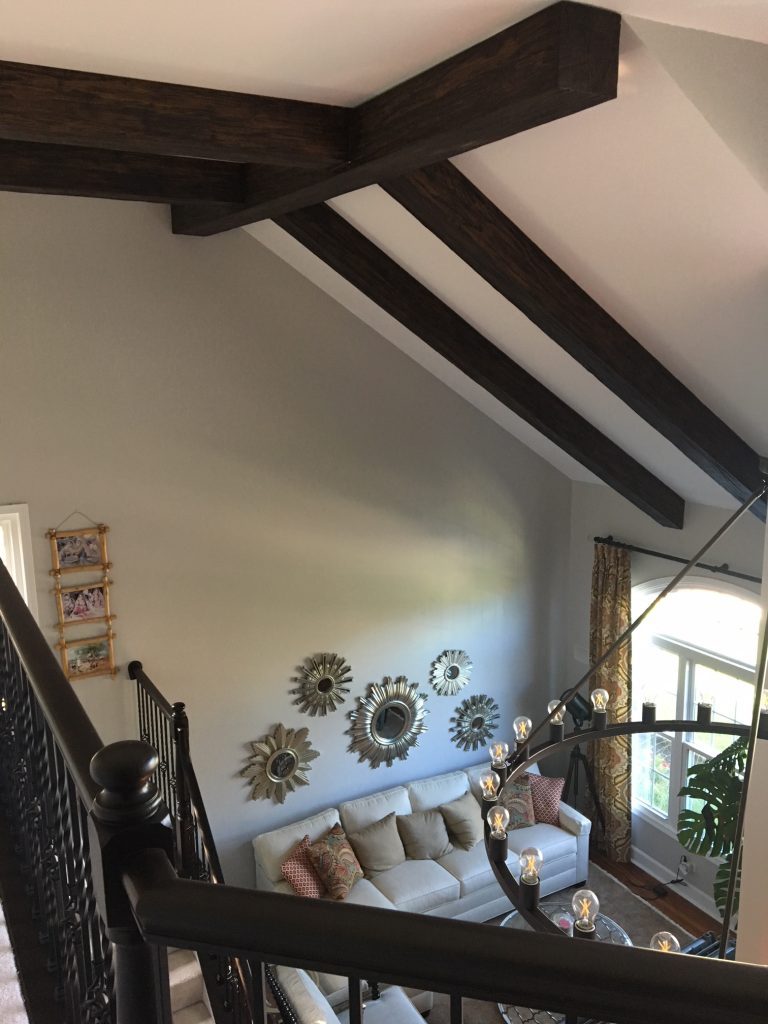 August - Simply Stunning! A Whole House Remodel with Faux
August was an incredible month, with a stunning whole-house resign project dominating this blog and that of our sister site, FauxPanels.com. The focus was an incredible house remodel that turned a drab and dreary home with a unique layout into a showpiece resembling a luxury resort or top tier casino. Our Custom Hand Hewn Beams in Light Oak, Custom Tuscany Beams in rich Walnut, and Rustic Beams in Walnut were part of the project and look fantastic now they're installed.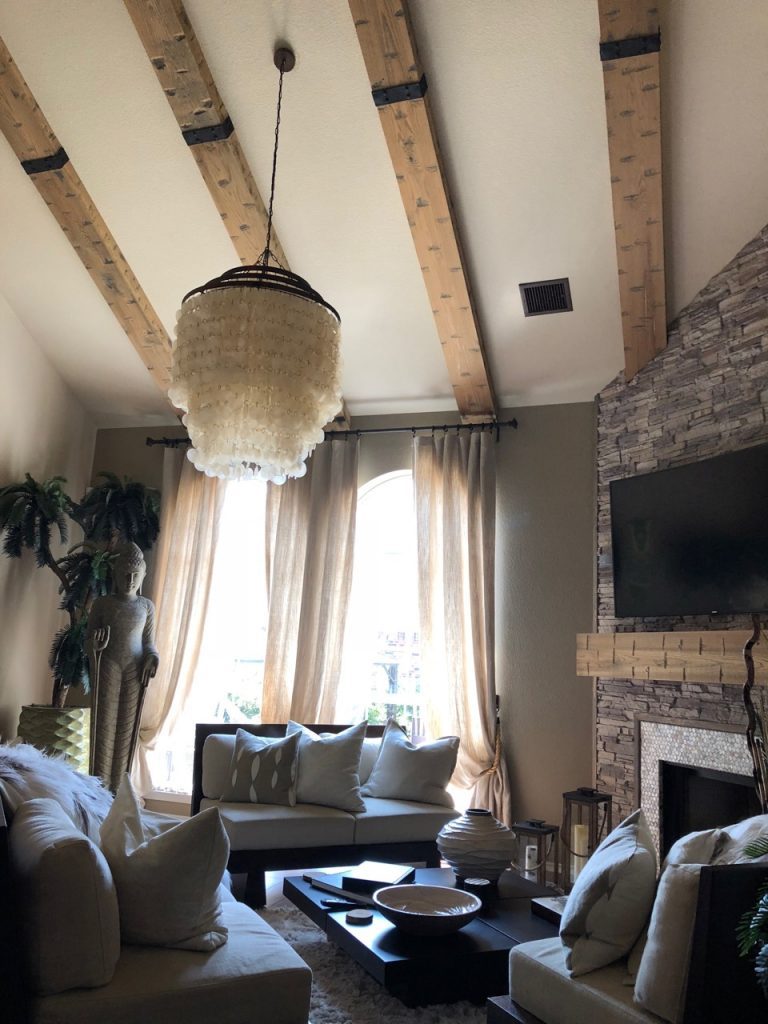 September - Basement Support Columns Covered in Dazzling Driftwood
There's definitely a perception that our beams are best-suited to adding 'age' to a home; but in September we featured a basement redesign that demonstrated the opposite. Our Custom Driftwood Beams were used to great effect in concealing supports, ducts and cables; and yet blended perfectly into a stylish and contemporary design.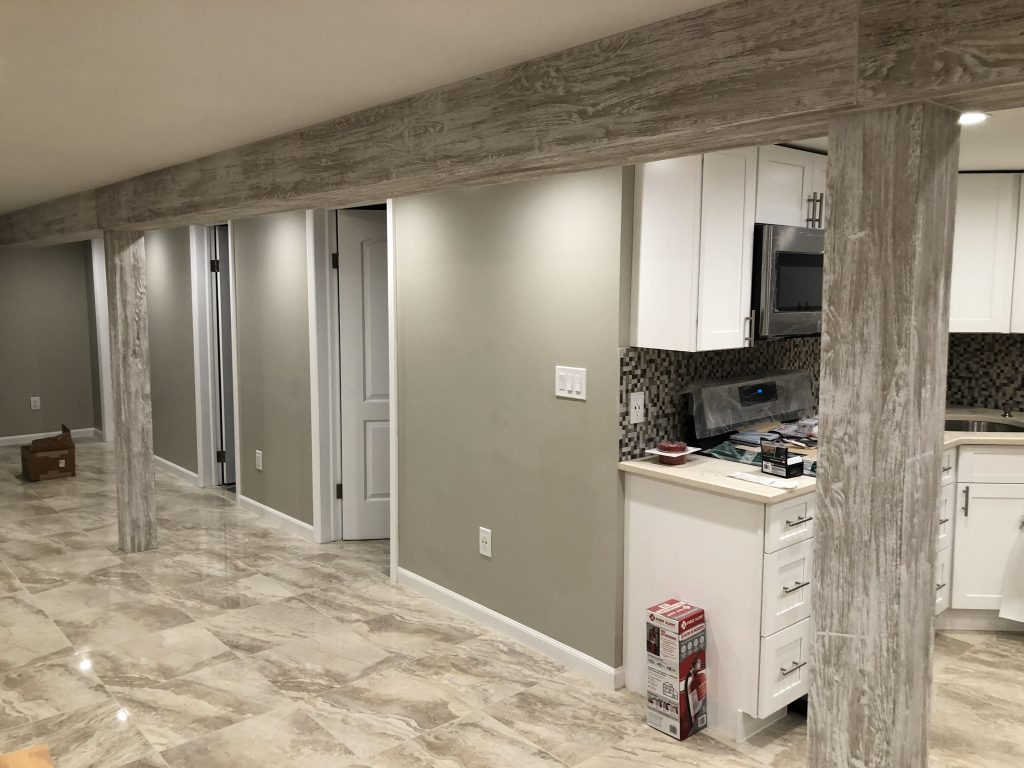 October - Suspended Beam Design in Boutique Hotel
In October, fans of this blog were reminded of how popular our faux products are in commercial applications. This boutique hotel used Custom Hand Hewn Beams to create an amazing suspended wood ceiling fixture that adds a beautiful and contemporary elegance to this Florham Park hotel.
November - Farmhouse Style Fireplace with Rough Hewn Mantel
November featured one of my favorite projects of the year; a beautiful real stone fireplace that benefited from the addition of a Custom Rough Hewn Mantel in Walnut. It was interesting to see how seamlessly 'faux' blended with the authentic article; and this project demonstrated how our products can often provide a more practical installation than real wood without having to compromise on looks or functionality.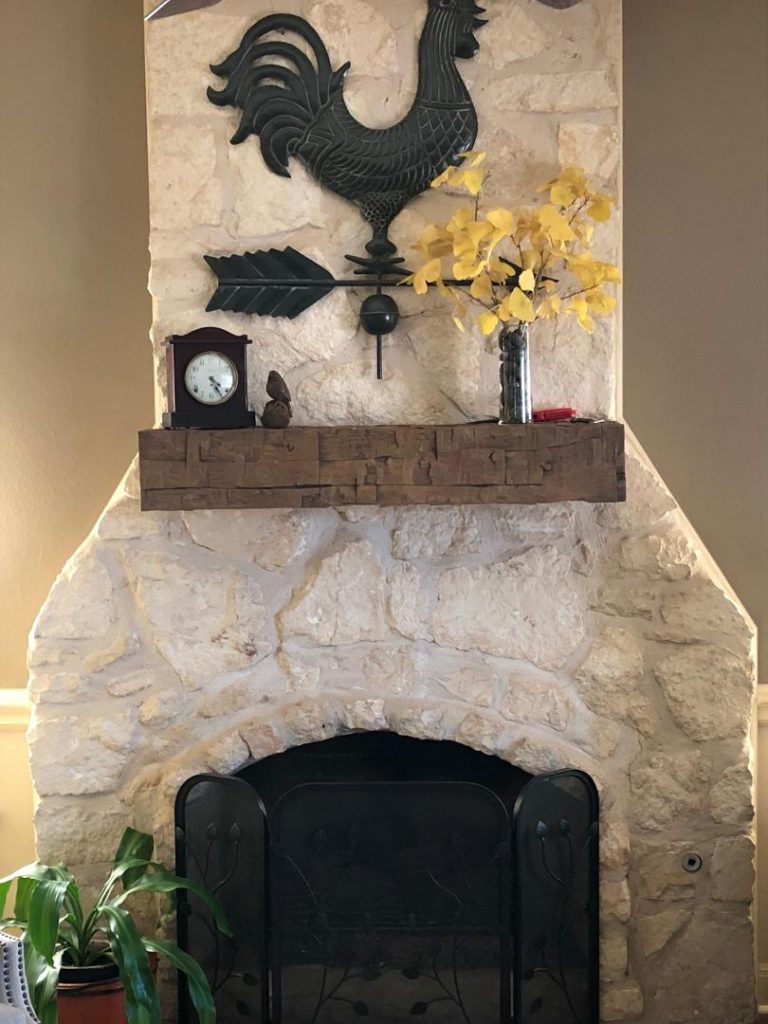 December - Bedroom Color Scheme Trick: Match the Beams to the Furniture
One of the final projects we featured this year demonstrates the elegance of good taste; in which homeowner Kristina added our Quick Ship Rough Hewn Beams in Walnut color to her ceiling; and brought the whole project together by pairing the walnut-hued wood with perfectly-matched fixtures and furnishings. It shows how our products work best when they're part of a holistic design that doesn't lean too heavily on any individual design component; and lets each one speak for itself.