Faux stone or brick interior paneling will create an amazing looking wall - but one customer asked us; what if you want to hang something from that wall?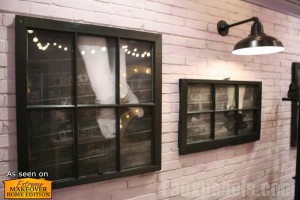 Frames and hardware were installed through the panels, into the wall surface beneath. The vivid textures of real brick, stone and wood make our panels a truly stunning option for interior design. In the space of hours, and at the fraction of the price of using real stone or brick, you can install dramatic accent walls, or even an entire wall finish that resembles stacked stone, old brick or reclaimed timber. But one question we recently got asked was: What if you wanted to hang something from it? Although are panels are very low profile, the rich texture adds a certain amount of depth that seperates the surface from the drywall or cement beneath. This means a lot of people are left wondering if they wanted to put up pictures, shelves or even install a TV on that wall - how do they do it? Well, the answer is ultimately simple - although there are some nuances. A small framed picture or board could probably be installed directly on the panels themselves - you can drill into the surface of them with a regular power drill, and add screws and other mounting fixtures that way.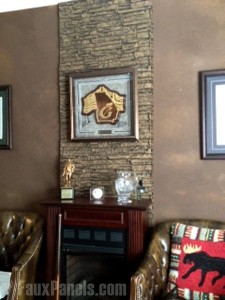 While our panels install incredibly securely, they're not designed to be load-bearing - so install frames and other items as you would directly the drywall or cement. But while our panels are incredibly secure once installed onto drywall or cement, anything more than the lightest weight could risk peeling them off the wall behind them. That's why it's recommended in most instances to install mounting hardware right
through
the panels; into the wall beneath. When it comes to heavier items, like mounting a TV on the wall, for example, we recommend going further still. Most contractors would install a TV mount or similar on studs - the wooden frames hidden behind drywall. They'd use a long screw to go right through the drywall (and any faux panel you've installed) and embed securely in the wooden framing beneath. At the end of the day, you just have to use your common sense. While our panels install seamlessly and will last for decades once installed with screws and construction adhesive, they're not designed for load-bearing. But if you take the extra time to hang pictures and mount hardware correctly, the combination of the panel finish and the installed item makes for a truly stunning talking point.