A few months ago, we featured Italian eatery Brio on our blog. Now here are some shots from this awesome restaurant's Long Island, NY location; illustrating once again how our faux wood beams help to recreate a truly Italian atmosphere.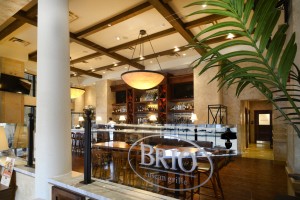 This Brio restaurant has brought Italy to life with our faux wood beams.
More False Beam Photos from Brio
Brio Tuscan Grille is a nationwide chain of high quality Italian restaurants - serving up delicious food inspired by the cuisine of Tuscany.
With new locations opening up all the time, franchise owners have been looking for a way to capture the look and feel of Italian dining in a fast and affordable way - and increasingly, they're turning to FauxWoodBeams.com for a solution.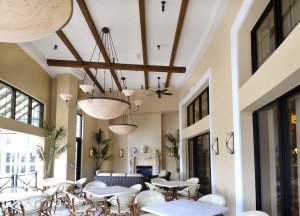 In the dining room itself, the beams add a much-needed framework to the open ceiling.
Our faux wood beams are ideal for in-store or in-restaurant decor, because while they look almost indistinguishable from real wooden beams, they're incredibly lightweight and cost a fraction of what real timber would.
These are all important factors for commercial contractors - who know that each day spent building a restaurant's interior is a day in which the franchise owners have to pay rent, but can't make any revenue.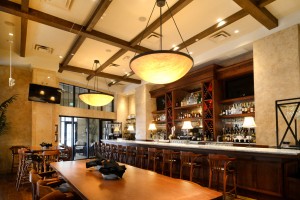 When the lights come on at night, the faux wood helps create a warm and welcoming atmosphere.
Fortunately our beams can be installed in just a few hours, with a team of just one or two men. They're lightweight enough to be manhandled into place and secured on wooden mounting blocks, and can be cut to shape and sized appropriately using nothing more than a regular wood saw.
That versatility allowed the Brio construction crew to erect the amazing intersecting framework of beams you see here - cutting and notching the beams with a saw where they crossed over each other, so the entire roof looks like it's supported by exposed beams like you might see in a real Italian restaurant over in Italy.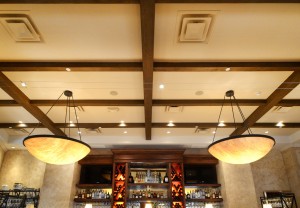 Symmetry helps create a beautiful aesthetic.
Our beams fit the criteria of good commercial design - they're simple, straightforward and swift to install. Even better, the results are consistently amazing; offering an incredibly stylish aesthetic that would suggest to most customers that a lot more time and money was invested than actually was.
What do you think of the results? Let us know in the comments section below!