One of our employees recently snapped this photo while traveling - revealing one of the common issues with using "real" stone. If you're considering a stone accent to your home design projects - don't let this happen to you!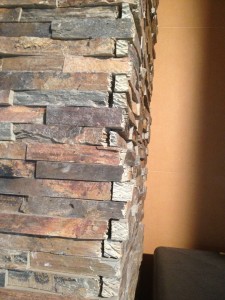 This stone wall is made using slivers of cultured stone - and is already falling apart.
Mind the Gap - Why Faux Panels are Better Than the Real Thing
Working with the products we do, it should come as no surprise that every FauxPanels.com employee has an eagle-eye for spotting stone walls when we're out of the office.
If they're made using one of our products, we'll often snap pictures to demonstrate "design done right." If they're made with an alternative product, we'll sometimes have the opportunity to do the opposite.
This picture, taken by a faux panels employee at a New York Airport, shows what happens when "stone walls go bad."
Finished using slivers of authentic or cultured stone - to give the impression of a real stone wall - this design is already revealing one of the characteristic flaws of that particular product.
At the edges, the slivers of stone are creeping away to reveal the bare wall underneath!
Edges tend to be the Achilles Heel of any stone wall project. With real stone walls - created using sizable lumps of stone or rock - the sheer weight and size of the stones ensure the edges are uniform.
By attempting to mimic the look of stone wall with thin slivers of stone or cultured stone tiles instead, they need to be carefully jigsawed and attached - and that creates inherent points of weakness, especially at the corners.
So what's the alternative? Obviously we're biased - but our answer is to skip using "real" stone to fake a stone wall, and go completely faux instead.
Our faux stone panels are molded from real stone, rock and brick walls - and perfectly capture every detail in tough and durable high density polyurethane. This means that our panels look practically indistinguishable from the real thing (and certainly superior to cultured stone) and are considerably more robust; especially at the corners.
Using regular carpentry tools and techniques, you can miter the corners of our panels to create a totally seamless join that looks very different to the clumsy, gapped corner our employee photographed. Check out our guide to mitering our panels to see how easy it is. Or, if you're worried about mitering your panels, we have numerous pre-molded corners available as well.
And looking better and more realistic is just one of the advantages. Further reasons why faux panels beat cultured stone include cost - with a faux panel costing just a fraction of what using real stone slivers or cultured stone would.
Faux panels are also infinitely easier to install; attaching directly to the drywall with construction adhesive and screws. It takes just hours to do - far less than installing cultured stone, even when the stone is glued onto pre-formed panels.
Don't take our word for it - just look at the pictures. "Going faux" provides a finished product that looks better, costs less and is quicker and easier to install. In fact, that's why many customers who'd started with cultured stone products - like the one we photographed in the airport - call us up weeks or months afterwards and replace them with our products.