FauxPanels.com customer Mike proved the old adage that \"a man's home is his castle" by creating accent wall designs with a truly medieval look.
Hailing from Houston, Texas, Mike Peasley wanted to add some character to his home - and he didn't do it in half measures. Proving that our traditional philosophy of "less is more" is a rule to be broken, he transformed his modern home into a literal castle with
Carlton Cobblestone Panels in Limestone color.
Molded from authentic cobblestone walls, these Cobblestone panels are vividly realistic, and perfectly recreate the look of large, hand hewn stone blocks similar to those that were used to build castles, forts and other historic buildings. The only difference? At just over 11 lbs per panel, they weigh a fraction of what real stone does, and cost a fraction of the price.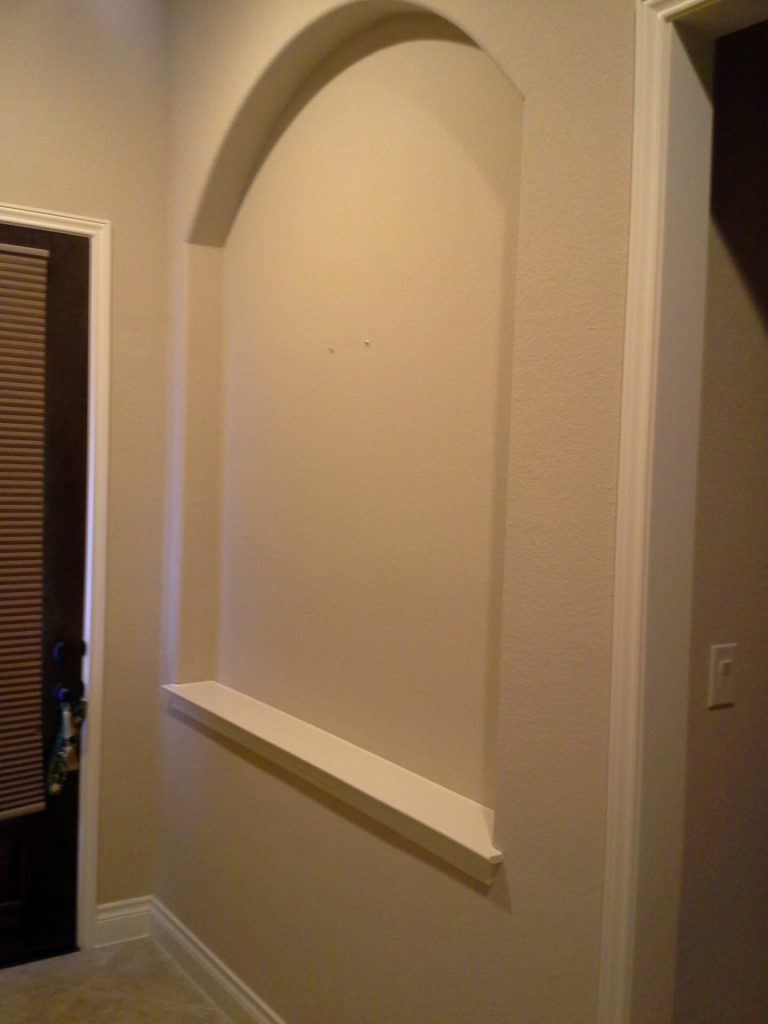 BEFORE: You can see how being able to trim our panels with a wood saw made it easier for Mike to fit them perfectly in this alcove. More than that, they're incredibly versatile, easy-to-install and ideal for customizing - which is exactly why Mike chose them for his ambitious home redesign project. Mike's concept of a castle-themed home needed to carefully balance the dramatic look of our faux stone with the modern style of his Houston house. To that end, Mike selected certain strategic walls in his house to cover with the panels - creating 'accent walls' that added the medieval look he was going for, without looking overwhelming or ridiculous (see, he did stick to the 'less is more' philosophy eventually!)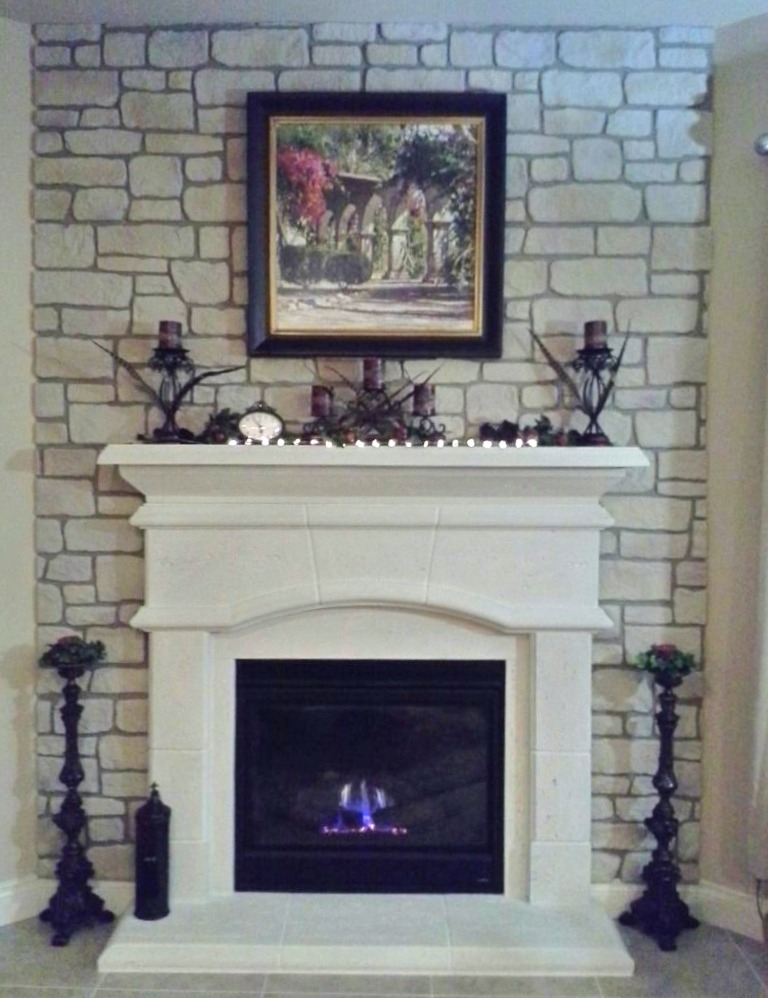 Mike created this surround to accent his fireplace, a subtle but striking look. For example, he covered the entire section of his fireplace with the panels, but left the other walls alone, and chose to add only two dramatic accent walls in his dining room. An alcove was also filled in with the panels - perfectly blending the modern and 'real' with the timeless fantasy of his castle dream. Creating the accent walls truly demonstrates the advantages of 'going faux.' Rather than having to laboriously hand-lay shards of stone onto mortar or plaster, our panels attach directly to the existing drywall with construction adhesive - and look just as good (if not
better
.) The panels are designed to slot together like oversize jigsaw puzzle pieces, guaranteeing a seamless pattern, and can be cut to size with a regular wood saw, which was perfect for fitting them flush with the walls in spaces like Mike's alcove.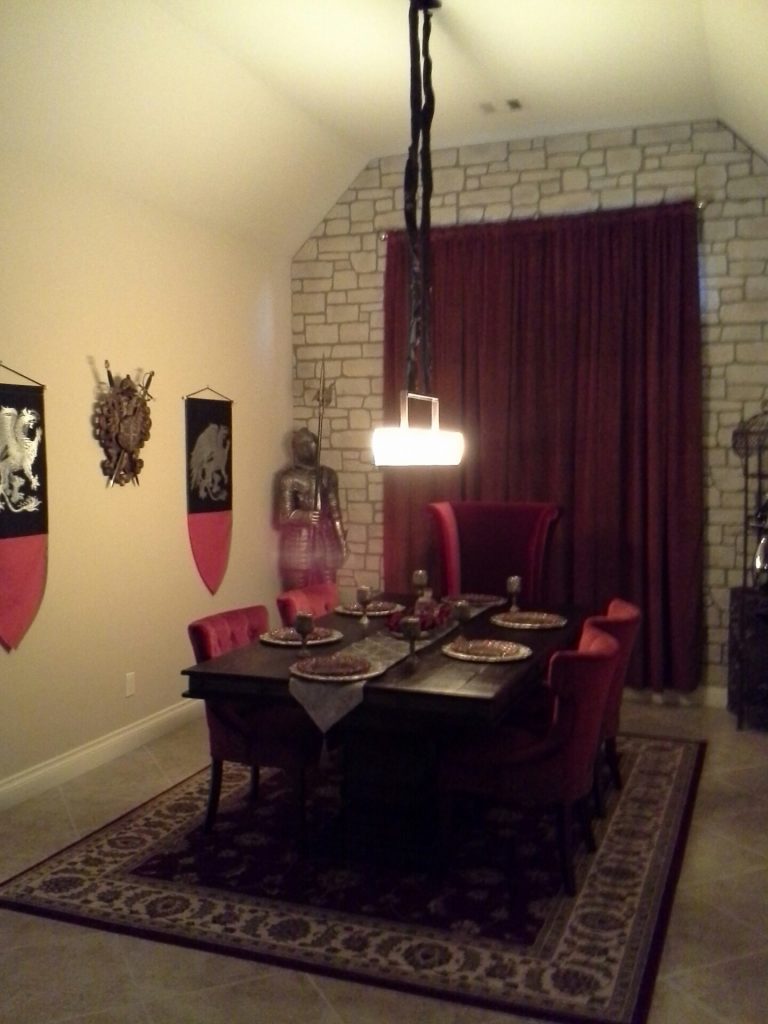 Medieval accessories like a red velvet drape and shields in the dining room helped complete the look. In just a matter of hours, Mike was able to complete the walls in all three rooms - and the transformation speaks for itself. The final touch was to add medieval accessories like shields, swords and armor to truly complete the look. It's big, bold and beautiful - and we love it. As much as style and subtlety remain a watchword at FauxPanels.com, sometimes you have to toss that philosophy aside and "Go Big, or Go Home." And Mike's project definitely went big - after all,
everything
is bigger in Texas. We love this project, and are thrilled that Mike chose our panels to bring it to life with. But what do
you
think of his transformation? Let us know in the comments section below.