A family restaurant in Ohio updates its storefront design with a classy new look.
Max and Erma's Restaurant Gets a New Face
The friendly frontage of Max and Erma's is an Ohio institution.
Max and Erma's is an Ohio institution – a chain of restaurants founded by Todd Barnum and Barry Zacks in the early seventies.
Thanks to canny franchising and a great concept, their mouthwatering menu items are now being served all the way from South Dakota to Virginia Beach.
But for new franchise owners, one of the challenges is transferring that old-time storefront design and feel to a brand new location.
That's where the talents of Steve Bitzer, president of Ohio-Based Deerfield Construction, and his team come in. He was recently tasked with the job of giving a new Max and Erma's location a facelift; and he managed to recreate the chain's iconic look with our Norwich Stone Wall Toasted Vanilla Panels.
Steve used them to cover the doorway arch of the new restaurant – and they contrasted perfectly with the existing redbrick façade.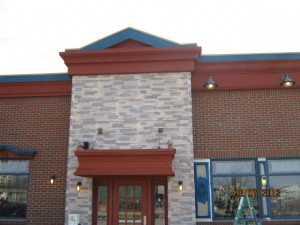 The new stone wall facade blends beautifully with the existing red brick
While the panels themselves were easy to install, with regular construction adhesive and screws, the look they delivered was anything but ordinary; perfectly recreating the color, texture and look of traditional stacked stone walling.
There are over 60 Max and Erma's locations nationwide; but Steve managed to create a look in keeping with their iconic, but loosely defined brand footprint.
That means folks driving past will instantly be able to recognize the place as one of the new branches of their favorite burger joint.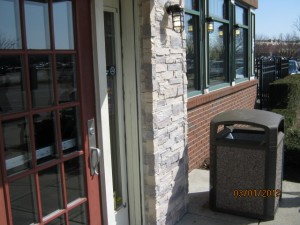 Even close up, the panels are almost indistinguishable from the real thing.
Because of their affordability, ease of installation and consistent look, our panels have always proven especially popular with businesses small and large – for their store and restaurant fronts, trade shows, display designs and more.
You can catch some great examples of these in the commercial design gallery.
But what makes us especially proud is how veteran contractors with great reputations rely on our products to deliver the results their customers are looking for. Contractors like Steve Bitzer are known for only using the best materials: We're very proud to have our products considered an example of such.