Homeowners love our decorative stone panels because they perfectly recreate the look of stone, rock or brick without the impracticality or cost. Unsurprisingly, TV and movie companies love our wall panels for the exact same reason.
Set Design with Decorative Stone
In fact, a number of TV shows and film companies have made use of our faux panels to create set and set design projects that capture the look of stone or wood, without having to use the real materials.
For example, in this photo you can see an intricately detailed Parisian apartment, created by Extreme Makeover: Home Edition using our Cambridge White Brick panels. Paired with French artwork and accessories, it's difficult not to believe that you're stepping into a boulevard in Montmartre when you step beyond the doorway.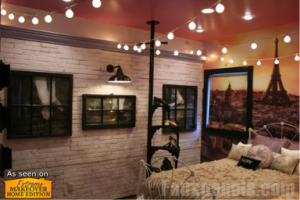 Brick panels brought Paris to life
TV shows like Extreme Makeover have also used our products to turn their imaginative visions into reality. Here is one of their best-known home transformations – a "pirate" bedroom for kids created using our Oxford Rustic Barnyard Brown panels.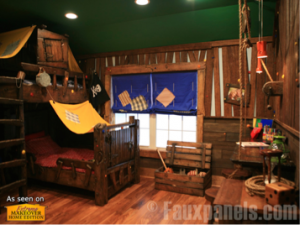 Shiver me faux timber panels!
As we've mentioned before, Renaissance Faire enthusiasts also love our decorative stone panels; using them to enhance their own homes, or create authentic looking medieval castles and keeps as a backdrop to their pageantry at Renaissance events all across the country.
Decorative stone is popular with renn faire designers
And even if you're not producing a TV show or putting on a renaissance faire, you can still take something away from seeing these creative uses of our faux panels. The real benefit of our artificial wood and decorative stone panels is that their application is really only limited by your imagination. What could you come up with?
For some great examples of how customers have used our panels to create home improvement projects worthy of an Oscar, check out some of the other entries in the Creative Faux Panels blog. One of our favorites is a fairytale bedroom, created by John with our Wellington River Rock panels.
Stone veneer panels fit for a princess?
If you've used our faux panels in an especially imaginative or unexpected way, we'd love to see it. Send pictures of info@fauxpanels.com and we might even showcase them here.