We're always excited to see how our customers use our products for their new and innovative home design ideas – and one home improvement aficionado who recently impressed us was Jack McLauchlan, from Moses Lake, WA.
Innovative Design Ideas with Faux Ceiling Beams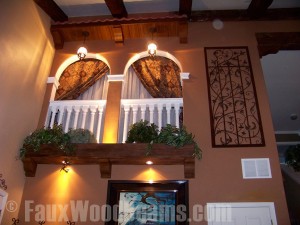 Jack had already used our faux ceiling beams and mantels to great effect.
Jack's beautiful home is an impressive display of interior design. He's used our Rough Sawn Ceiling Beams to elegantly enhance the sloping ceiling, and matched them with faux wood mantels and corbels on the wall.
But the touch that really impressed us was the way Jack also framed an interior staircase with our faux ceiling beams – building an artificial lintel from leftover Rough Sawn Ceiling Beam pieces and our matching Rough Sawn Corbels.
"Sheet rock was simply cut away from an underlying beam," Jack explained, when he sent us pictures of the terrific job he did, "and then a left over piece of beam was slid into place."
"I utilized sawn corbels, and also split off the faces of another partial woodland beam to back fill behind the ceiling beams, since they originally had a small gap that I wished to see filled." The results are impressive – giving the impression that a length of exposed wooden beam frames the staircase and corridor.
Almost as impressive is how long this subtle, but significant redesign took (or rather, didn't.) "It took about an hour. This was a very easy job requiring only minor adjustments."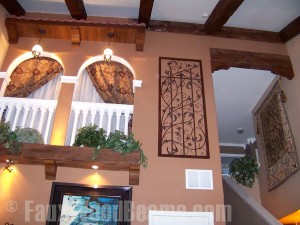 The additional wood beam makes it appear as if the ceiling is supported by the beams, and not the other way around.
The home design details were complimented by other improvements Jack had planned: "We added a granite and marble floor. Now the room really feels warm."
So far, Jack's been pleased with the reaction his hard work has garnered. "Those who have seen the results can't believe them," he admitted – and also added that he has further plans for improving the room.
"I'm looking forward to completing my "old world look" design," he wrote, "and have a faux rock wall on the opposite side of the room planned for next year." Just as he's looking forward to completing his redesign, we're looking forward to seeing the results. Make sure to send us pictures, Jack!