A piece of classic furniture inspired a castle-themed makeover for these FauxPanels.com customers!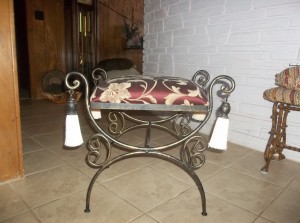 This is the upholstered stool that inspired the entire room's design.
How a Stool Became a Synthetic Stone Panel Showpiece
"We love our castle rock wall!" Writes Kim F., in an email she sent us containing "before" and "after" pictures of her recent bedroom redesign. As you can see from the attached photographs - the results are pretty stunning.
But what's even more stunning is the fact that the inspiration for Kim's castle-themed bedroom came from a single item of furniture they'd picked up; a beautifully upholstered stool that went on to inspire an entire bedroom decor.
"I have to send one picture to help you understand where the idea for the room came from," Kim writes. "I purchased this stool, and it started my design of a castle-type bedroom."
Our Carlton Castle Rock walls perfectly recreated the look of authentic medieval stone.
A castle-theme obviously required castle walls - and for that, Kim turned to us.
She ordered our Carlton Castle Rock panels to give her bedroom the authentic look of a medieval castle - and couldn't be happier with the results.
The reason our panels worked so perfectly is the fact that they're incredibly realistic. Molded from real rock walling, in tough and durable high density polyurethane foam, our panels perfectly capture every crack, crevice and imperfection from the real rock, and vividly recreate it in a lightweight panel that can be installed directly onto existing drywall.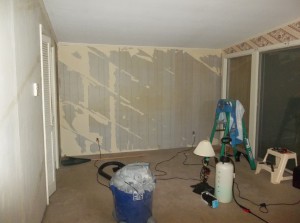 BEFORE: Our panels attach directly to existing drywall - making them a snap to install.
All it takes to install our panels is regular construction adhesive and screws. There are even interconnecting lips at each end, to slot the panels together to ensure a look once you're finished. Kim could cut the faux panels to size with a regular woodsaw and install an entire wall of gorgeous rock wall in just a matter of hours.
"From there came the wall and the wood floors and all the gold and burgundy. There are Medieval Knights in 2 corners of the bedroom and a beautiful landscape mural on the opposite wall of the rock wall."
We think the finished wall looks fantastic - what do you think? Let us know in the comments section below!