Faux wood beams customer Chuck Conrad, from Gladwyne, Pa., has been the focus of the last couple of blog posts. He used a substantial number of our artificial timber products for a complete home makeover – and as you can see in this post, and this follow up, the results were nothing short of spectacular.
Now here's our final post about the talented Mr. Conrad – and you'll have to decide for yourself whether we've saved the best until last.
Home Makeover Made Complete with False Ceiling Beams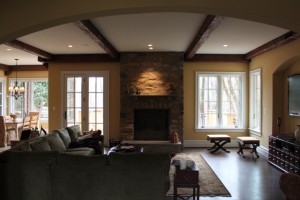 Faux wood beams really make Chuck's lounge stand out.
Perhaps the centerpiece of Chuck's stunning home is his luxurious lounge, which features a dining area, a full wall of large, sun-drenched windows and a stunning stone fireplace reaching right up to the ceiling.
Incorporating faux wood beams so seamlessly took some serious thought with so many incredible features already present.
Chuck's first inspired move was to keep the framing style he'd used in his faux wood beam corridor project, and with the false beams in his sitting room.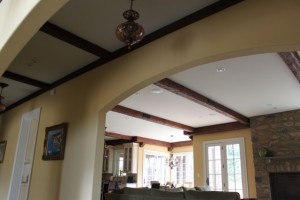 A carefully planned false beam frame matches the way Chuck has used our faux timber throughout the rest of his home.
That involved installing our artificial timber beams around the corners of the ceiling, then intersecting them with carefully measured cross beams to give the impression of real structural wood supports.
By using this same style, Chuck created a cohesive look to all his false beam additions; further reinforcing the illusion that these stunning faux wood beams were real.
The second clever decision, though, was more subtle – a "less is more" approach.
With so many striking architectural features already present in his lounge, Chuck needed to carefully balance just how striking his faux wood framework would appear. It certainly shouldn't blend into the background, but nor should the first things guests think when they see the room be: "Wow, look at all these beams!"
Some serious thought went into this faux beam framework, the intersecting false beams meet seamlessly and rationally.
By keeping things simple – using just a few measured cross beams to give the impression of a real timber structure – Chuck managed to seamlessly incorporate faux wood beams into his design in a way that highlighted their appeal, without dominating the décor.
Clever details include Chuck's use of our rubber beam straps; which seamlessly cover the joint between one length of beam and another. He also used our synthetic wood corbels to great effect; especially at those tricky corners where one length of beam intersected another and there was a challenge to make the end result look realistic.
So what do you think of this ceiling design? And which of the rooms Chuck decorated with our faux wood beams is your favorite? Here at FauxWoodBeams.com we're pretty evenly split between the three of them (although my personal favorite is this room, the lounge.)
Let us know what you think in the comments below.