As summer heats up, our attention turns to cool home exterior ideas - and this DIY pool waterfall is one of the coolest.
It's a gorgeous summer at the moment, and if you're lucky, you're spending it waterside as much as possible. Ironically enough, one place our panels found the perfect home is right by the water in Oklahoma - covering the running water feature built by our customer Brian Smith.
The completed pool waterfall covered in Norwich Stacked Stone Brian's pool is beautiful - with crisp blue water, a stunning hardwood deck and wrought iron fencing. But Brian wanted more - specifically the delightful and refreshing addition of a water feature that would constantly gush into the pool. Installing that is straightforward enough - but it meant that at the end of the pool would be a very ugly wooden 'box' which concealed all the pipes and machinery, not to mention the two spouts which gushed the recycled water back into the pool. While that was perfectly practical, it didn't exactly fit in with the rest of Brian's carefully designed pool.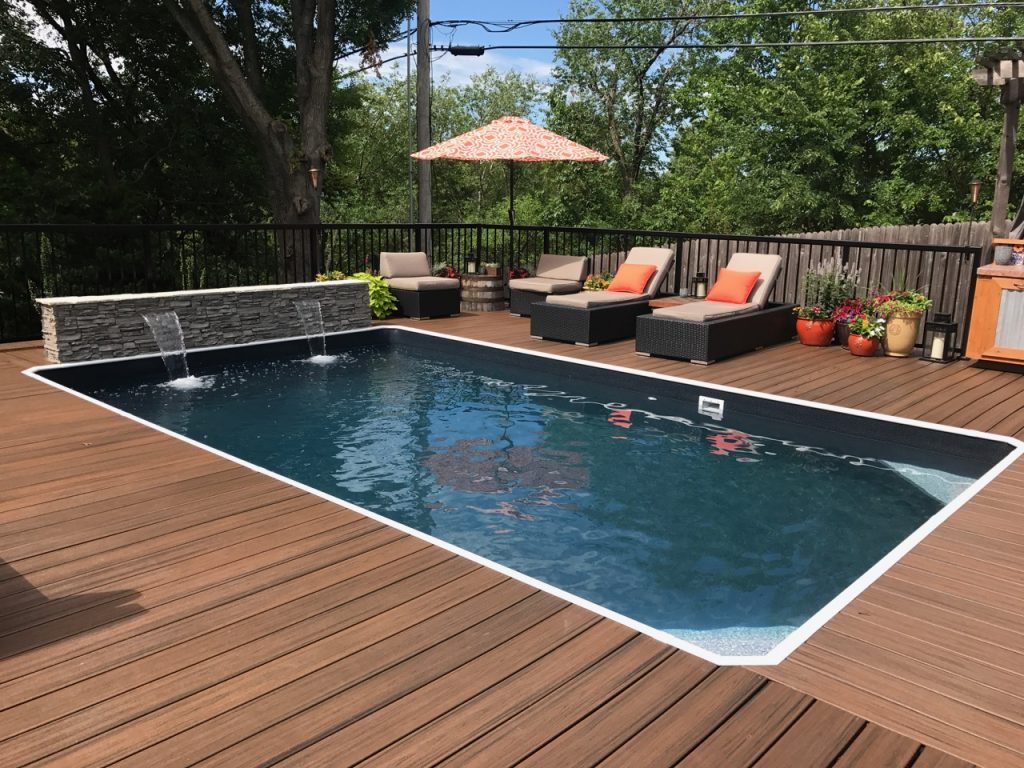 The stacked stone texture looks beautiful, and blends perfectly with the poolside decor. Fortunately, he found a solution on FauxPanels.com. Our
Norwich Stacked Stone panels in the Grey Rock color
served as an affordable and practical way to 'skin' the box - covering the entire thing in the faux stone veneer, and making the ugly-but-serviceable unit resemble something you'd expect to see at an upscale hotel pool. For the most part, there's nothing revolutionary about this installation. Brian could install the panels directly to the surface of the box, and he carefully trimmed the panels to fit with a regular wood saw. The corners took a little bit more thought, but look beautiful and seamless in this installation (you can learn how to
create perfect corners here
.)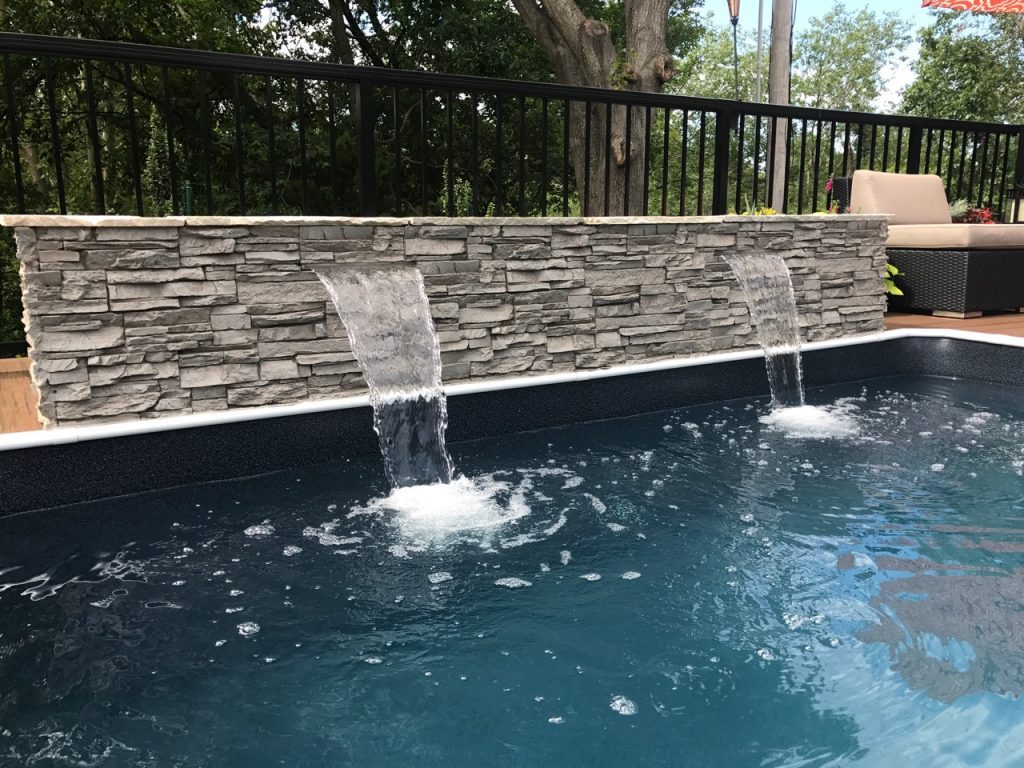 Another view The one challenge was to create the slots for the water spouts, which needed to gush the refreshing water into the pool. Fortunately, that was straightforward enough. Brian simply measured where the spouts were, and carefully cut tiny slots in the panels to fit flush with them. The result is a seamless installation that completely covers up the mouth of the spouts, yet still allows them to churn out water all day long. It's a fairly simple project with a few unusual elements - but we think Brian nailed it. Now all he needs to do is send us an invitation!
Project Note: For pool installations, we STRONGLY ADVISE that a clear coat UV inhibitor is applied to the panels.
1) This protects the panels from the magnified UV which is created by reflective sunlight off of the water.
2) The coat protects the panels' finish from any pool water that may come in contact with them at this close range, chemicals such as chlorine or PH balancers which are likely to affect the finish.