DIY Network's Money Hunters show always gives co-host and contractor Matt Blashaw a challenge; but in a recent garage makeover episode, he managed to stay within his deadline and his budget thanks to our Windsor Ledgestone paneling.
Garage Makeover Seen on Money Hunters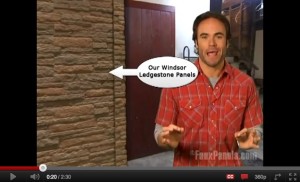 DIY Network's Matt Blashaw saw an opportunity to save money and add style to this garage makeover.
The idea behind DIY Network's Money Hunters is simple – home remodeling projects intended to make more than their cost back in elevated property value. For hosts Matt Blashaw and Deanne Bell, that's not always an easy task to accomplish; especially with home prices hovering at some of their lowest levels for years.
Which is why Matt was quick to turn to our faux stone paneling when it came to a recent challenge: The task was to turn a dank garage into a welcoming rec room – and do it for a third of the budget most contractors would charge. With just $25,000 to spend, Matt's plans of adding a stacked stone accent wall should have been out of the question – but our panels made achieving that iconic look affordable.
"Look like stone? It does to me. But heavy like stone? No." Matt picked our Windsor Ledgestone Panels because their low height made them easy and versatile for interior projects. "They're made of high density polyurethane foam – the same stuff you see in car bumpers, dashboards… It's durable stuff."
"They look just like the real thing, and the best part about it is that they're easy to install." Matt was able to cut the panels to size easily, with a regular miter saw, and then install them with regular deck screws.
"They're so easy to install," he admits, "I feel bad. The cameraman is working harder than I am."
Money Hunters ended up spending $2,000 on the faux stone paneling they used in the project – and compared that to a minimum of $6,000 for a real stone accent wall; not to mention the cost of hiring a mason to install it.
"That's a steal," Matt admits.
Check out the transformation yourself in the video below – and see our products featured in other home makeover shows on our videos and TV show page.