We recently received photos from a customer in St. Petersburg, Florida, showing us her wall project using Norwich Stacked Stone panels. We share them here to highlight how the wall corner trim she ordered along with the panels helped create a seamless edge.
One of the signature characteristics of our panels is that they're easy to install. That being said, some homeowners are still concerned about making realistic-looking corners, and for those who are a little intimidated at the idea of mitering, we offer a range of products that takes this worry out of the equation.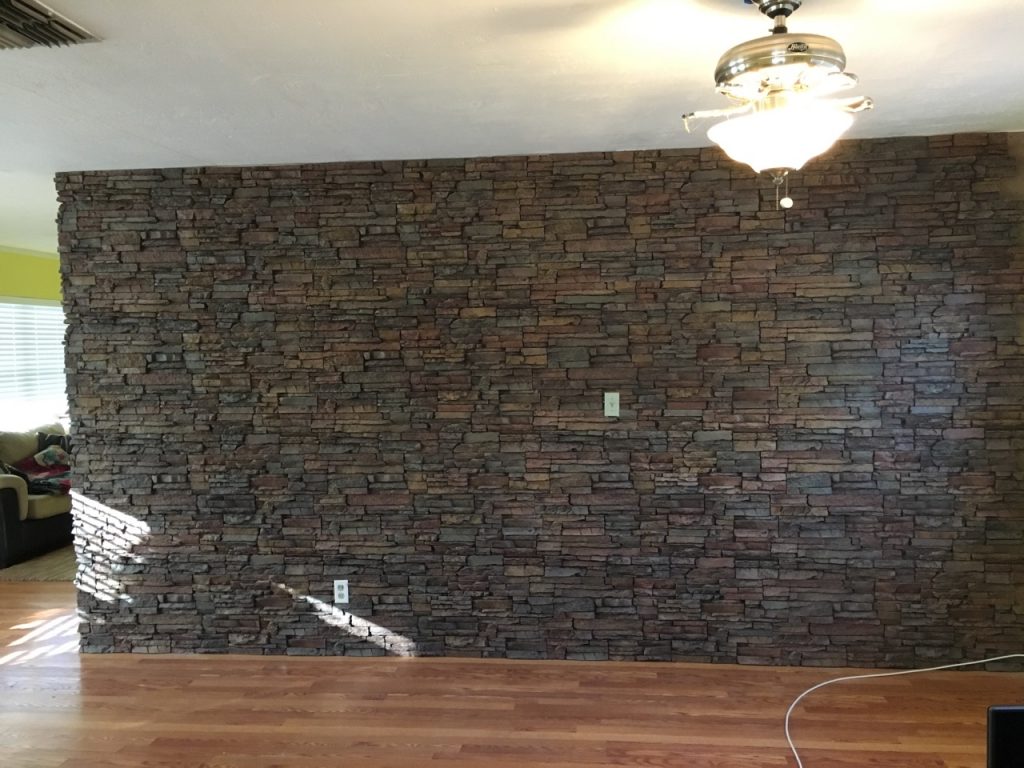 Angela's completed wall looks terrific.
Angela's accent wall project was just such a case.
The panels are designed to slot together like a jigsaw puzzle, making sure each piece connects effortlessly and that's there's a seamless and realistic texture from one panel to the other. The matching corners have the same interlocking mechanism as the flat panels - which makes it easy to incorporate them in any faux panel project.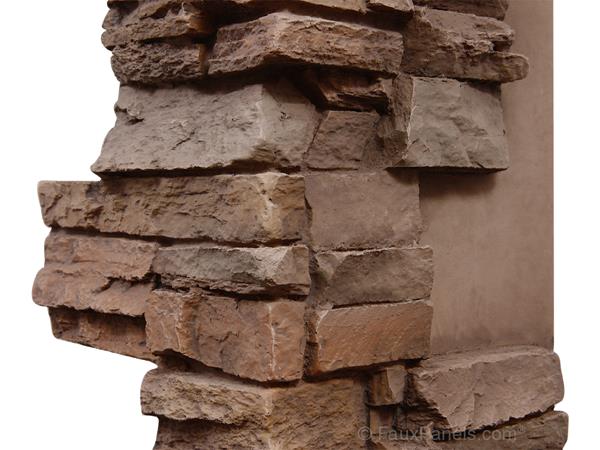 The secret was using our Stacked Stone Corners, which slot seamlessly together with our regular flat panels.
Angela began her project with one of the corners, attaching it to the very bottom of the wall with construction adhesive and screws, and then slotting a flat panel directly onto it. From that point on, it was just a case of installing the panels row by row, as you would in a standard installation. The only challenge was measuring the end of the wall accurately, and trimming the final panel to fit with a regular wood saw.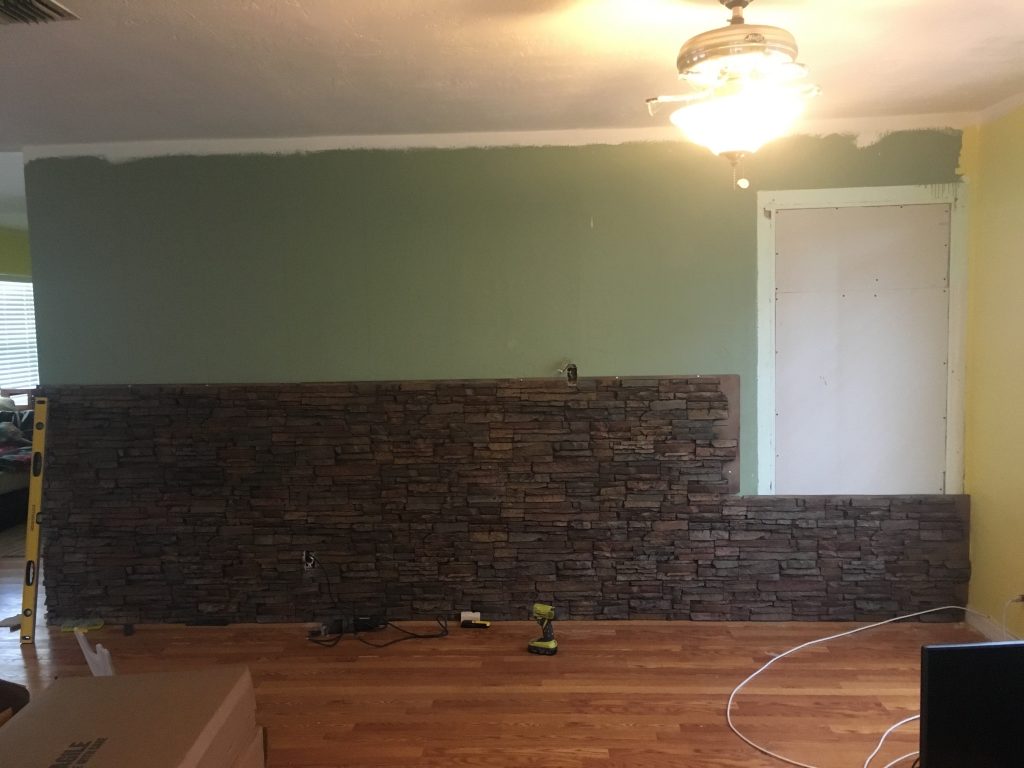 Angela started the installation at the corner, and added each subsequent panel to fit. Once one row was completed, she moved onto the next.
Angela added the second and subsequent corner panel on top of the first, and repeated the installation. Again, the only challenge was trimming the final row of corners and panels - the ones that fit flush with the ceiling - to fit.
This sort of installation requires little more than a tape measure and a good saw, plus the patience to accurately measure and cut our panels to fit. Fortunately, they're made from high density polyurethane foam, which makes trimming them to size incredibly easy.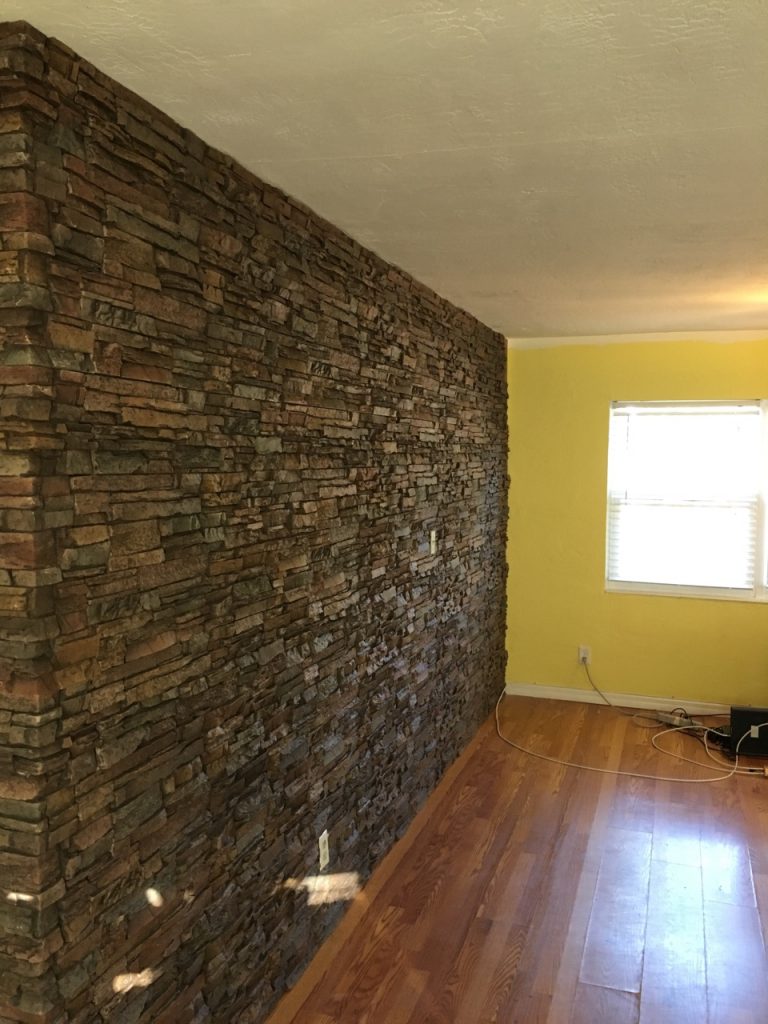 The end result looks vividly realistic.
And the finished results? Well, the pictures speak for themselves. After cutting spots out for the light switch and electrical outlet, the wall looks beautiful - and incredibly realistic. It's a great project, and a great demonstration of how simple it is to use our corner pieces.