Just last week, we blogged about how our faux panels are going to be featured on DIY Networks' hit show Man Caves. That inspired Steve Mele from Cape Cod to email us with what must be the absolute opposite of a classic "man cave" – a fairy tale castle playhouse!
From Man Caves to Castle Playhouses: Design with Decorative Stone Panels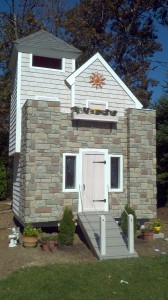 Only a great dad would build a fairy tale castle for his little girl. We're proud that faux panels was a part of it.
"Here is a pic of me using your decorative stone panels on my daughters princess castle I've been building in my yard," Steve emailed us – and we were floored with the results. We've seen our products used in many different ways, but this has to be one of the cutest, and most original.
As you can see from the "before" picture, Steve hasn't cut any corners in building this stunning castle playhouse for his daughter. He's even laid down our drainage mats before installing the panels, as if required by many regional building codes (although I'm not sure if Far Far Away, where this fairy tale castle clearly belongs, has such stringent construction codes as we do in America!)
Our Carlton Cobblestone Summer Tan Panels were the perfect choice for Steve's playhouse design, because they perfectly recreate the look, color and texture of real stonework – perfect for recreating medieval décor, as customers who've used our projects at renaissance faires and on film sets will tell you.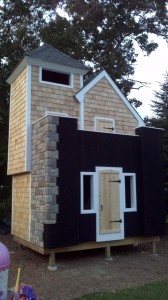 This Work-in-Progress shot shows Steve using our drainage mats for the best fit and performance possible.
But they were also easy and practical to install. Made from durable polyurethane, our decorative stone panels are easily cut to size with a regular wood saw, and take just moments to install with screws and construction adhesive. Seamlessly interlocking, for a perfect fit, it's difficult to tell them from the real thing once installed.
The beautiful final detail of Steve's project was a contrasting tower, using regular siding. That actually mimics many real medieval castles, the builders of which used wood and timber to build towers taller and quicker than they could with stone. It's also a nice way to give a contemporary twist to a design firmly rooted in the classic.
There's a certain irony to the fact that Steve was inspired to email us after learning our products were going to be used on Man Caves. We can't think of anything more manly than spending the time and effort building something as beautiful as this for your little girl.
Impressed? So were we. But if you think you've got a design project to rival Steve's, we'd love to judge for ourselves. Send pictures and information to us as info@fauxpanels.com and we may even feature your project here!