Faux wood beams painted a distressed white add a rustic yet modern vibe to Silver Jeans Co.
Everyone wants to make a good impression, especially retailers, but they also have to balance appearance with budget, installation time, etc. That's where FauxWoodBeams.com™ provides a solution.
Faux Wood is an Attainable Solution for Retailers
Whether opening a new store or renovating an existing one, a quick turnaround time is crucial. Installation issues can delay long-planned grand openings and the start of sales. It's even worse for established retailers who are renovating. Depending upon the nature of the project and local building codes, they might have to close until it's complete. If they can stay open, they're creating a mess that can deter sales. Either way, while renovations can spur future sales, some money and time will be lost during the renovation.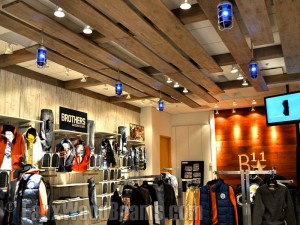 Faux wood planks and beams combine with industrial lighting to create a rugged, modern look for Brothers.
Using real wood beams complicates a project even more. They're heavy, take a lot of labor to install and require regular maintenance. They can even attract termites and carpenter ants.
Faux wood beams, however, are lightweight so they require less time and crew to install. Because they're three-sided or hollow, it's easy to run wiring for lights, speakers, electric, etc. through them. They can even be used to hide air vents. Want a custom finish? They're all available unfinished as well as in various stains.
That convenience appealed to Silver Jeans. The Winnipeg, Canada, company is bringing its denim fashions to the United States. Their first store in Woodland, Texas, used our Woodland faux beams (how's that for a match?) to play up the rustic feel of the company's nearly 150-year-old history but painted it a distressed white to create a modern look. The combination worked beautifully.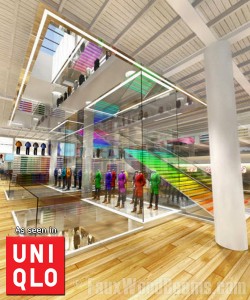 Painted white, our Resawn faux wood beams continues the modern look Uniqlo uses as a backdrop for its colorful clothing.
Brothers clothing stores wanted a more natural wood look so they combined our Woodland faux beams with faux wood to create a rugged look that's perfect for the teen boy market. With industrial-inspired lighting mixed in, it has a classic American vibe.
Uniqlo, on the other hand, wanted a sleek modern look. They chose our Resawn faux beams for their great texture and then painted them pure white to go with the clean backdrop their retail stores prefer. Uniqlo carries a wide line of colors in their clothing lines and love using a rainbow display to showcase their products' diversity. White Resawn faux beams are a perfect match.
When FAO Schwarz redid its Astro Kids mineral display they wanted a look that evoked the Old West's mining history. They also wanted a quick, easy installation for the busy toy store and a design that would hold up well against the heavy wear and tear it could face. Our Rustic faux beams fit their needs exactly.
Renovation time was a factor when Walgreens redid its flagship store in San Francisco, Calif. They also wanted a modern look that still tied into classic San Francisco architecture. One solution was installing an ornate, metal tile ceiling with our Aspen faux beams as both a decorative accent and to cover the actual structural support beams. Because our faux beams come in a wide variety of sizes, it's easy to find one that will fit over the support beam, making it look much better.
FAO Schwarz used our Rustic faux wood beams to create the look of an Old West mine
Whereas real wood beams are cost prohibitive for most retailers, our faux wood beams are a fraction of the cost and save on labor expenses as well. For fast, easy installation at a budget friendly price and gorgeous results, faux beams are the way to go.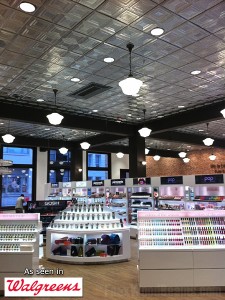 Aspen faux wood beams cover support beams, adding a decorative touch to this Walgreens.