Existing posts or pillars on our homes can often look bare and uninspiring, and in need of an aesthetic upgrade.  That's why adding the look of stacked stone or rock to columns can mean a big boost to the visual appeal of your home or business.  With our faux stone column wraps, achieving this look is incredibly easy.  Whether you're a professional builder or a DIYer looking to perk up your home's décor, column wraps are a fantastic way to create an impressive look.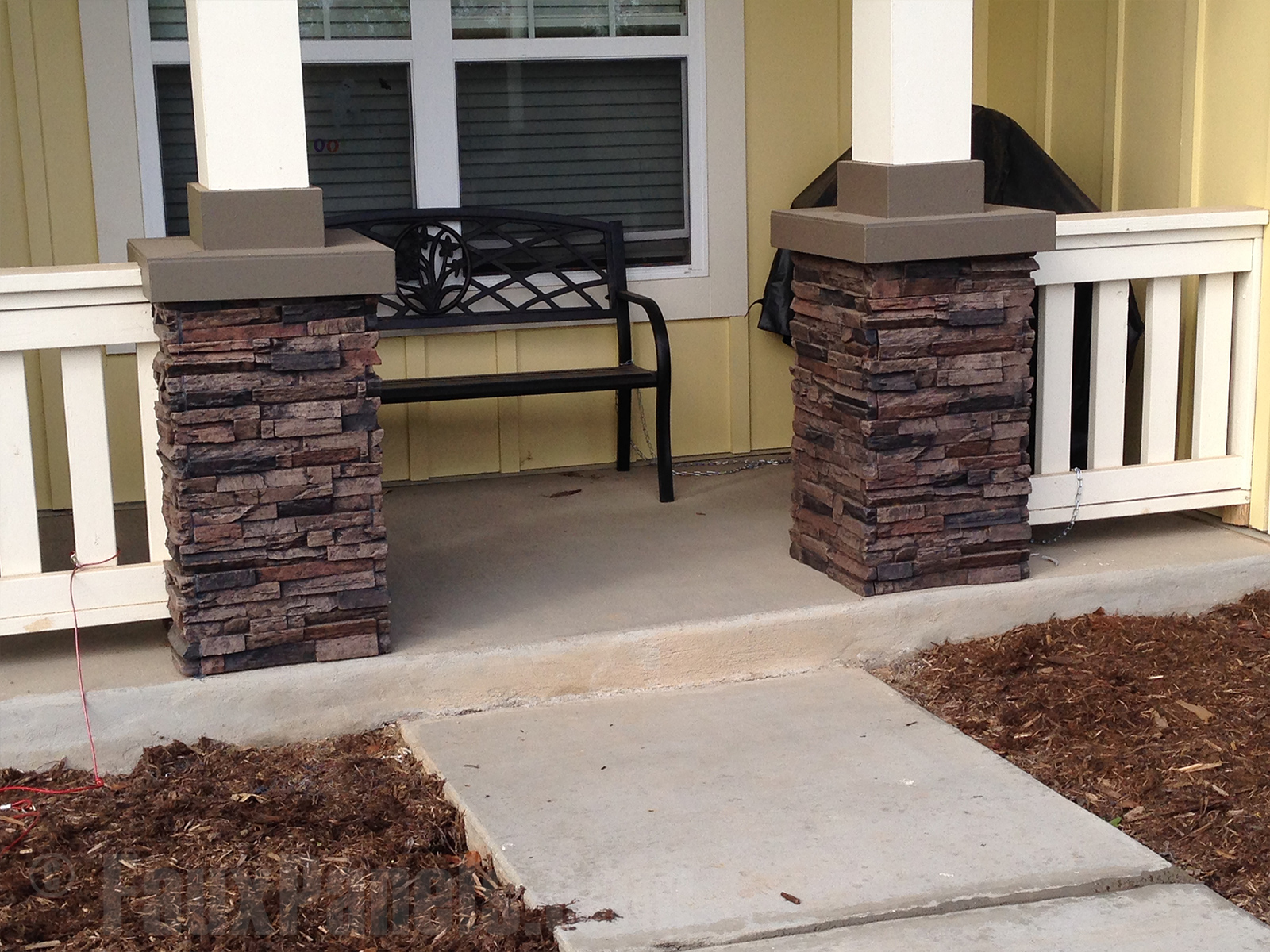 Wellington Drystack Espresso Column Wraps create eye-catching entranceways. The wraps are easy to install, with interlocking sections that can be installed around existing posts and columns seamlessly, and sealed with glue and screws.  Adding an accent with column caps and ledgers is also a way to spruce up the look of columns, as well.  The two-piece column caps can be installed easily over the top of the column wraps, and ledgers can be cut and mitered to fit around the top edges of the wraps, for a sophisticated look.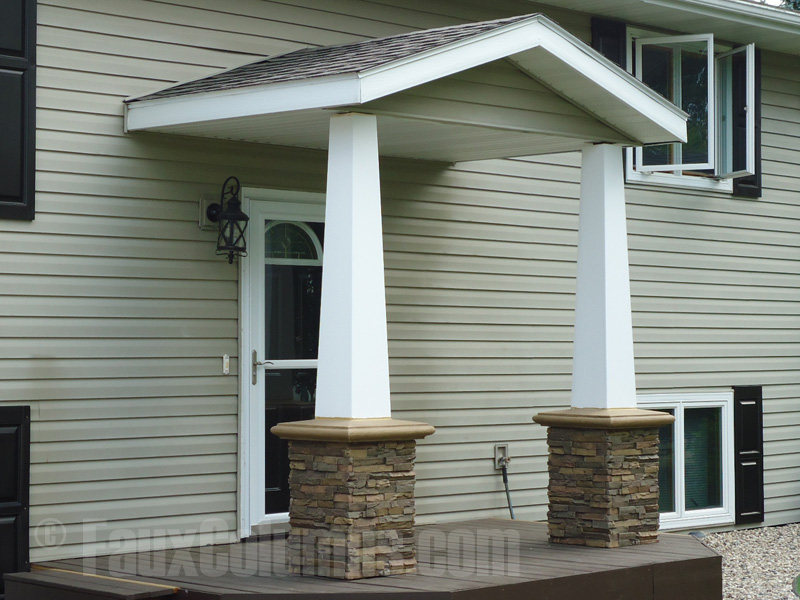 Our Wellington Drystack column wraps can be easily combined with decorative column caps.
Lightweight and easy to install, the wraps are indistinguishable from the look and texture of real stone.  They are also highly durable, and will never fade, rot, crack or chip like actual stone can.  Weatherproof and UV resistant, they stand up to weather extremes, and make great exterior designs.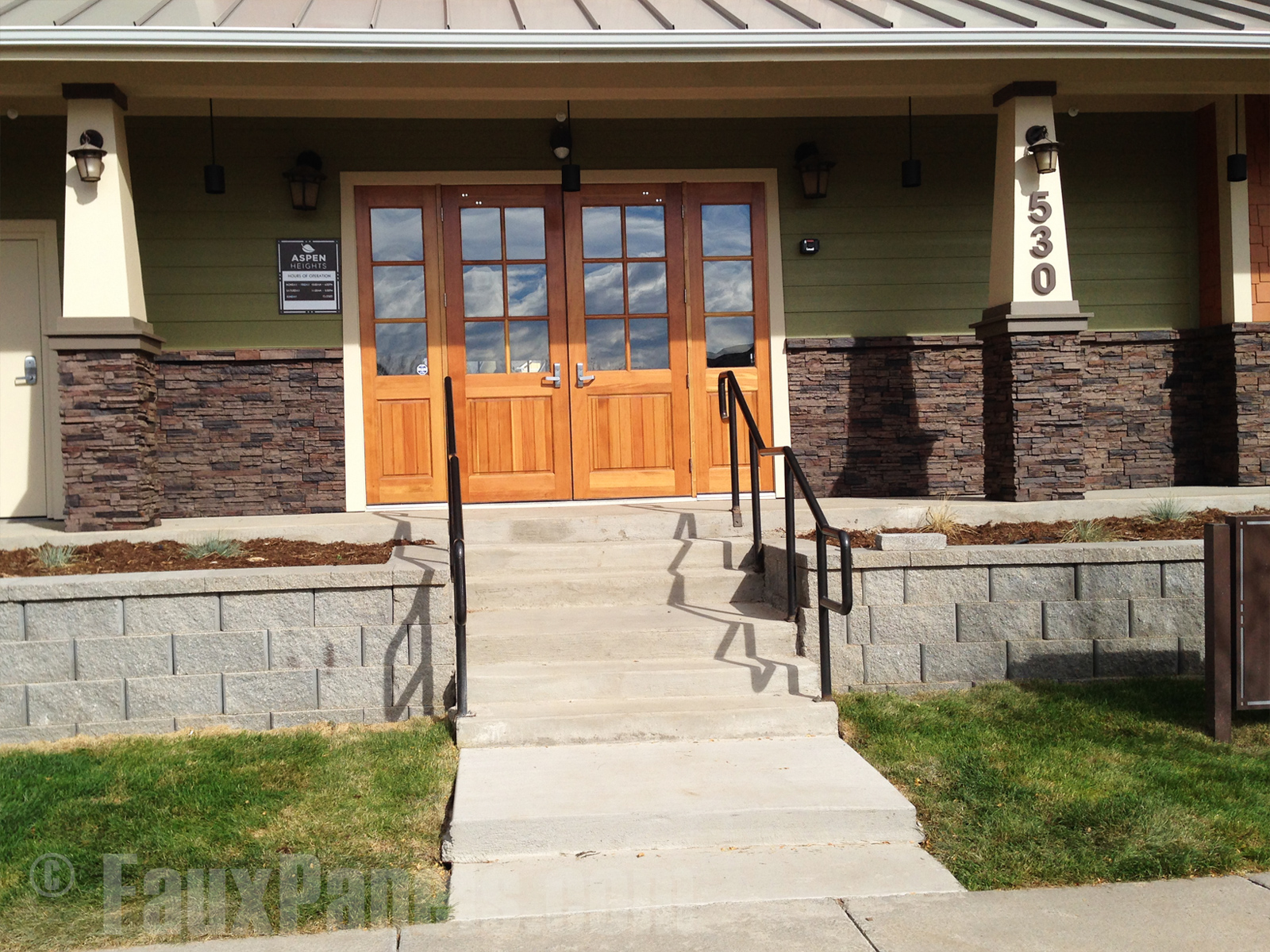 Artificial stone column wraps give exterior designs a look of class.
As you can see in the customer images here, column wraps go a long way in enhancing the look of your porch posts.  They also give your property added appeal.  The customer in the testimonial below used our
Wellington Drystack Column Wraps
to create a much improved look to his lake house's exterior.
| | |
| --- | --- |
| Decorative floral ribbons are no match for stone veneer column wraps. | Faux drystack column wraps work beautifully in upgrading existing pillars. |
We endeavored to modify our basic lake house into a craftsman style cottage appearance and the Wellington Dry Stack column wraps helped us move in that direction. My neighbor and my sister were so impressed with the appearance they are in the process of placing orders for some of the Faux Panels for use on their homes.  TennGriff, Middle, TN
With a
wide variety of styles and colors
to choose from, you'll easily find the right one for your column design needs.  Take a look at the additional photos below to get an idea of the significant improvement fake stone column wraps make for existing posts and pillars.

Transform your porch design with fake stone column wraps.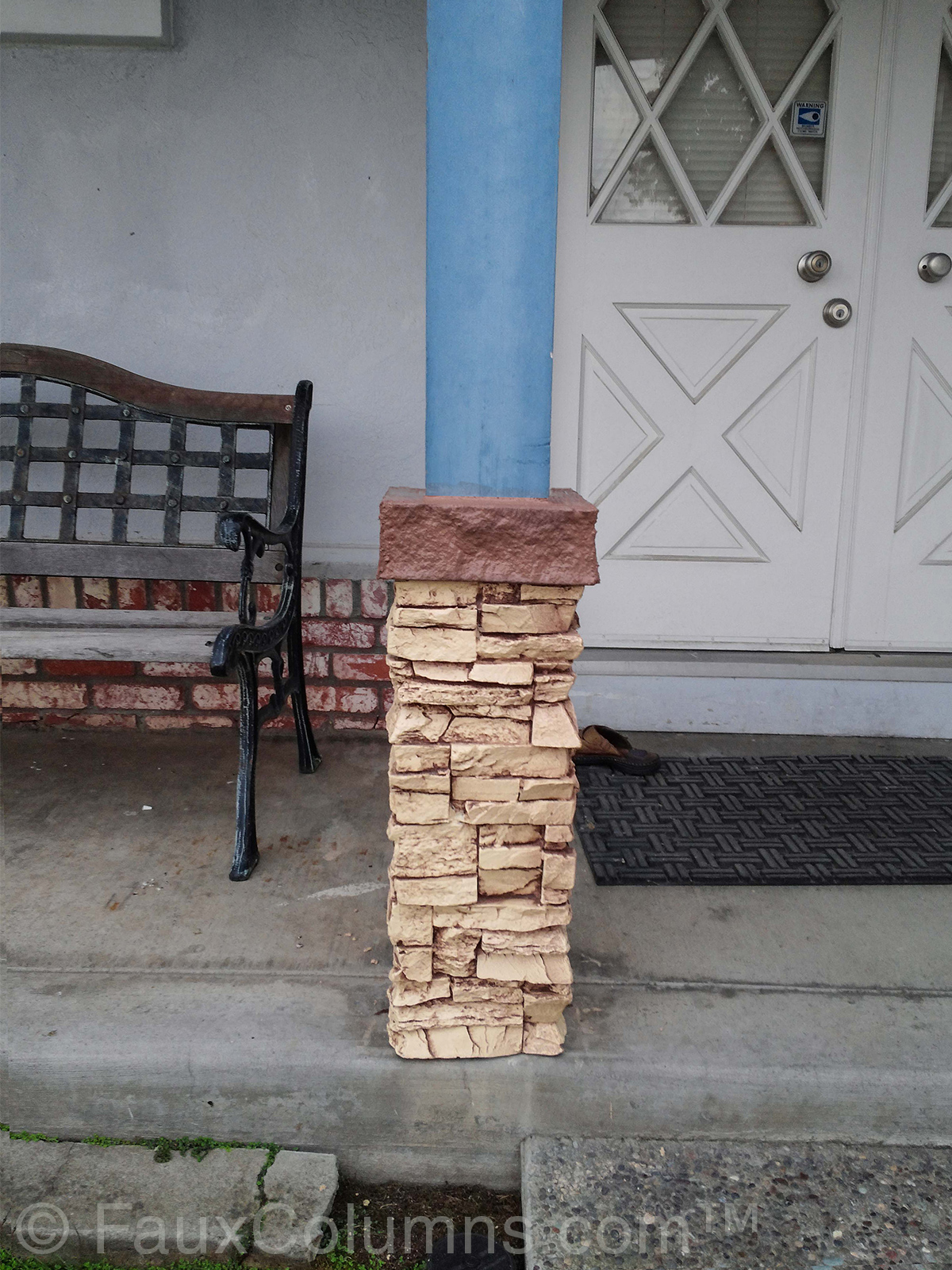 Our Norwich Colorado Stacked Stone column wraps add a rustic touch to your porch design.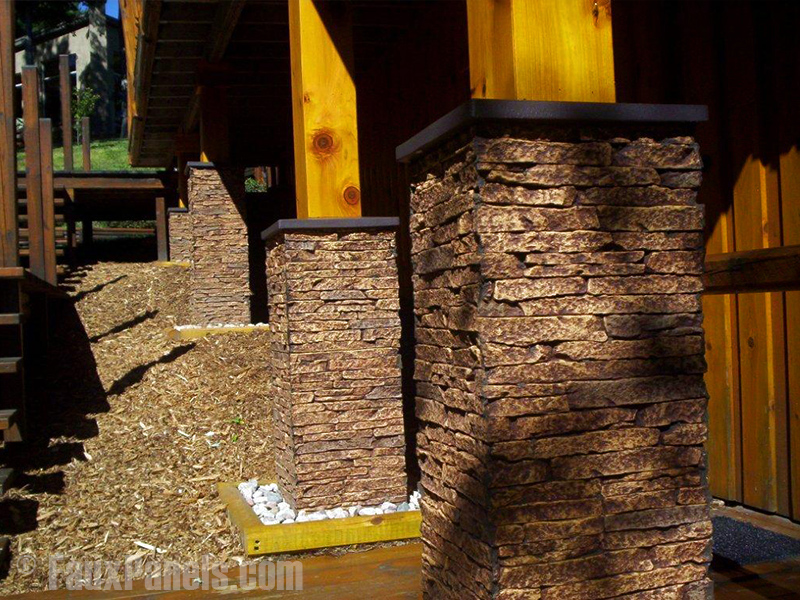 Elevate the visual appeal of existing wood pillars with fake stacked stone column wraps.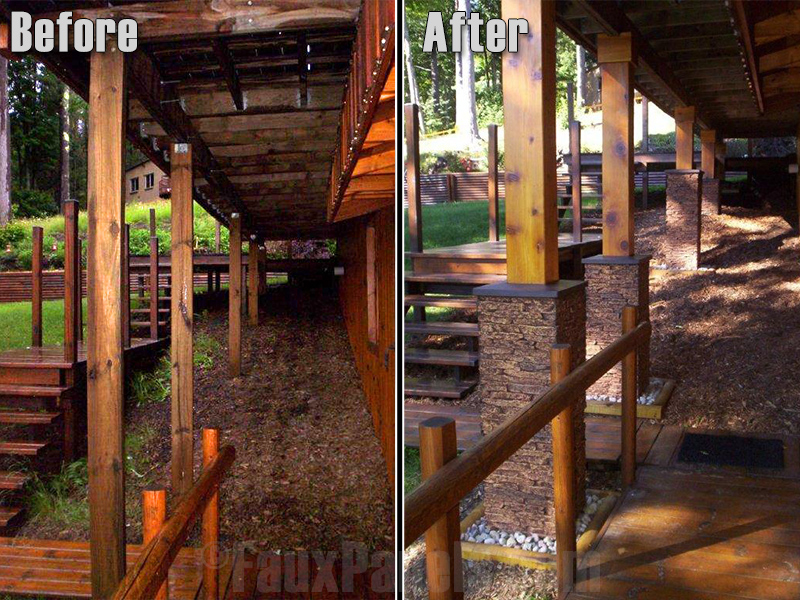 Our Oxford Stacked Stone column wraps are an easy way to enhance the look of wood pillars.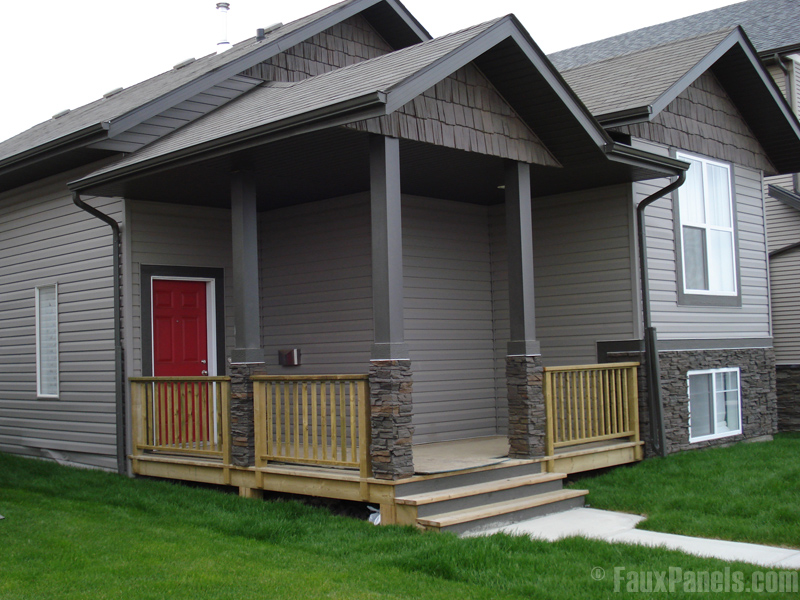 The Regency Stacked Stone column wraps provide a touch of mountain home charm.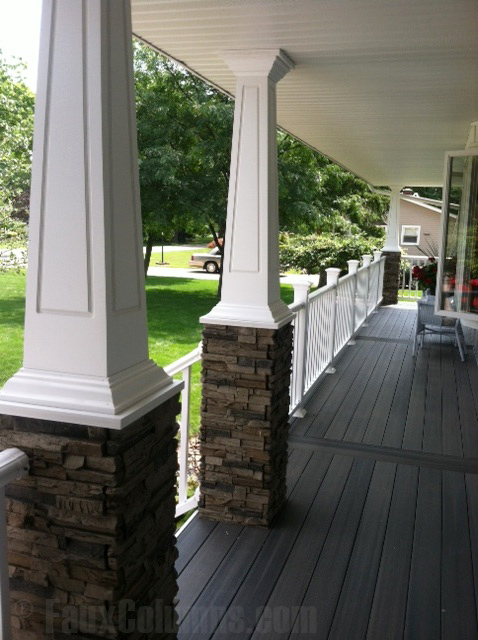 Faux stone column wraps add visual interest to entranceways.