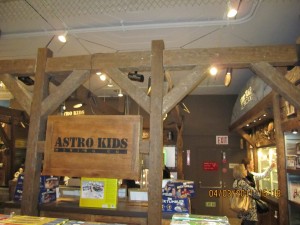 Astro Kids is a store-within-a-store at the world-famous FAO Schwarz toy store in New York City
World-famous toy store FAO Schwarz in New York City recently opened Astro Kids – an exciting store-within-a-store dedicated to everything geological. FauxPanels.com and sister site FauxWoodBeams.com were honored to help bring the concept for the exciting new store to life, helping create a fantastic dinosaur-themed retail display.
Faux Rock Panels Help Create a Retail Wonderland in New York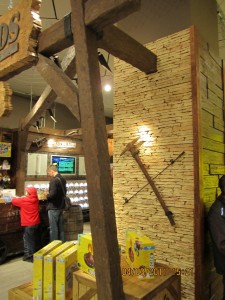 Faux panels perfectly capture the look and feel of an archeological dig
"We are exposing customers to gemstones, minerals, and jewelry at a very young age," says Dennis Tanjeloffs; one of the masterminds behind the exciting new Astro Kids store at FAO Schwarz. "Four to 14 is the target age group. Astro Kids could get big very quickly."
Dennis, along with his brother Marc, are the third generations of an Argentinian mining family and New York institutions in their own right. Their Madison Avenue store is famous throughout the city for selling stunning gemstones and specimens.
They wanted to reach a new audience for their geological goodies, so approached Toys R Us, the owners of venerable New York toy store FAO Schwarz, to create a store-within-a-store featuring a range of gemstone products aimed at kids and teenagers.
Bringing the idea to life required products from both Faux Panels and Faux Wood Beams; which were used to frame the showcase piece of the Astro Kids display – an incredible t-rex skeleton created by New York sculptor Judy Richardson.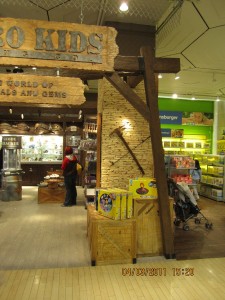 Astro Kids sells geological educational toys and learning products aimed at kids and teenagers
Surrounding the dinosaur are towering faux wood trusses, built like mine supports and encircling the 375 square foot retail space. Faux rock panels complete the display; mimicking real rock and brick and adding crisply vivid texture to the walls.
The result, as you can see from these pictures, is incredible – a beautiful display that makes you feel like you're in the heart of an Arizona archeological dig; even while shopping in the middle of New York City's most famous toy store.
If you have plans to visit New York City any time soon, make sure you check out Astro Kids – and, if you do, we'd love to know what you thought of it. Email us at info@fauxpanels.com.