Monument Valley is one of the most beautiful, yet inhospitable places in America. When it came to getting a cool new look in this hot, old terrain, one customer knew he could rely on our faux panels.
Faux Panels Look Cool Even in the Heat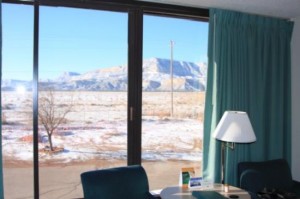 The Kayenta Monument Valley Inn has views that have to be seen to be believed.
Located on the Arizona/Utah border, Monument Valley lives up to its name:
Characterized by towering sandstone buttes – some as tall as a thousand feet – this incredible landscape was originally carved by meandering rivers that wove through the region.
Thousands of years later, those rivers have dried up into the thick red dust we kick up around us when we visit the valley today.
One cool oasis in this scorching desert is the Kayenta Monument Valley Inn, a beautiful resort encompassing 164 guest rooms and an impressive restaurant where you can take your pick of classic America fare or the traditional food of the local Navajo tribes.
Our stone veneer panels were used in recent remodeling, to provide a seamless stone look at a fraction of the cost.
The Kayenta Monument Valley Inn manages to blend contemporary design and construction with a timeless look and feel – and some of the tools recently used to accomplish that came directly from us.
Our Ashford Ledgestone Columns and our Norwich Golden Wheat Colorado stacked stone panels were used to blend perfectly with the existing décor; delivering the authentic look of stone with the affordability, versatility and ease of installation of molded polyurethane.
But there's one more vital reason our panels proved to be a smart choice for the Kayenta Monument Valley Inn – durability.
With baking temperatures that can shoot up well into the hundreds of degrees, plus hours of broiling sunlight to endure, any and all materials used in the construction of this stunning resort needed to put up with incredible punishment.
The natives of the Monument Valley Navajo Tribal Park (in which the Inn is located) built with stone for a reason!
Fortunately, our stone veneer panels have been heat tested extensively – and proved to be more than suitable for the task at hand. Once installed, they'll continue to look practically indistinguishable from real stacked stone for decades to come – without fading, cracking or peeling.
In the blistering heat of Monument Valley, there are even real stone and wood buildings that can't make that boast.