George Benson sung: "The neon lights are always bright on Broadway." All the better to see our Carlton Fieldstone faux stone panels with; as they're now in a supporting role on 42nd Street!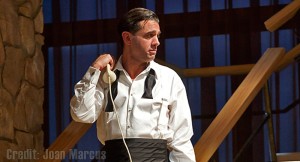 Our faux panels were used by talented set designer John Lee Beatty to recreate a Hollywood mansion.
Faux Panels Featured on Broadway
Written by Clifford Odets, the Roundabout Theatre Company production of 'The Big Knife' at the American Airlines Theater on 42nd street is a true spectacle in the most timeless Broadway tradition.
Described as "a thrill" by David Cote of Time Out! New York and "A dynamic production with an excellent cast" by Mark Kennedy of the Associated Press, this play tells the story of post-war Hollywood; and how leading man Charlie Castle (played by Bobby Cannavale) is forced to challenge his integrity to cling onto his precarious fame and fortune.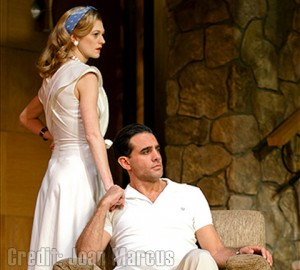 Beatty painted each panel to perfectly attain the look he needed for the play's set.
Set designer John Lee Beatty had quite a challenge before him, to bring the grit and glamor of Hollywood to life onstage.
To achieve this, our faux stone panels were used for some key sets pieces; such as the stone foundations and columns of the luxurious Hollywood Hills home that serves as the backdrop to a lot of the play's action.
Our faux panels are always popular choices with set designers, because they're easy to install, lightweight and look amazing.
In the case of this set, we believe Beatty framed out the house with standard frames and plywood, and then attached our panels directly to the wood with screws and construction adhesive.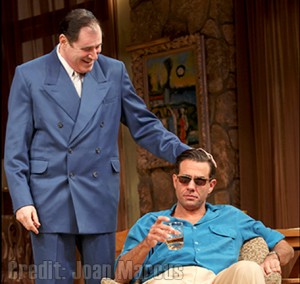 Our faux panels are seamlessly incorporated into the set; transporting us instantly to 1940-50s Hollywood.
Our stone veneer panels are made from durable polyurethane foam and that means they can be cut to size with a regular wood saw; making them a seamless addition to a set designer's inventory.
While we've seen some smart set designs, we're going to go out on a limb this time around and say that the set of The Big Knife is probably one of the most impressive.
As you can tell from the pictures, the way John Lee Beatty has used our Carlton Fieldstone panels really makes them look like authentic stonework; and once the actors are onstage, it's impossible not to be transported 3,000 miles and 60 years away.