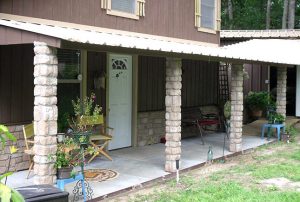 Installing faux decorative columns is an easy and effective way to change the look of your home, both on the inside and the outside. Whether you want to add a mailbox column, driveway columns or fence posts outside, or you want to transform your home by installing interior decorative columns, such as covering the support posts in your basement with a faux decorative column, there are many different ways that faux columns can be used to enhance your home's appearance.
Before customers like yourself make the final decision to buy, they often have questions, so we've gathered the top five most frequently asked questions for faux decorative columns to help make your decision-making process easier.
What are faux columns made of?
The majority of our columns are made of high-density polyurethane, which has been used in home design and in other manufacturing processes for about 30 years. It is used in many industries to make materials that were previously made out of such things as fiberglass, rubber and silicon. Because it is made without formaldehyde or other toxic ingredients, polyurethane doesn't have the problem of off-gassing, or releasing chemicals used to make consumer goods, that is common in many building materials currently being manufactured.
The only columns not made of polyurethane are our Ashford line of faux rock columns, which are made from medium density polyethylene, or MDPE. MDPE is a durable, shock-resistant type of plastic that resists cracks and abrasions and is popular because it is both rugged and flexible.
Both polyurethane and MDPE are great choices for faux columns because they are resistant to the elements — even harsh weather conditions and extreme temperatures — and they resist fading, too. So you can expect them to look as good as the day you installed them for many years. They are easy to maintain and, because they aren't made out of wood, they're not appealing to insects such as termites and carpenter ants.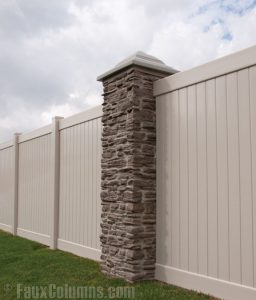 Polyethylene: Ashford Ledgestone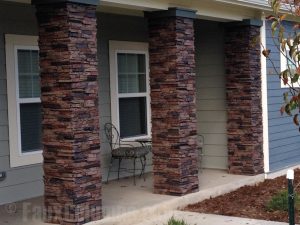 Polyurethane: Wellington Drystack
---
Are they easy to install?
All of our faux columns are designed with the do-it-yourselfer in mind. Although many professional builders and contractors rely on our products, they are made to be easy for even beginning DIY-ers to install. And even if you're not a pro, you can get professional-looking results just by following our easy-to-follow online column installation guides.
Also, if you have questions before or during the process, you can reach out to our customer service team at (800) 651-4223, or chat or email us for answers on how to build interior columns or create exterior columns. If you're still not confident in your ability to install the columns, or if you don't have the proper tools, you can easily hire a carpenter or handyman to do the job.
Installing faux columns is a breeze.
---
Where can I use your faux columns?
Customers love our faux columns because they're so versatile. You can use them both inside and outside of your home; they fit beautifully anywhere you want to have the natural look of brick, rock or stone.
Outside, our faux columns are popular as driveway columns, fence posts, mailbox posts and front porch columns. Inside your home, they make impressive interior decorative columns that will dress up a living room, basement or any other room of the house that would benefit from a brick or stone accent. They're also popular as accent pieces in retail store environments.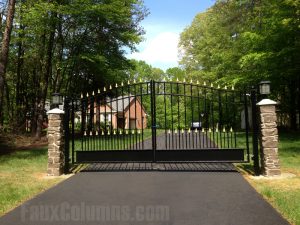 Faux decorative columns looking stunning on the driveway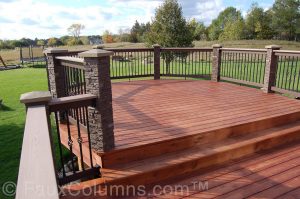 The columns accent this home deck beautifully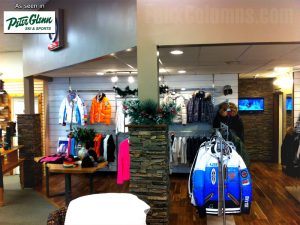 Wellington Drystack columns add rugged style to the Peter Glenn store.
---
How long do they last?
Durability is a key element of every faux column we sell. All of our products are designed to last for years without splitting, cracking, rotting or peeling. In fact, our columns are so durable that we guarantee they will withstand normal outdoor conditions for 15 years, although you can expect them to last even longer with the right care and conditions.
All of our products are treated with a UV-resistant finish that will help protect them from the sun and slow down the fading process. Of course, like any item that is left out in the sun, you can expect some slight fading over time, but our finish helps keep fading to a minimum. (Although our warranty covers many things, it does not include fading from the sun or problems caused by improper maintenance. To learn exactly what is and isn't covered, please see our Warranty page.)
Of course, since they are designed for durability, they're also waterproof, which makes them perfect for all types of climates, including areas with heavy amounts of snow and rain or regions with high humidity.
---
What do customers say about them?
One reason we've been in business so long is that customers love our faux columns. Whether for indoor or outdoor use, our customers find that our columns and other faux products make a lasting impression. But don't just take our word for it; read what some of our recent customers have to say:
"I just wanted to share the before-and-after pictures of our home after using your products. We can't believe the difference it has made, we are so happy with it. We have received so many compliments. Most people don't even know that it isn't real stone. Great job and a great product!" — Thomas P., Brockway, PA
"We used your product to cheer up our hair salon; we are nestled in the Canadian Rockies and your faux stacked panels and columns fit in beautifully with our rocky surroundings! We used the door trim on the corners and really love the contrast it created." — Elli's Hair West, Canmore, Canada
"

As with anything, we were concerned about ordering off the internet without seeing the product. But we wanted a unique look for our house that we are building ourselves. Our friends think we installed stone on our columns! Love the look, and it was easy to install.

" — Sami Jo, Texas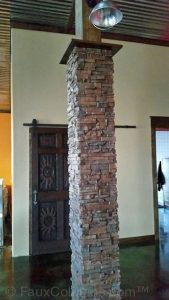 Sami Jo's home interior is revitalized with a Norwich Colorado Stacked Stone column
Learn more about Faux Columns and find answers to other questions by visiting our FAQ page.