We love receiving photos of how customers have used our rock veneer paneling to transform their homes. Over the years, we've seen many transformations that were out of this world – but few that were out of a fairy tale!
Rock Veneer Paneling in a Fairy Tale Master Bedroom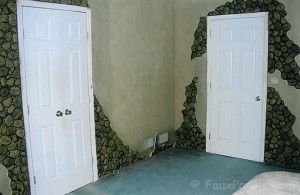 Trimming the doors with River Rock Grey Panels makes for a timeless, magical aesthetic.
Yet that's the first thing we thought when Faux Panel customer John Lang sent in pictures of his master bedroom design – and how he'd used our Wellington River Rock Panels to create a sleeping space Rapunzel would be proud of.
"My project for my master bedroom has come out looking so much better that I had ever imagined it to look," wrote John. His photos revealed exactly what he meant – a fairy-tale fantasy brought vividly to life.
What John did that was so unique was to trim our Wellington River Rock veneer panels and use them to border doors, corners and walls – almost as if they were the bare stonework peeking out from beneath a layer of plaster. It's a subtle touch that makes the entire bedroom design work vividly; and ensures the rock veneer still looks authentic despite being installed in a modern house.
"With your product and a little outside the box thinking, you can achieve great new ideas and wonderful looks," John wrote. "Your product is as awesome as awesome can get."
While we think our rock veneer paneling played a significant role in John's amazing bedroom design, it's important to recognize the variety of other tricks he employed to bring his fairy tale design so vividly to life.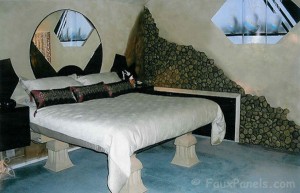 The room was completed with details like this bed - fit for King Arthur himself!
The bed, for example, rests on columns that wouldn't look out of place in King Arthur's Court – while strategic use of mirrors also adds a magical feel to the design.
We're always excited to receive photos from satisfied customers, but John's amazing efforts were especially noteworthy. His fairy tale master bedroom is a great example of the flexibility of our veneer panels – and gives us all a little extra inspiration about how to incorporate rock veneer paneling into our own home renovation projects.