Although it's been a while since FauxWoodBeams.com™ was featured on the final episode of ABC's Extreme Makeover: Home Edition, the honor of being involved in such an exciting and heartwarming project has not diminished for us.
Murals and Decorative Beams Turn a House into a Home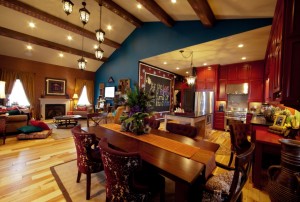 Our faux wood beams span the entire length of the ceiling, adding a stunning rustic look.
Recently, we were lucky enough to revisit the experience of helping rebuild Joplin, Missouri, when we received new shots from the seven incredible homes Ty Pennington and the Extreme Makeover: Home Edition team built there in just seven days. Many of them included our products.
For example, this stunning home features our decorative beams across the apex ceiling; adding a beautiful rustic touch to a home already rich with color and character.
The theme of this particular home design project was family; an important value that paid tribute to the tragic fact that almost all of those who received new homes on the Joplin episode of EM:HE had lost loved ones during the tragedy.
Hand detailed murals add a beautiful, homey touch to our decorative beams.
And just as we thought we'd seen every possible way in which design experts could use our faux wood products, we were once again astonished at one of the simplest, but most beautiful design touches we could possibly have imagined being employed to bring out product to life; a simple mural.
It ties in beautifully with the heartwarming message on the chalkboard in the main room: "It's the LOVE of a FAMILY that turns a house into a HOME."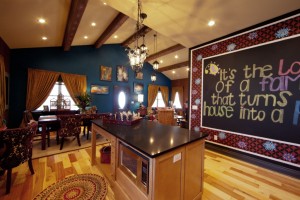 "It's the LOVE of a FAMILY that turns a house into a HOME." -- An incredible motto to live by.
With a paintbrush and stencil, the theme of family and love was extended and emblazoned across the ceiling through the use of colorful murals; another far cry from the drab prefabs most disaster survivors wind up in.
Our decorative beams were a great addition to Ty Pennington's home design arsenal precisely because of that fact. With just seven days to build seven houses, the crew of EM:HE wouldn't have had the opportunity to use real timber beams, even if that had been in the budget (or the floor plans.)
The fact that our products are affordable and easy to install means that even those living in rapidly assembled prefab homes can have a rustic touch with just a few hours of installation time.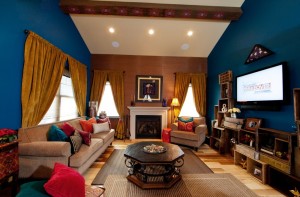 It's hard to believe that this warm and welcoming home was built from the ground up in less than seven days.
And one final aspect that makes false beams so perfect for a region like Joplin is safety.
It's a well-recorded fact that tornadoes can send timbers spinning off into the distance at over a hundred miles an hour; enough to blow through brick or concrete walls like mortar shells. Using faux timber is a much safer alternative; with our durable polyurethane beams weighing a fraction of what real wood does.
Although these design factors made our products a more than logical choice for addition to the designs Ty Pennington and the EM:HE crew, we're still incredibly honored to have been included as contributors to this episode, and all the others that came before it.
Thanks for the opportunity ABC!
Photos courtesy of Catherine Rhodes Photography