Trade show booths aren't easy to get right - they need to be eye-catching, quick and easy to assemble, and light to transport. Our faux wood products are the ideal material to build custom displays, as they meet and exceed all of these requirements.
The main benefit of our faux beams, planks and other products is their realism -- they give the illusion of real solid wood down to the smallest detail.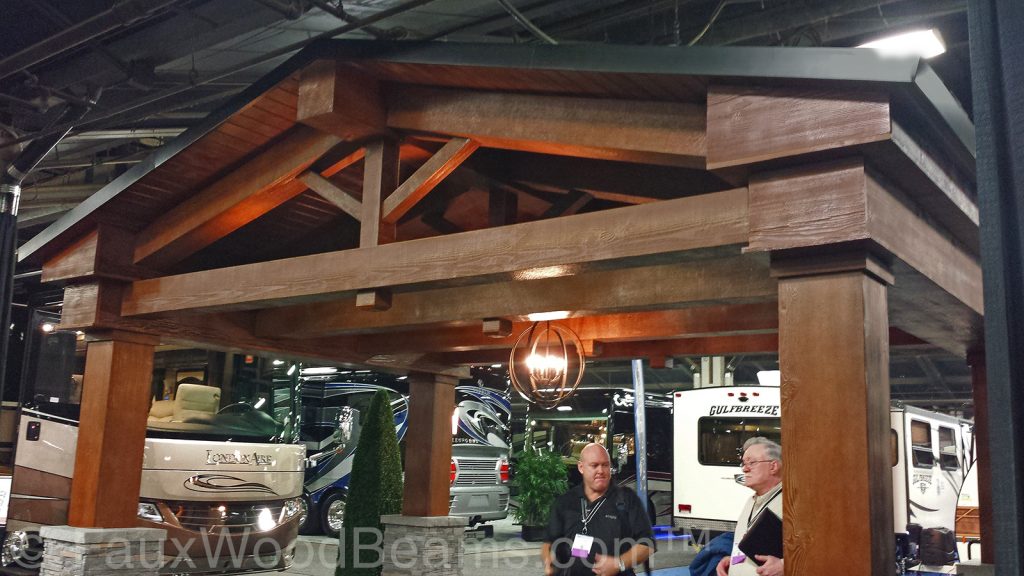 Custom faux wood beams cover the metal frame of this booth, making it lightweight and easy to break down. But while faux wood may look permanent, its versatile and lightweight construction makes it ideal for trade show displays that need to be repeatedly broken down, transported, and reassembled in a different location. At trade shows, businesses stand among dozens or hundreds of others; and need to attract the attention of the patrons passing through. Creating a vivid and dramatic display booth is definitely one way to do this; and using our products really helps businesses stand out. Not only for their attractive look, but also because passer-by will stop for a second and wonder:
How
did they get all that wood here?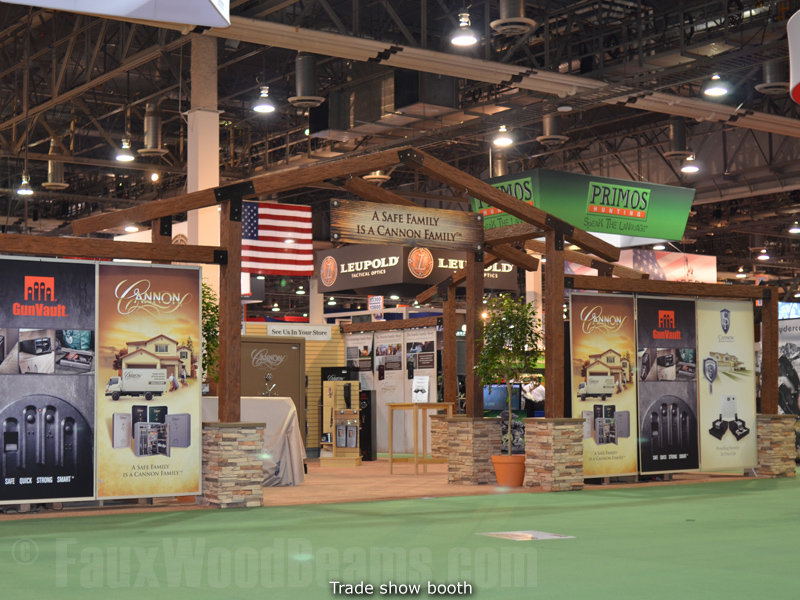 The beams on this display create a solid wood look without weighing hundreds of pounds. The answer is, of course, that our faux wood products aren't made from
real
wood - even though they look exactly like they are. Instead, our faux products are made from a high-density polyurethane foam which is molded from real wood; capturing every knot, grain and imperfection. We then use an innovative four-color finishing process to paint the beams in a variety of natural real-wood colors. Our beams are also hollow, allowing them to easily cover a display's framework and create the appearance of a real timber structure. They're also available three and four-sided, so you can use them from any angle. You can cut and shape them with regular woodworking tools, making it easy to construct a custom display that can be broken down and reassembled seamlessly. Throw in the fact that our products are robust enough to handle life on the road, and a highly affordable alternative to real wood, and you can see why "going faux" is a firm favorite with trade show teams across North America.
Our own show display demonstrating our faux wood products - plus those of our sister site at FauxPanels.com.
This booth was assembled in just a few short hours.