When challenged with cracked and damaged roofing beams, one homeowner sought a false wood solution.
Replace Cracked Wooden Beams with False Beams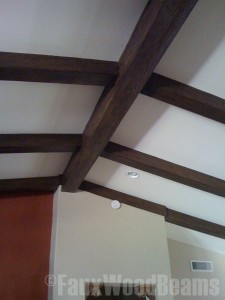 The finished product! Going faux resulted in a much better look that the original 1960s fake beams.
Brad L., of Allentown, Pa., recently emailed to let us know about an elegant solution he'd found for his new home.
"The house I'd just bought was built in 1969," he wrote, "and the interior looked like it hadn't been updated much since then! We replaced the peeling wallpaper and retro textured plaster, but one feature we didn't know how to deal with were the cracked and broken ceiling beams."
You see, the elegant wooden beams that ran the length of Brad's ceiling weren't real. In keeping with some of the cheaper and nastier design ideas of the 1960s, they were just cheap pine planks, nailed into a box shape and stained to resemble (poorly) real wood.
And over the years, those pine planks had warped, shifted and eventually cracked. "Fifty years being dried out by a dehumidifier is pretty tough punishment," Brad admits. "They were cheap and nasty wood to begin with, and had been up there since the house was built."
While Brad and his wife wanted to fix the ugly beams, they didn't want to get rid of them entirely.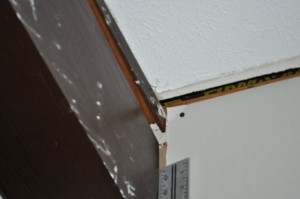 As this close-up shows, the original "fake" beams had cracked and warped with age.
"The beams were actually a nice feature," he admits. "If you squinted your eyes and ignored the cracks, you could see how they gave the ceiling a nice framework and made the room look wider."
So what was the solution?
At first, Brad considered buying some lumber from his nearest hardware store and building his own replacement beams: "But I was worried they'd look as bad as the ones already up there."
Fortunately, his wife had been researching online and found FauxWoodBeams.com.
"She found your site because she was looking for real wood beams to replace the ones up there already," Brad writes, "and you offer some great real-wood beams made with reclaimed timber."
But after some discussion, Brad and his wife started looking at "going faux" instead.
"We loved the reclaimed wood beams, but the faux ones seemed like a great alternative." Made using molds of real timber beams, our faux wood beams perfectly mimic every saw blade mark, grain pattern, wormhole, knot and imperfection of authentic timber - but at a fraction of the weight and a considerably smaller cost.
"In the end, we settled on your Sandblasted Faux Wood Beams," Brad writes. "They perfectly matched the decor of the house, and looked infinitely better than the beams that were already up there." In fact, Brad admits: "Faux actually looked better than the real thing."
And thanks to the photo he sent, we don't need to take Brad's word for it. With a new ceiling texture and a lick of paint, the ceiling looks completely different. What do you think of the finished product?