DIY Home Bar with Faux Panels
FauxPanels.com customer Aaron demonstrates how you can build your own basement bar that looks like solid brick masonry, quickly and affordably.
Finished basements are an incredible investment, and allow many homeowners the space they need to add features that may not fit in the rest of the house. For Aaron McCart, this feature was a fully-loaded bar -- and place for his family and friends to hang out and watch the game.
From the get-go, Aaron had a vision of what he wanted his bar to look like: old-style brick, with a study bar top perfect for resting foamy, cold ones on. The only problem was that building a bar from real brick was expensive and impractical - not to mention it would be a pain to get rid of or move if he ever changes houses.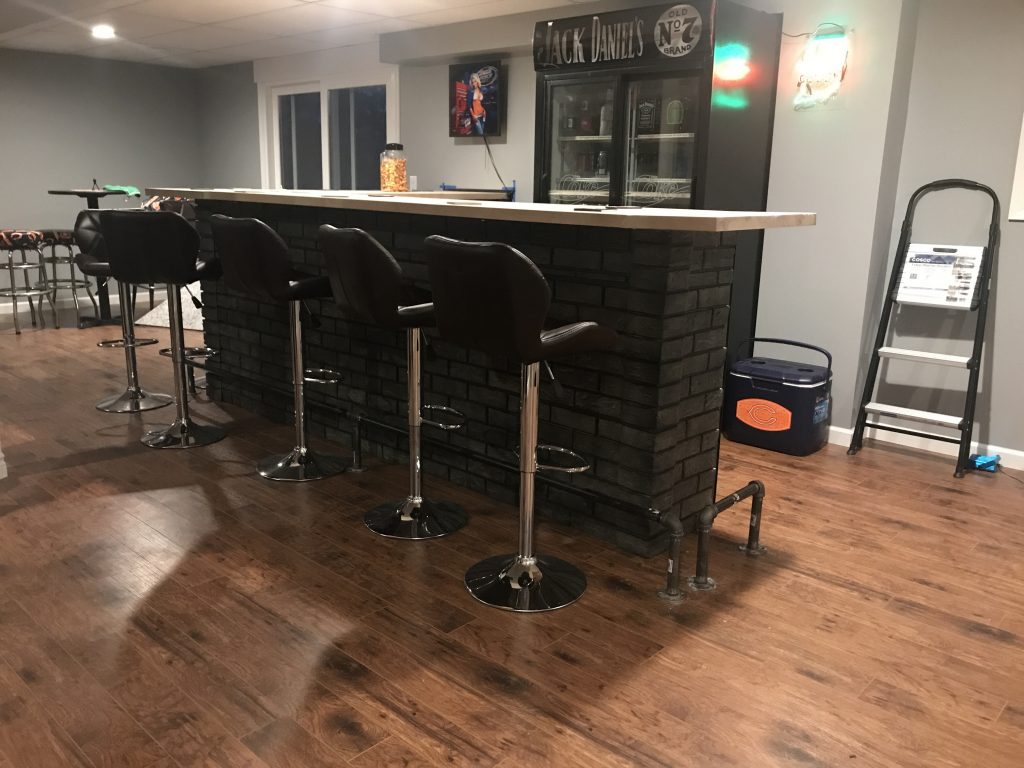 Finished bar
So Aaron went looking online, and found the perfect solution at FauxPanels.com. Instead of using real brick, he invested in our Novi Brick Plus Siding in Cosmo Gray to create the bar's realistic brick surface.
Novi siding is made from lightweight and durable polypropylene, molded from real brick walls. The result is a practical and versatile panel that's half an inch thick - yet has the vividly realistic texture of actual brick. It's so realistic, in fact, that you can't really tell the difference without reaching out and touching the panel itself.
And it's also ideal for projects like this - because a single panel covers over five square feet of surface area - which would take ages to cover with individual bricks or sections of brick.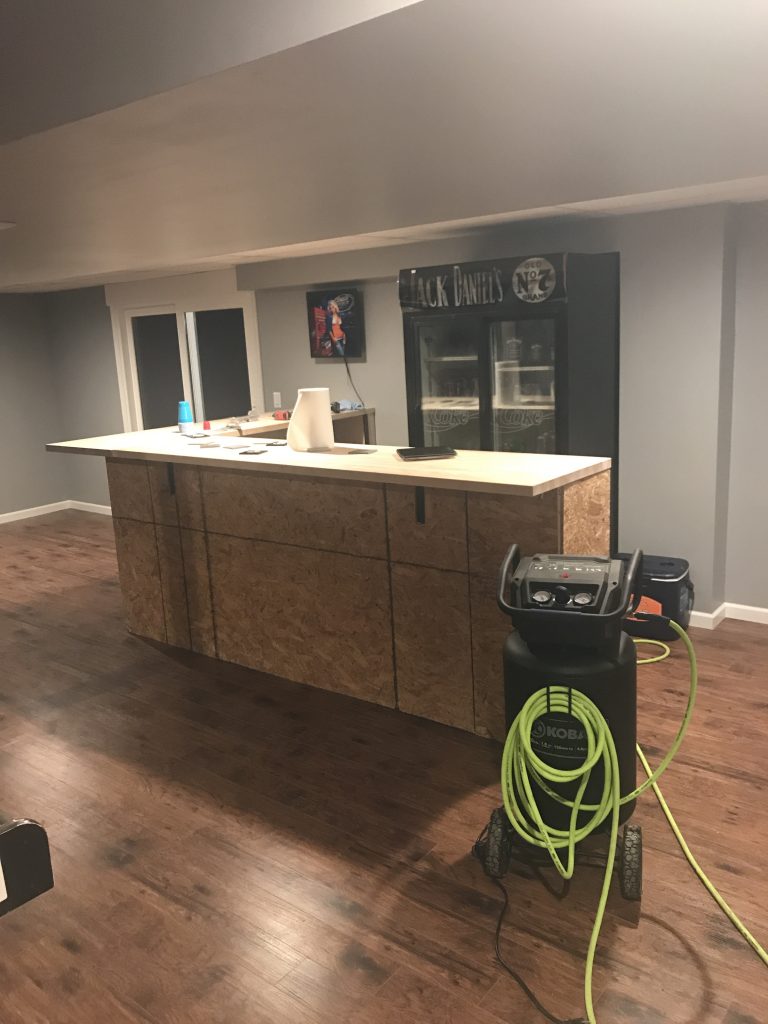 Building the bar frame
So, here's how Aaron did it:
As you can see from the BEFORE picture, he first created a bar using traditional framing techniques. Lengths of 2"x3" created the structure of the bar, and then Aaron covered those with plywood boards. Once the naked bar was complete, it was time to cover it with our panels.
Novi siding is installed using a starter strip, which is attached to the lowest edge of the surface with roofing nails. The starter strips are made from the same polymer as our panels, so you can easily trim them to fit.
Following the installation of the starter strip, the panels are slotted into place and you build out your faux stone surface panel-by-panel, cutting them to fit as required. You can find full instructions for installing Novi siding here.
As you can see, Aaron's project involved quite a lot of corners, and the brick texture is seamless on all of them. That's because Novi siding is available with matching Corner accessories, which make installation incredibly easy. Aaron took full advantage of this, by creating corner 'columns' to really create a visual impression, and the corners made it really straightforward to cover them with the same realistic brick pattern as the rest of the bar.
Close-up view of Novi Brick siding
Section-by-section, Aaron covered the entire bar with the panels, and the finished result looks incredible. But he wasn't finished. To really complete the project, Aaron added an oversize wooden bar counter top, and then used lengths of iron piping to create footrests underneath, just like a bar at your local watering hole. The end result looks fantastic - rugged, industrial, and so realistic you'd never know the bar wasn't made from real brick.
So what do you think? Did Aaron nail it? We've seen a lot of basement bars made using FauxPanels, and have to admit that this one stands among the best. If you agree, let us know in the comments section below!