Fans of Showtime's The Tudors will be familiar with the English style of architecture known as 'Tudor'. A combination of exposed beams, brickwork and stucco, it's an iconic look that modern homeowners still try to copy today. Here's some advice on how.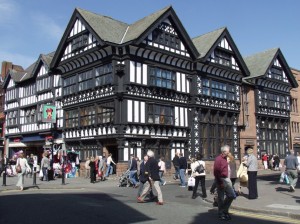 Authentic Tudor buildings, like this one in Chester, England, were the skyscrapers of their day.
Mock Tudor Style: Bring the Middle Ages into 21st Century Design
The first thing to do when looking to create a mock Tudor style home is to think like a medieval architect. The reason this iconic type of home building was invented was not because it looked cool, but because it was immensely practical during that period.
The classic 'Tudor' style of architecture was actually a primitive form of period skyscraper. In cities like London – then the most populous in the world – residents struggled to cram more and more people into ever more cramped city districts. The most practical solution to this problem was to design taller buildings and that's how the style developed.
To recreate the Tudor look in your own home, you have to think in layers.
Foundations: The foundation of a Tudor home was vitally important – two or more additional stories would rest on it. They were generally made from brick and had a solid, study look and feel. In a modern home, you can copy this look by using a brickwork exterior on your ground floor. An affordable and easy-to-install option for achieving this look is to use veneer panels; they're available in a variety of styles, which can give the appearance of real stone or brick at a fraction of the cost of the real thing.
Upstairs: Once builders got above street level, there were many reasons why using brick was no longer practical. For a start, it was expensive. Secondly, it was labor-intensive and dangerous to heft heavy brick onto rickety medieval scaffolding. They instead used a technique similar to modern-day 'framing' – building a framework of timber beams and then filling in the gaps with 'wattle' – a sort of period cement mixed from clay, sand and manure. You can mimic this look with a combination of white stucco and our Rough Sawn style planks. They're lightweight and easy to install, but give the instant appearance of exposed timber framework, for an authentic look.
Roof: Tudors could be three or four stories tall, but they were all roofed in largely the same way. Large wooden beams created a framework, which was then tiled or 'thatched' with tightly bound bundles of straw. A ubiquitous feature were Corbels – the exposed ends of the roofing beams. You can mimic this look with real or faux corbels, which can easily be attached to the underside of your overhanging roof to give the appearance of period beam construction. For a more dramatic look, you can also use rafter tails, which extend outward like the ends of roofing beams would.
Interior: Once the exterior is complete, you need to bring that medieval magic inside. That's easy to achieve with faux beams, which can recreate the look of the exposed wooden beams; a classic feature of all real Tudor homes. There are a number of advantages to using these types of beams – not least of which is that they're more affordable and practical than adding real solid wood to the interior of your home. To complete the look, L-headers over doors and windows and one of our fireplace mantels can create an interior Shakespeare himself would feel at home in.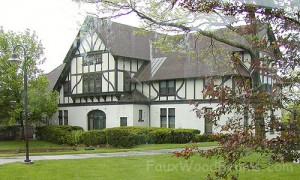 Before you start any project, we recommend you check out our photo gallery and testimonials – they feature tips and design ideas from a number of our satisfied clients, and can offer a wealth of inspiration to help you create the home of your dreams.