Rust is the enemy of all classic cars - which is why one enterprising garage owner found a faux wood solution.
Rust is a problem for Martin's '72 Chevy, even though it's stored indoors.
Breathing New Life into Old Cars with Faux Wood Beams
Martin from Lansdale, Pa loves the sound of an old American V8.
"They've been my passion since I was a teenager," he admits. "My first car was a 1978 Pontiac Trans Am, and I've been hooked ever since."
But like many classic car hobbyists, Martin has a problem - "a shortage of time and money."
That's why his latest project car, which he bought from a barn in 2010, isn't going to be roadworthy for quite a while.
"She's a '72 Chevy Malibu," he explains, "and she was a mess when I bought her." The literal barn-find, Martin picked her up for $500 when a friend-of-a-friend found the car in her father's barn shortly after his death.
"I couldn't turn it down at that price," Martin laughs. "But I couldn't afford to fix her up right away, either."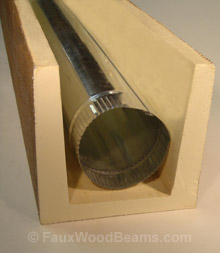 A metal air vent slots directly into our hollow beams.
Since then, Martin's spent many hours tinkering away on his '72 Chevy, locked away in his garage. But while he has the space - it's not ideal for a classic car.
"It's damp," he admits. A low water table and the way his house is positioned means the right-hand corner of the garage even gets an inch or two of flooding when its not the worst weather.
Worried that months of exposure would be promoting rust on his car, Martin came up with a smart and affordable solution - a dehumidifier and extractor. The only problem? He didn't have any windows to vent it from.
Which is why he decided to come up with a faux wood solution.
"We'd recently used a couple of your beams in our living room," he wrote, "and I thought adding one of those in my garage would look nicer than just a length of metal venting stuck to my ceiling."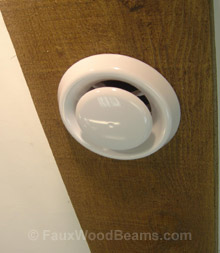 Using a regular drill bit, Martin cut a hole to install a vent opening.
So Martin installed his dehumidifier and ran a metal vent out of a wall-opening, and then decided to hide the whole thing inside one of our faux wood beams.
They're actually perfect for this sort of hidden installation, as our beams are all made from hollow molded polyurethene. All Martin needed to do was purchase the correct width of beam and the vent tube slotted directly inside.
"Your customer service was great for helping me with that," he explains. "I told them what size my piping was, and they told me how big a beam I'd need to purchase.
To complete the process, Martin drilled circular holes in the beam and installed his ceiling vent directly into it. "It was easy - all I needed to do was use a 6 and 3/8 inch drill bit and a regular power drill, and it fit right in.
Flexible metal piping allowed a seamless join even in the limited space.
The beams attached to the ceiling using wooden mounting blocks and regular screws - and once installed, the only clue that there's a dehumidifier running is the noise of the machine itself.
"And it's made a huge difference," Martin admits. "Even when the floor floods, the room itself is as dry as a bone." So much so that when it rains, his wife even hangs sheets and laundry in there to dry."
"It's a great addition, and thanks to the faux wood beams, totally invisible." More importantly, as far as Martin is concerned, "it means rust won't be ruining all the work I do on my car."