It was clear in 2011 that the economic depression hadn't hit the wine market. Business was booming for fine vintage wines – with Christies alone estimating almost $90 million in wine sales.
Wine Cellar Design Ideas That Feature Stone Veneer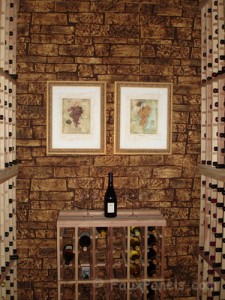 Stone veneer panels make this wine cellar look like an authentic French "cave".
Perhaps as a result of this Bordeaux boom (amidst other vintage wine varieties) the number of wine collectors investing in home wine cellars has also seen an uptick – and many of them are choosing to use stone veneer panels in their projects.
Our stone and brick veneer panels are ideal for use in a wine cellar design for a number of reasons.
Perhaps chief amongst them is their aesthetic – it's possible to recreate the look of a centuries-old wine cellar even in a modern home by choosing products like our Regency Stacked Stone or Oxford Stonewall panels.
Cost for cost, faux panels are also an incredibly canny wine cellar investment. Creating a real stone or brick wine cellar could add tens or even hundreds of thousands of dollars to the cost of a new home.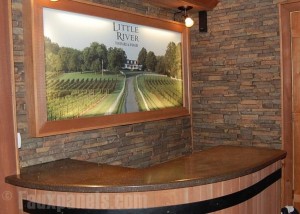 The Little River Vineyard in North Carolina used our fstone veneer panels to give their new world winery an old world flavor.
Adding a real brick or stone wine cellar to an existing home is very difficult and impractical.
But contrast, faux panels cost a fraction of what real stone or brick would; and the finished product looks every bit as good. You can see for yourself by the pictures posted here, and on our dedicated wine cellar photo gallery.
In addition, the panels are so simple to install many homeowners can complete a wine cellar project themselves.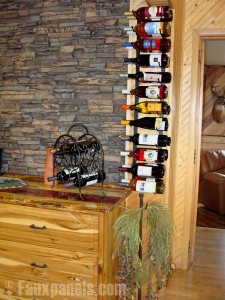 Any home wine cellar can be enhanced with the use of faux stone panels.
Compare that to the time and effort required to build a home wine cellar using stone or brick. In addition to hundreds pounds of brick or stone, it will require masonry tools, bags of mortar and cement, plus extensive and expensive clean-up work.
Wine purists also love our stone veneer panels because they are 100% waterproof; which is vital for those who use vapor locks and climate controls in their home wine cellars to perfectly preserve their vintage investments.
Our artificial wood panels are also popular for this reason; as they contrast beautifully with the look of stone or brick and are similar waterproof; which real wood isn't unless it's specially treated.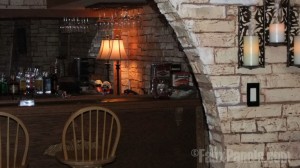 Our faux stone panels can be cut with a wood saw, and are flexible enough to even create archways like an authentic wine cellar.
Homeowners have a huge range of options when designing a home wine cellar – and can spend practically as little or as much as they like. Some simply add faux stone panels to a basement to give their home wine bars a classic look.
Others spend thousands on climate control systems that keep the temperature and humidity exactly the same as the cellars of French chateaus or Spanish bodegas. Because of their flexibility, ease of installation and waterproof qualities, stone veneer panels are the ideal choice for both ends of a wine lover's budget.