Our Fauxny Award Winner
A few years ago I took a trip to Arizona with my family. Since there wasn't much to do in that part of Arizona other than golf, my sister and I left the boys and the links behind to hang at the pool.

I've been to my fair share of hotel pools, but this one ranked in the top five. One side was flanked by an enormous stone wall built into a natural formation of massive boulders. My favorite part was the waterfall cascading down the wall into the pool. I'm not sure what about it appealed to me so – maybe I was having a Blue Lagoon fantasy moment or maybe it was just the soothing sound of water trickling down. Either way, if I could transplant this wall into my backyard, there'd be no need for boring golf vacations!
Then this customer's project caught my eye. Paul M. created his own backyard water wall waterfall with light tan stacked stone faux panels. He ingeniously installed the wall and then hooked up a sprinkler system with water from his canal, recycling the water back down the canal so there was no harm to the environment.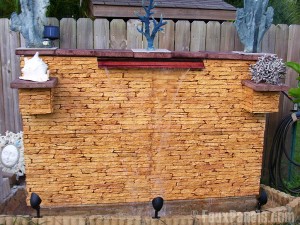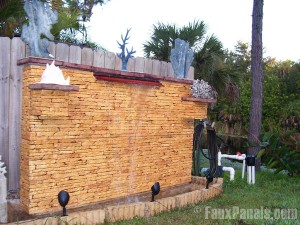 I loved this idea – especially since it would be fairly easy for anyone to implement in their own yard or garden. Although I may have to rethink the whole Brooke Shields bathing suit made out of palm leaves thing…