The Oklahoma State Fair is one of the most famous in America, and thrills thousands of visitors each September. One of the show operators, Thomas G., recently shared how our faux panels are making an appearance there; adorning the fair's \"In-FAIR-Mation" booths.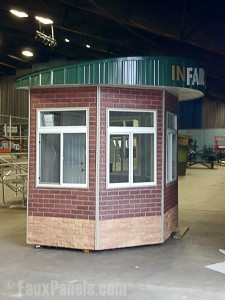 The "InFairMation" booths for the OKC State Fair are finished using our faux panels.
All is Fair with Faux Panels
"Here are some before and after photos," Thomas wrote to us, with some awesome pictures of the booths actually being made. " They are the "Infairmation" booths for the OKC state fair" and the faux panels installed on them make them resemble small brick buildings, rather than lightweight and easy to move modular sheds.
"The fauxpanels were easy to install," Thomas explains, "and lightweight - with exactly the look my clients wanted." That lightweight construction is incredibly important, as the booths are designed to be mobile.
"I move these in and out of storage every year, and locate them around the fair grounds." Being able to carry them via tractor is one of the core requirements; and the reason they were built like they were. Our faux panels, weighing around ten pounds each, help add a lot to the looks of these booths, without adding a lot to the load they make up.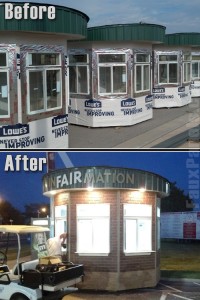 Before and After: Check out how the panels look when the booths are finished.
They're also a smart choice because they're totally waterproof, weather-resistant and protect the booths from the elements - even though Thomas admits: "they only see weather for about 4 weeks a year, so they should last forever!"
We love examples of our faux panels being used like this, because it demonstrates their versatility; and how they can allow enterprising designers to get the look of authentic stone or brick in installations in which it would be impossible to use the real materials.
That flexibility has helped ensure designers are now limited only by their imagination; and here at FauxPanels.com, we're constantly impressed by what people have created by taking advantage of that freedom.