Exterior Enhancement Story - Faux Panels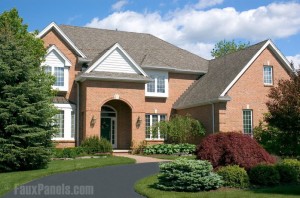 Adding on to your house gives you more storage and living space while improving the value of your home.

Anyone who has undertaken this kind of project knows that making the addition's exterior blend with the rest of the house is super important. Otherwise you'll end up with a patchwork monstrosity that will have your friends calling Ty Pennington and his crew for an Extreme Makeover rescue. Don't be a DIY disaster!
Things to consider before you begin your addition:
• The materials on your current home's exterior may no longer be available or prove too costly, especially on older homes. You may need to get creative on finding a similar-looking alternative.
• Your home's current siding has most likely taken a beating over the years from various types of weather and climate. Keep this in mind when you're selecting a color for the addition. Nice and bright probably won't mesh well.
• There may be sections of the addition that are trickier to side than others. Be certain when choosing your materials that it can be relatively easy to install in ALL areas.
A good example of this conundrum is our customer's addition to his existing brick building. According to Paul Reeves from Bethel, OH, installing real brick or rock in the space above the roof of the addition would have been logistically difficult. I would agree that schlepping heavy bricks or rock up a ladder and installing them above that sloped roof top would be precarious at best, not to mention costly.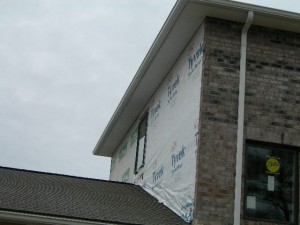 Before

Luckily Paul was able to find a solution with forty-two of our Random Rock Potomac faux panels. Take a look at the final result photos below. We think they look great!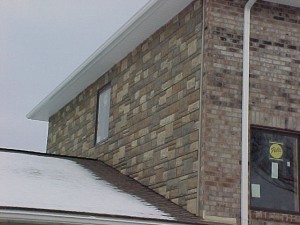 After - Close Up View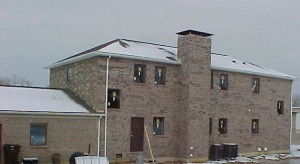 After - Full View
Let us know what you think of Paul's solution in the comments below!