Fall is the perfect time to unleash your creativity, with our discounted Fieldstone faux stone panels.
Get 10% off of Fieldstone Panels through October and November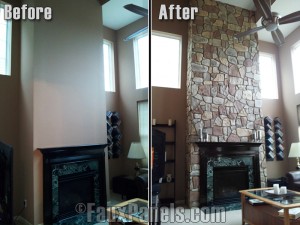 Our Fieldstone panels are a great tool for adding the look of real stone for a fraction of the price.
Our Fieldstone faux stone panels are one of our best-sellers at FauxPanels.com - and have been featured in some truly incredible design projects, including on episode of the hit TV show Extreme Makeover: Home Edition.
If you've been inspired to try your own project using our faux fieldstone panels, now is the perfect time - because during October and November we're offering an exclusive 10% discount on all fieldstone panel purchases.
Why Fieldstone?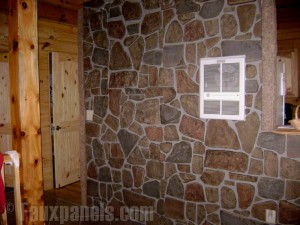 This shot illustrates the beautiful stone veneer texture that makes our Fieldstone panels practically indistinguishable from real stone.
Our fieldstone panels are inspired by the classic building techniques of old. They recreate the look of classic stone walling, which often used large rocks and boulders dislodged during the plowing of farm fields as building materials.
These large rocks were handy and inexpensive to build with and, as a result, you'll find farmhouses, taverns, municipal buildings and more from all over America constructed with foundations or walls that feature large, irregular "field" stones.
Our artificial fieldstone panels are molded directly from real field stone walling; in a durable Polyurethane foam that captures every imperfection. These vividly textured panels are then detailed in a range of colors that perfectly match those of real rocks and stones; making our panels practically indistinguishable from the real thing - and able to match the color scheme of your design project.
Better than the real thing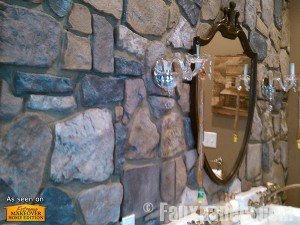 Another shot that demonstrates the vivid texture of our stone veneer Fieldstone panels.
The real advantage of our fieldstone faux stone panels is that they're a fraction of cost of real stone; and infinitely easier to install. They can be cut to size with a regular wood saw, and attach to existing walls using regular construction adhesive and screws.
100% waterproof and weatherproof, they can be installed inside or out; and are resistant to fading, cracking and UV radiation too - meaning they'll continue to look great for years to come.
Order your fieldstone panels now - or check out this great photo gallery for inspiration on how your can use them for your own home design projects.